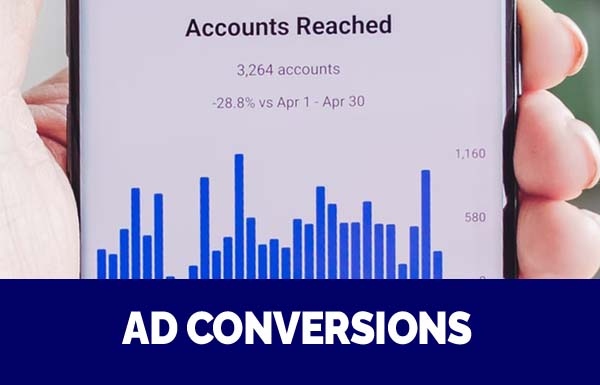 Ad Conversions
Ad Conversions: Meaning And All You Need To Know About It
Meaning Of Ad Conversions
Ad conversions simply mean any step taken by a prospective customer that is invaluable to your ad campaign.
Conversions guide customers all through their buyer's journey and even nurture them along the way.
A practical example of ad conversion is when someone clicks on your ad (webpage, video, infographics, etc.) and takes a reasonable action based on the goal of the advert. It is very difficult to get potential customers to take these actions. You need the right tools, knowledge, skillset in order to carry out these tasks.
However, this post will guide you on all you need to know about ad conversions.
The Different Types Of Ad Conversions We Have
There are numerous types of ad conversions and each is based on the need of the advertiser.
Lead
Lead is the potential customer that shows interest in a product or service you offer by submitting their personal details like phone number, email, etc. in exchange for a gift. The gift can be an e-book, a resource that will help them to in their business, a guide in PDF format, demos, etc.
As ad conversions technique lead generation is actually the first business relationship between a potential client and a business. When the potential client submits his personal information, it shows that they are interested in your product and services, with this free information just in exchange for an email address or phone number, you can start the lead qualification process.
The lead qualification process is the process of determining prospective customers that will likely make a purchase. With this, you'll channel your resources to those prospects. This simple process saves you money and time.
Lead generation is the major aspect of marketing, as ad conversions, the right lead generation format not only helps to generate leads but it also helps to convert those leads to buyers.
At this level, you have to make things simple for your customers, use easy-to-read content, and make it brief as well. You can as well provide an e-book to your prospect, email, and even discount which will compel them to take action immediately. While you are at it, do not overwhelm them with content as this might cause confusion.
Click-Through
Click-through is a positive click by a potential customer, this is how it works when they click your ad, they are being directed to your page and there, they'll read/view your content after which they'll take the right action by subscribing to your program, buying a product from your site or take any other action base on the reason for creating your ad.
The aim of click-through is to get customers to make a purchase or take a final decision based on the reason for your advert.
Click-through is used at the last section of the funnel, here you must have educated the reader about your product and how it will help them to solve their problems. However, at this point, your content should be persuasive enough to convince your potential customers.
At this point, you should have your testimonial so as to convince your prospects to take action.
Purchase/Sale
Sales or purchase conversion is simply the conversion of potential customers to lead and from lead to buyer. It is the most sought-after ad conversion method. It is among the last strategy in a funnel. It takes place at the point when your lead has been well informed about your product and they are now comfortable with making a purchase.
Video View
Video view is an ad conversions mechanism; it is the process by which a viewer views a certain number of videos. Here the time spent watching a video varies from each platform.
Video view is important in every buying stage. It is a useful ad conversion strategy for businesses.
Call To Action (CTA)
Call to action is the word that compels readers to take action. And it includes words like, register, sign up, etc. while these words are good to make your readers to take action they are generic. So, look for a better way of doing that by giving them value.
For example, instead of using 'Register', You Can Say 'Fix Your Ad,' 'Take Your HR Career to a New Level,' etc. This shows them the benefit of using your services or buying your product which is a better marketing approach.
Scroll down to read our indepth Ecommerce Platforms guide. What you should know, Ecommerce Platforms features, price plans and support. Pros and Cons of Ecommerce Platforms as a ecommerce, everything is explained below.
Shopify is a software company that specialises in ecommerce software for small to enterprise level businesses.
Shopify is listed as the best ecommerce software related to Ecommerce Platforms. Shopify was founded in 2006 in Ottawa, Canada and currently has over 6,124 employees registered on Linkedin.