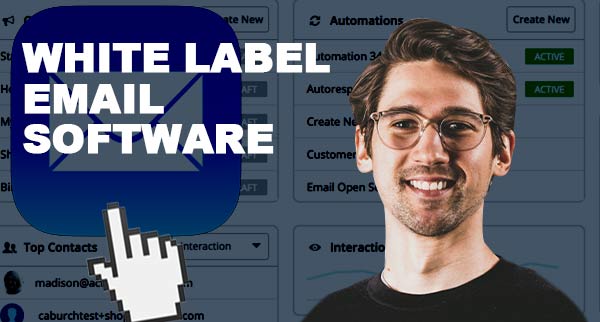 White Label Email Marketing Software
White label email marketing tools give you the ability to use a third-party tool to manage email marketing campaigns for your clients (that you do not own). Because your customers will never see the third-party software that you rely on and use, these tools will add your own unique branding to your products and services.
Email marketing tools give you the ability to cover up the vendor's labels and add your own branding at the same time. White label solutions are extremely useful tools that can assist your company in expanding and growing.
ActiveCampaign White Label Emails
Email marketing platform ActiveCampaign is regarded as one of the best in the industry. It grants you access to email marketing automation and customer relationship management tools, allowing you to achieve excellent results that you will be pleased to show off to your customers. It enables you to rebrand their platform with your own logo and domain, in addition to allowing you to make cosmetic adjustments.
Additionally, it allows for rebranding options in HTML and CSS, which means that you can actually tailor the dashboard to correspond with the client's brand.
The Enterprise plan, which starts at $229 per month and includes access to YouTube, Facebook, and other well-known brands, is where the majority of white label features can be found on this platform.
OptinMonster White Label Emails
OptinMonster is currently the most effective tool on the market for lead generation. It makes it possible for you to create eye-catching lead generation campaigns, which in turn helps you acquire additional email addresses for your contact list.
You can easily add your own unique branding to the OptinMonster website as well as the dashboard using the tools provided by OptinMonster. When you are creating a campaign, you have the option to either disable or enable the Display Powered By Link feature.
You also have the option of inviting clients or members of your team to work together on campaigns. You are able to change the colour of the background, as well as the text and the buttons, to correspond with your own personal brand. On the Publish page of every campaign you make, you will find this option available for selection.
You are able to assign varying degrees of permission to each of your customers or members of your team with OptinMonster. You have the ability to give them access to specific sites or folders, as well as make them a viewer, an author, a manager, or an administrator. You can also access the page for My Account Sub-Accounts to invite new users to the platform.
OptinMonster makes it simple to organise and manage your customers, and it restricts the content that your customers see to only that which you specify. You can create folders that are specific to a client by first creating the folder from the taskbar on the left, and then adding any campaign you create to the specific folder. This will allow you to create client-specific folders.
A white label lead optimization tool is what OptinMonster is all about. It is equipped with robust targeting features as well as campaign triggers, which help to maximise conversions. OptinMonster comes packaged with more than fifty different template designs and a builder that lets users drag and drop elements to assemble high-converting lead generation campaigns. According to the company, it is the most sophisticated white label lead management tool currently available on the market.
White label email marketing solutions are included in OptinMonster's $29 per month Pro plan, which can be purchased by interested parties. This enables you to accomplish more sales and marketing goals, such as getting people to provide their email addresses, visit landing pages for webinars, view popular products for direct sales, and a variety of other objectives.
The MonsterInsights platform White Label Emails
For email marketers, MonsterInsights is the most effective analytics plugin available. White label email marketers can track the performance of their lead generation and subscription forms with the help of the specific features that this product offers. You can also use MonsterInsights to see which of your posts, pages, and products are performing the best so that you can convert those into emails.
You have complete control over whether or not MonsterInsights is active on each of your client sites. You can connect your WordPress dashboard with the Google Analytics account of a client and view the statistics associated with that account in real time. In addition to that, you will be able to present clients with stunning reports that are full of insightful data. You have the option of exporting these reports as PDFs or sending email summaries.
Both the PDF reports and the email summaries that are generated by MonsterInsights allow you to upload a custom logo. If you want to provide access to the monsterInsights dashboard to multiple users, you can additionally configure permission roles for each of those users.
You will have access to all of the data you require to ensure the success of your email marketing efforts when you use MonsterInsights. It gives you the ability to let customers save their settings and view reports.
Email service is provided by Constant Contact, which is widely regarded as the industry leader. It is widely utilised in the process of creating and sending email sequences and broadcasts. You have the ability to remove Constant Contact's logo from emails, including email invitations to surveys and emails related to events. As a result, it is currently regarded as one of the most effective white label email marketing services available on the market.
You can also replace the Constant Contact logo in the email footer with your own company's logo if you choose to do so. In order to accomplish this, all you need to do is provide a description of the modifications to the footer that you desire, and then upload the image that you want to appear as part of your email signature.
When you are creating a campaign, you can also edit the settings to see an option to disable the logo if you so choose. There is also an agency partner programme available through Constant Contact, which provides you with access to effective online marketing solutions for your customers.
It gives you the ability to set up and manage the email marketing accounts of your customers on your own. Alternately, you could use a referral link to have Constant Contact handle everything on your behalf. Prices begin at $20 per month and there are additional fees for any individualised branding solutions you require.
HubSpot White Label Emails
The HubSpot email marketing platform is a good option for marketing and sales agencies that are searching for a suitable platform. You can design emails with the help of HubSpot's software, which features an editor that is simple to operate. It features an application that allows you to customise every aspect, from the colours of the brand to the images and the calls to action (CTAs).
White labelled content for lead generation, software and sales training, and other topics are all available to you through HubSpot's partner programme. If you refer customers to HubSpot or resell their products as a solutions provider, you are eligible for a commission of twenty percent across the board for all product categories and add-ons. You have the option to remove the HubSpot branding from the other marketing tools, including your email marketing.
You can remove the HubSpot branding from your emails by upgrading to one of the company's paid plans, which start at $45 per month. You can get started by sending up to 2,000 emails each month with the free version of the software.
AWeber White Label Emails
AWeber is a highly effective platform for email marketing. It eliminates the need to write any code at any point in the process, allowing you to design and create individualised templates. The drag-and-drop builder gives you the ability to customise every aspect of your email, allowing you to add your own branding elements like a logo and colour scheme.
AWeber provides a white label service, through which customers can use the company's services while maintaining their own company names and branding. You are free to market it under your own name; however, the AWeber logo will appear in the admin dashboard of your account.
Mailjet White Label Emails
Mailjet is an innovative email marketing solution that simplifies collaboration between marketers and developers. It is an online app that combines marketing that is based on templates with the sending of transactional emails. With Mailjet, you can provide users with a contact database, template management, and an email builder that bears their own custom branding.
Mailjet gives you the ability to pick and choose which features you want to make available to your clients, which means you won't be charged for services you won't use. Advanced Statistics, Segmentation, Multiple Languages, Templates, and Contact Management are some of the features that can be white labelled. Other features that can be white labelled include:
Mailjet also features an intuitive dashboard that makes it easy to manage multiple clients at the same time. Both master accounts and sub-accounts can be created and managed by you.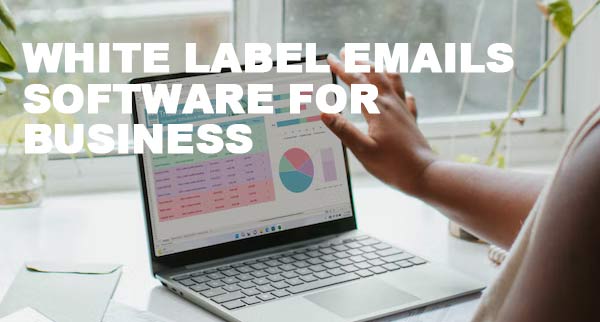 White label email marketing software gives you the ability to remove your company's branding from already established platforms. Instead of developing their own software solutions, agencies will be able to offer email marketing services to customers by using these platforms. The goal is to make this possible. Here are five of the most effective choices for meeting the requirements of your email marketing campaign:
HubSpot is an integrated sales and marketing platform for agencies that offers a wide range of features. The HubSpot partner network now includes thousands of different companies. centralised location for the management of email marketing, live chat, customer relationship management, and social media. In a way that no other company does, HubSpot can trace every sale back to the specific channel and email or channel that influenced it.
When you become a HubSpot partner, the number of benefits that are made available to your agency is directly proportional to the number of new customers that you bring on board. Every partner is given access to a consultant, as well as training and materials with a white label that can be used to educate customers. This presents an opportunity for agencies that become members of the HubSpot network.
Agencies that are looking for an email marketing platform to use with their clients should give serious consideration to HubSpot despite the fact that the company does not offer a fully white-labeled version of their platform. Free admission to HubSpot conferences and access to the HubSpot blog are perks that are extended to agencies that generate a greater amount of revenue.
Sendinblue is a comprehensive platform for email marketing that includes everything you need. You have the ability to create custom reports for each individual client, as well as customise URLs to match your domain and add your agency's logo. You do not have as much control over the white label as you would like, but you do get support for multiple languages.
Moosend is a bit of a newcomer when it comes to the game of email marketing, so it is to its advantage to approach the strategy from a contemporary point of view. The platform is modern, intuitive, and provides all of the tools necessary to create and manage campaigns without requiring the user to write even a single line of code.
Moosend also has a lot to offer in terms of the features it provides. On the free version, you have access to almost all of the features, and you could almost use this as your only email marketing tool. Importantly, paid plans begin at just $8 per month and scale up in a reasonable manner as your subscriber list expands.
MailerLite is another email marketing software that was developed relatively recently. Provides access to all of the contemporary advantages that are available through Moosend's truly code-free campaigns. Because of the pricing brackets, you have plenty of room for growth without experiencing an unexpected spike in your monthly fees. In addition, MairlerLite has built-in image editing and email automation capabilities.
Prices start at just $10 a month and scale as you grow your business. You will have access to all of the fundamental editing tools that are required to efficiently modify images for use in email marketing campaigns. In addition to this, the tools and features are of a consistently high quality.
Which white label email marketing platform is considered to be the best?
If you are looking for a recommendation, you should know that ActiveCampaign provides you with all the features of email marketing, automation, and CRM that you could possibly require. You have a lot of leeway to customise the platform, including everything from domain names and logos to the colours of buttons and the styles of fonts. Going with a white label in the first place isn't really worth the trouble anyway.
Both Moosend and MailerLite provide outstanding free plans that will get your company up and running with email marketing and even more besides. Options such as these make it possible for new businesses to get off to a quick start and maximise their growth until they are ready to advance to more enterprise-level tools such as ActiveCampaign and HubSpot.
Provision of Private Labeling Services to Advertising Agencies
People will believe you run your own email service if you white label your messages and send them from your own domain. White labelling improves your sender reputation with ISPs that are responsible for delivering your emails, which is absolutely necessary in order to have your emails delivered. Increase the level of customization available for your marketing automation service and provide the customer support that agencies require.
White label email service highlights, including their best features
White label email marketing utilises three distinct types of white labelling in its operations. Your reputation with Internet service providers (ISPs) can be improved by using white labelled domains, IP addresses, and email links. Invest the necessary time in Mailgun's email marketing platform to set up the white label email features, and you'll see an increase in the success of your email marketing campaigns.
Sending emails through Mailgun enables you to make use of a dedicated IP address. You can prevent spoofing of your domain's sender address by including text from the Sender Policy Framework (SPF) in your domain record. This notifies ISPs that any email sent from Mailgun on behalf of your domain has been checked out and given permission to send.
When determining whether an email is spam or not, some Internet service providers (ISPs) look at the message content in addition to the domain. If you whitelabel your links, the ISP will see them as part of your own domain, which indicates that they can be trusted. White-label email software is the optimal solution.
Email is a very versatile communication channel that can be used for marketing and sales campaigns, newsletters, and even contests and giveaways. When it comes to bringing in additional money, managed email services are a win-win situation for both you and your customers. White label managed email services make it possible for you to sell email marketing campaigns without requiring you to take care of the writing yourself.
Scroll down to read our indepth White Label Email Marketing Software guide. What you should know, White Label Email Marketing Software features, price plans and support. Pros and Cons of White Label Email Marketing Software as a marketing automation, everything is explained below.
Sendinblue Premium is a software company that specialises in marketing-automation software for small to enterprise level businesses.
Sendinblue Premium is listed as the best marketing-automation software related to White Label Email Marketing Software. Sendinblue Premium was founded in 2012 in Paris, France and currently has over 248 employees registered on Linkedin.