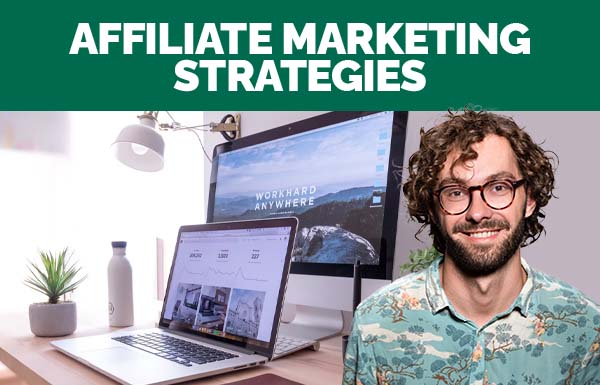 Affiliate Marketing Strategies
Best Affiliate Marketing Strategies
Affiliate marketing is a process of promoting a product or service to your audience, note; these products or services are not your own, however, when someone uses your link to make a purchase, you'll get a commission.
Affiliate marketing commission varies. It depends on each company, however, to help you get started with affiliate marketing, we prepared a detailed guide on the best affiliate marketing strategies for you.
Best Affiliate Marketing Strategies For Would-Be Affiliate Marketers
Blogging
By blogging for affiliate marketing purposes, you should be creating a high-quality blog post that compels readers to take action. This is one of the most effective affiliate marketing strategies. You can write and publish educational content, product review, and other information, with this method; you'll attract people that want to use the product or service you reviewed on your site.
Using this affiliate marketing strategy, you can easily build and grow your email list. With the email list, you can send out relevant emails to your subscriber about a new product or service. With the high-quality information you are giving out to your subscribers, your site will be a go-to place when they want to take their final decision. Here is how it works, with your affiliate link, readers are easily redirected to the brand you are promoting on your site and once they buy a product with your link, you get a commission from the company.
While running a blog, you have to incorporate an SEO marketing method so that your content will rank high on Google and other search engines. If you want to use this method, make research to find high-converting products with a nice commission.
Also, as a blogger, copywriting skills will help you to scale up your business. Copywriting skills will help you to convince readers with words and also being honest about products and services you promote will help you to scale up your affiliate marketing business.
Blogging is actually one of the major affiliate marketing strategies for entrepreneurs that want to make money by promoting products and services.
Pay Per Click Or Search Engine Marketing
Instead of relying on SEO with your blog, you can opt-in for pay per click method. This is one of the right affiliate marketing strategies for those that want to take their affiliate marketing business to the next level.
The best part about this marketing method is that you'll only pay for each click. By using this method, your ad will be placed alongside organic ads. Google is the best platform for this marketing method because of the high number of users.
Here are some actionable tips to help you get started with this marketing method: learn how to write high converting ad copies. It is all about being clear and concise with words, you can also incorporate your copywriting skills as this will compel visitors to take action.
You can take a paid course to understand how these things work or check out some YouTube video that explains more about it. The reason for taking a paid course is that you'll be getting the right tips from those who have used this method, and they'll be guiding you every step of the way to avoid the mistakes they made in the past.
Use Video Marketing Approach
YouTube is the second largest search engine after Google and s one of the best affiliate marketing strategies. By creating quality YouTube content and properly optimizing your content, you will scale up your affiliate marketing business very fast on YouTube.
With this affiliate marketing approach, you always have to provide useful information to viewers. You can as well take a paid course to perfect this marketing method. Note that this marketing method takes time before you start getting results.
Using Facebook (Organic Method)
Facebook can be used for marketing products and services. It is very hard to grow organically with Facebook, but if done the right way, you will generate leads with the platform. According to a study by HubSpot, there are 71% chances that people will make a purchase if they are referred to a product or service via social media.
However, you have to put in the work so as to make progress with this marketing method. To start, you can post on your personal profile, group, and business profile. You can join a group based on your niche or create and grow a new one on Facebook, the best part about creating a new group is that you get to make the rules that guide the group. To get more reach on Facebook, you can promote your products with images and videos.
Note: You can be penalized by constantly using an affiliate link on Facebook, so to avoid that, you can use a URL shortener like bit.ly or a redirect.
So always focus on giving value than just making money with your affiliate link.
Facebook Advertising
Facebook advertising is one of the best affiliate marketing strategies for those that want to go into affiliate marketing.
/p>To use this marketing method effectively, you can send your audience to a landing page with this method to avoid any problem with Facebook.
However, the two major downsides of using this method include ad approval and conversion issues.
To increase your chances of success with Facebook advertising, get actionable tips from those who have used it before, or you can take a paid course from people that have used this method before.
Scroll down to read our indepth Ecommerce Platforms guide. What you should know, Ecommerce Platforms features, price plans and support. Pros and Cons of Ecommerce Platforms as a ecommerce, everything is explained below.
Shopify is a software company that specialises in ecommerce software for small to enterprise level businesses.
Shopify is listed as the best ecommerce software related to Ecommerce Platforms. Shopify was founded in 2006 in Ottawa, Canada and currently has over 6,124 employees registered on Linkedin.