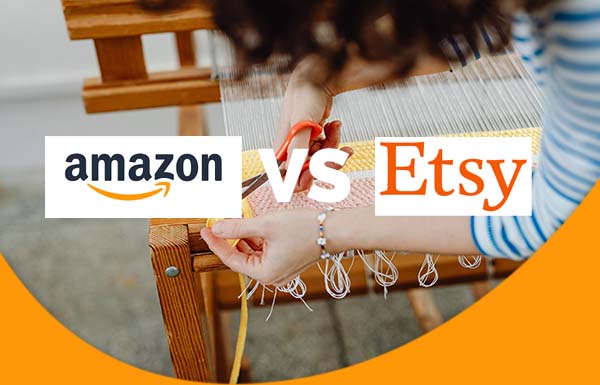 Amazon Handmade Vs Etsy
Amazon Handmade Vs Etsy: The Right Fit For Your Business
Selling a handcrafted item is not easy. However, the e-commerce space provides different ways of doing that. Using an online marketplace is the first choice for small businesses and the major option in this category is Amazon handmade and Etsy.
So, in this post, we'll be comparing Amazon handmade vs Etsy, since these two platforms are the most popular for selling handcrafted products online.
What Is Amazon Handmade?
Amazon handmade is a section of Amazon that is meant for artisans and small businesses, it was launched in 2015. With Amazon, handmade artisans can reach their audience and easily make sales.
Amazon is the biggest online marketplace globally. You can buy virtually everything you want from Amazon. It has a large customer base as well which makes it one of the best choices for artisans and small businesses to make sales.
But, is Amazon handmade the best choice for your business? Find out more from this post!
What Is Etsy?
Etsy is actually the biggest online platform for artisans; it was opened in 2005 particularly for artisans and vintage dealers. Most small businesses started from this platform. It has a user-friendly design and also has a large customer base for artisans.
Amazon Handmade Vs Etsy Similarities
These two marketplaces serve the same purpose. They help small business owners reach their customer base. The following are the similarity between Amazon handmade and Etsy:
Both shops are designed for end-users: Amazon handmade and Etsy are both designed for end-users. So, on the two platforms, your customers will see a well-designed online shop, customers can easily look for what they want by using the search section. Shops are displayed appropriately so users will have a wonderful experience with the shop
Product listing: On both platforms, business owners can easily add their product, the product descriptions, and the price, use the numbered fields, shipping options, etc.
Custom product: On Amazon handmade and Etsy, small business owners can offer handcrafted and distinctive products to a large number of online buyers. The two platforms are built for displaying and selling handcrafted items online, without setting up a website.
Amazon Handmade Vs Etsy: The Difference
The following are the difference between Amazon handmade and Etsy:
For the difference, the first difference a business owner will notice is the signup process.
Sign-up process: while this is the hardest part for business owners using Amazon handmade, it is the easiest for business owners using Etsy. Amazon handmade has a lot of stages to take and requires that business owners should wait for weeks and in some cases months before approval. On the other hand, Etsy is a very easy-to-use platform for sellers. Just a few clicks and you will set up your online shop where you will display your handcrafted product.
Audience: Although Amazon has a larger audience, Amazon handmade is a sub-section of Amazon that deals only on artisan products, while Etsy is exclusively made for selling artisan products.
Insertion fee: Amazon handmade does not charge any insertion fee and there is no expiry date here. However, there is a 15% charge for each sale. On Etsy, business owners are charged $0.20 for each listing right from the get-go, plus a 5% charge for each sale.
Payment process: On Amazon handmade, payment can take up to 24 days, while Etsy releases funds to business owners immediately.
Product categories: On the product category side of this, We only have 14 product categories on Amazon Handmade, Esty has 160 product categories.
Shipping charges on both platforms: On Amazon, Handmade uses a default model called weight-based shipping. And the fee is $0.50 per pound. However, the price of standard shipping is $4.49. On the other hand, businesses pay 5% for shipping and another 5% for the transaction.
Customer service: Amazon handmade offers a great customer support service, while Etsy, sellers can reach out to customer care through email.
Now, let's check out the pros and cons of the two platforms.
Pros Of Selling On Amazon Handmade
Audience: Although Amazon handmade is a sub-section of Amazon, this e-commerce platform is the largest in the world. So, users can still search on Amazon and finds a product from Amazon handmade.
Great customer support: You can have your problem solved easily on Amazon at any time of the day.
Cons Of Selling On Amazon Handmade
Registration process: It's very difficult to be accepted on Amazon handmade, it could take weeks or months. And sometimes, you'll not be accepted to the platform.
Usability: Etsy's web design is more user-friendly than Amazon.
Pros Of Selling On Etsy
Easy registration process: The registration process on this platform is super simple.
Product listing: Product listing on this platform is easy as well.
Cons Of Selling On Etsy
Selling fees: Selling fee is a must on Etsy, you can't avoid it.
Etsy should upgrade its mobile version to accommodate users with mobile devices.
Amazon Handmade Vs Etsy Verdict
Both platforms are good for selling handcrafted products. But Amazon handmade is more difficult to get into. Etsy, the easy to sign up platform is also a great option but you have to pay more fees and put in more work to reach more audience. Also, while Etsy specializes in handcrafted items, Amazon is the largest online shopping platform in the world with Amazon handmade as a sub-section. So, as a business owner, if you want to reach more audiences use Amazon handmade, but you have to remember the tedious registration process. And if you want an easy-to-set-up online shop, use Etsy.
Scroll down to read our indepth Ecommerce Platforms guide. What you should know, Ecommerce Platforms features, price plans and support. Pros and Cons of Ecommerce Platforms as a ecommerce, everything is explained below.
Shopify is a software company that specialises in ecommerce software for small to enterprise level businesses.
Shopify is listed as the best ecommerce software related to Ecommerce Platforms. Shopify was founded in 2006 in Ottawa, Canada and currently has over 6,124 employees registered on Linkedin.