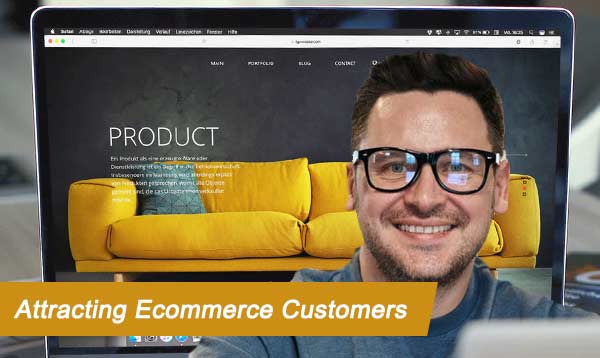 Attracting Ecommerce Customers
When you pause and think about how business works. There are very few manufacturers compared to retailers and consumers. The fact that these middlemen stay in business for decades without producing anything explains a thing or two on how modern ecommerce works. You do not have to make a product to be a successful businessman. The secret is in adding value. Ecommerce businesses use the same logic brick-and-motor organizations use to run sustainable outfits. They make money out of adding value to existing already manufactured products.
Doing business online has its challenges. But brick and mortars are going out of fashion so you will have to learn to embrace the challenges of modern ecommerce. There are a few things that can be learnt from traditional bricks and mortar businesses, By comparing the two, an e-commerce entrepreneur can adapt and change which will attract mordern e-commerce customers.
Strategic Location
Businesses located in towns and cities tend to thrive more. The growth happens because cities have faster economies and individuals with higher standards of living. Besides, their spending habits make it easy for businesses to grow. The same happens to enterprises in shopping centers, or shops along the high street. Strategic positioning makes a business visible. This visibility attracts more walk-in clients. As a result, your business has the potential to make more revenue.
How Do You Make Your Ecommerce Platform Visible?
One way to do this is through strategic positioning. On the online space, you measure visibility with the number of impressions and clicks your platform attracts. Having active social media platforms makes you visible. It becomes easy to get clicks and page visits. Facebook and Instagram are the best platforms to set camp for your digital marketing. Of late, YouTube is proving to be a green area for your e-commerce platform.
Online Reviews Attract Ecommerce Customers
Think about your behavior when shopping online. What do you think about when making a decision? An online review is one criteria. The majority of shoppers use reviews to decide on which store to spend money on when purchasing. But, how do you grow the number of online reviews on for your ecommerce store.
Heres the little secret. Some rogue online business owners have the misconception that coercing buyers to give you positive reviews work. Well, sometimes it does but not always. The best way to attract positive reviews is by offering the best, and uniquely so.
Let's say, youve realized a particular niche is full of low-quality suppliers. Coming in and offering quality will make you stand out. This disruption will earn your endless positive reviews. You will attract more clients who will most likely leave behind more reviews.
Sometimes you find yourself in a competitive field. Where everyone provides quality, strive to offer the best customer care. You will earn yourself many positive reviews. Courtesy, professionalism, promptness, and politeness are some of the selling points you could capitalize on. Most e-commerce platforms quality products/services but forget to trend their clients tenderly. That customer care skill will make you stand out, attract more reviews, and help you get more customers.
Branding to Attract Ecommerce Customers
Theres absolute power in branding. What comes to your mind when you hear Apple, Coca-Cola, Java, or KFC? Perhaps you think about quality - each of these brands stand for something. Make your name a brand. Stand for particular values and see your brand sell. First-time clients will come looking for quality. When you have a good brand, their return purchases; and successive visits will be to consume your brand.
Branding will help you establish loyal clients. These loyalists will want to be associated with your brand because of the values you stand for. It is for that reason that they go and spread the word about your online existence. Slowly by slowly, your clientele will grow, and you will build a community of loyalists. Henceforth, they will be willing to buy any product from you because you are a brand.
Utilize Brand Ambassadors
Brand ambassadors help a lot in attracting e-commerce customers. Try getting influencers onboard with your marketing efforts, and you should see an increase in sales online. Think about sports kits manufacturers like Adidas, Nike, and others and their partnerships with elite sportsmen like LeBron J., CR7, Messi, Roger Federer, Eliud Kipchoge, etc. We are not implying that you should spend billions on influencers; you can always strike a fair deal that works for both parties.
For instance, say you sell hair products. You could get a social media influencer and offer to supply her with your products free of charge. In return, she could tag you in all her posts and upload pictures of herself using your product. In her posts, she should be passive with how she tags you along. Aggressive marketing sometimes makes the client feel like they are being influenced to consume products and therefore shun from purchasing.
Quality uploads
Whether you post videos, products, pictures, writings, or whatever products you sell on your online stores; You have to upload the best quality you can get. The easiest way to attract clients online is through attractive posts. One thing you must watch out for is overpromising and under-delivering. Never do that as you will ruin your e-commerce business. Assure your clients that what they see is what they get.
Scroll down to read our indepth Ecommerce Platforms guide. What you should know, Ecommerce Platforms features, price plans and support. Pros and Cons of Ecommerce Platforms as a ecommerce, everything is explained below.
Shopify is a software company that specialises in ecommerce software for small to enterprise level businesses.
Shopify is listed as the best ecommerce software related to Ecommerce Platforms. Shopify was founded in 2006 in Ottawa, Canada and currently has over 6,124 employees registered on Linkedin.