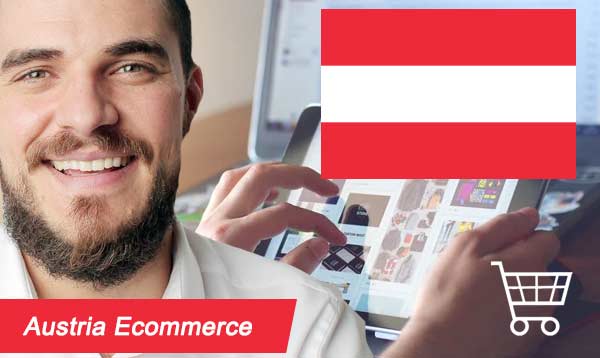 Austria Ecommerce
Austria defines as a Central European country that is a part of the so-called DACH zone, that comprised Germany and Switzerland. There are eight neighboring countries in the region. Since 1955, Austria has been a UN member and also joined the European Union. euro is Austria's currency.
According to the European Commission Digital Economy and Society Index (DESI)2020, Austria ranks 13th out of 28 EU countries in Internet use with 86% of the population. 72% (nearly 5.5 million) of this 7.6 million purchase product online with leading categories: clothing/sporting goods, electronics/media, ebooks publication, and household items
The average annual expenditure per online shopper in Austria in 2019 by Ecommerce News Europe is expected to be about $2.000, leading to a revenue of about $6 billion. The growing trends in online shopping in Austria include the use of mobile phones and online shopping with local collection points, which save delivery costs and facilitate comfortable pick-up times. About two-thirds of the shopping decision in person is affected by digital and e-commerce ads.
Growth Of Online Commerce in Austria
By the time the 2020 COVID-19 pandemic stimulated eCommerce Europe in 2019, eCommerce was projected to rise at a year-round growth rate of 16%. In spring 2020, the customer was restricted to shopping for supermarkets and pharmacies, although returning to physical stores was sluggish even afterward. For older customers, accessing specific goods was needed to become more digitally confident eCommerce consumers. According to Statistica.com, Austrian eCommerce sales increased by 26.7% in 2020, mostly in the form of food and personal care goods, followed by appliances and furniture (+14.6 percent). According to eCommerce Europe, the full effect of the virus on Europe is more obvious.
In Austria, the leading shopping markets of 2019 were amazon.de $810 million, tchibo/eduscho.at $294 million, and universal.at.at, ottoversand.at $281 million and Zalando.at ($270 million) for the online retailing industry. Also throughout this COVID-19 pandemic was the local online shopping portal, called 'shopping.at,' became common as demand for a larger range of goods grew.
Debit and Credit cards (28 percent) are the primary means for making online payments in Austria. All money transfers (27 percent) and e-wallet follow closely (27 percent). Some even opt for direct shipping orders or buy from retailers, followed by the own collection of items.
Austrian Ecommerce And Retail
The Austrian transport system, particularly in rural areas where a third of the population resides, is sophisticated, therefore making it easier to supply. The major global logistics companies like LKW Walter Group, Schenker & Co AG, and Kuehne + Nagel AG are based in Austria. In 2018, the first center in Lower Austria was opened by Amazon, and the second one was added in August 2020 in Vienna.
The Austrian Retail Association (Handelsverband) provides eCommerce development programs and activities, including the forthcoming Interactive E-Commerce Day in September 2020. from 2014 through Digital Economy and Society Index (DESI) the European Commission monitors the digital development of the EU Member State.
The Europe-wide study of network access, digital competencies, Internet use, industry digitization, digital public services, new technology, data security, ICT, and research and development expenses are part of this 2020 survey. The COVID-19 pandemic demonstrated the significance of digital assets in the economy, and how networking and communication-enabled everyday work.
Ecommerce Customers In Austria
In 2018, 89% of Austrian households had internet connections, according to the Austrian statistics agency. That means that in Austria there are approximately 7.8 million Internet users. Similarly, 60.3% of all Austrian people have shopped online in the last 12 months. The annual average expenditure per online buyer in Austria is EUR 1.700. In addition, the report 'Internet retail 2018' showed that 55% of Austria's online investments are directed at foreign retailers.
The invoice is a common mode of payment in Austria. Worldpay research showed that 34.5% of Austrian purchases take place with cards and 31.1% are still very common with bank transfers. Most transactions of these banks take place in real-time electronically. The e-wallet, which makes up 13.6% of purchases, is another common payment form in Austria. PayPal and Fast and ClickandBuy are by far the most common e-wallet in Austria. The favored payment options in Austria are according to Worldpay:
The Ecommerce Market In Austria
According to the Austrian SME Research Institute, eCommerce in Austria amounted to EUR 7.3 billion in 2018. And the report 'Website retail 2018' reveals that e-commerce accounted for 4.3% of the overall retail revenue of the world in Austria.
The most common category for clothing and sports items in Austria is 41% of consumer products purchased online from that category once a year. Books and magazines are second, but the numbers of online shopkeepers have fallen by five years according to a similar survey.
Online Stores In Austria
The online department store Universal.at, is the most selling clothes, furniture, and consumer goods, Eduschos, often offering coffee and traveling but also fashion and home and living products and E-tec.at, which offers all kinds of consumer electronics, are the most popular and biggest online stores in Austria. Media Saturn, XXXL Group, dm, and Amazon are all popular online retailers in Austria.
Scroll down to read our indepth Ecommerce Platforms guide. What you should know, Ecommerce Platforms features, price plans and support. Pros and Cons of Ecommerce Platforms as a ecommerce, everything is explained below.
Shopify is a software company that specialises in ecommerce software for small to enterprise level businesses.
Shopify is listed as the best ecommerce software related to Ecommerce Platforms. Shopify was founded in 2006 in Ottawa, Canada and currently has over 6,124 employees registered on Linkedin.