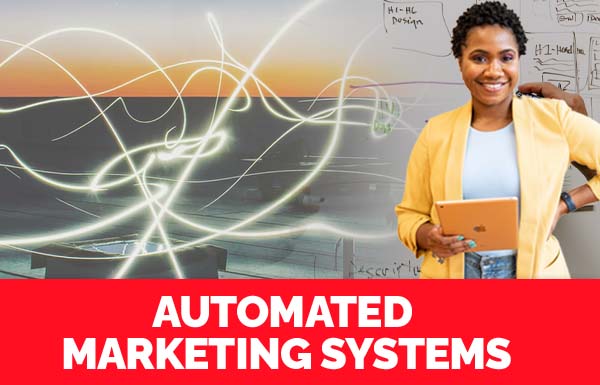 Automated Marketing Systems
A large portion of businesses uses different types of marketing automation nowadays.
However, despite the requirement for automation software, it's a complex thing that includes different solutions with a variety of options and use cases. Some platforms provide drip sequences, email actions, and CRM updates only while others offer sales lead rotation, lead scoring, SMS, and much more.
Today, I will discuss automated marketing systems and their advantages, so let's begin.
Automated Marketing Systems
The right automated marketing system can help you capture new visitors, enhance marketing efficiency, and track both lead behavior and campaign progress.
Therefore, automated marketing systems make powerful tools. They're created with marketers in mind to help them collect leads, move prospects through the sales funnel, and develop stronger connections with a larger group of customers or certain individuals.
Marketing automation tools such as software play a key role in marketing and sales departments for B2B and B2C. Meaning, they're crucial for developing your business.
The software includes different helpful features such as social media marketing, email marketing, search engine marketing, web analytics, multi-channel marketing, and reporting tools. A lot of automation tools for marketing have modern features for creating many strategies.
With tools like these, marketing experts can quickly collect customer data from different sources, create strategies that cover different mediums, and mix and analyze customer insights for higher revenue and a better conversion rate. As you can see, MA software is very useful.
It's usually compared to CRM (customer relationship management) software due to the multiple similar functionalities. However, customer relationship management software currently works as the go-to spot for sales departments, while MA operates for marketing purposes.
They generate key but repetitive marketing processes such as posting for social media, segmenting users based on actions, and sending triggered emails. However, the software also delivers personalization and customization features that maintain your branding fresh and modern.
You can easily customize your emails with different templates to fit your brand, provide special fields for categorizing your leads and customize emails with your new product views or customer's name, utilizing special fields that will apply them automatically in record time with ease.
MA also allows you to scale your efforts to establish connections with different customers across various channels and deliver a consistent experience despite their needs or interests.
And when you segment your customer base properly, this modern technology enables you to establish a better connection with your customers by providing relevant content that responds to their needs. Now, let's list some of the best marketing automation software on the market.
Drip
GetResponse
Marketo
Autopilot
SendinBlue
HubSpot Marketing Automation
Moosend
Ontraport
Omnisend
ManyChat
ActiveCampaign
InfusionSofy
Prospect.io
Marketo
Mautic
Automated Marketing Systems Benefits
As I already established, MA is a very powerful technology that controls different marketing processes and multi-use campaigns across different channels, automatically.
With MA, brands can easily target audiences with automated messages across the web, email, text, and social. Let's discuss some other benefits of marketing automation.
Lower working costs
Automation takes repetitive tasks out of people's hands and makes devices responsible for their whole execution. Meaning, you can easily complete more without hiring additional people.
Computers finish triggered actions efficiently. They can notify people of any changes in lead status, send emails in response to form fill or upload different social posts at a pre-scheduled time.
Your staff will still need to set up automation. However, you will save time and focus because you won't need to finish tasks separately as they emerge, thereby decreasing operational costs.
Additional information
With the help of big data, you can better understand and address the concerns, needs, and expectations of your customers. You can also grasp financials, operations, and funnels.
This data can help you build better campaigns, segment customers, and increase sales. You can analyze the data in the marketing tool or feed it into BI software and track results.
Analytics and reporting
Most marketing automation software provides analytics and reporting options that trace your campaigns that can help your team members create better strategies with extra customization and better customer targeting. Overall, MA provides better insights that can help your company grow.
Centralized advertising goal
Marketing automation software can provide centralizing control over content marketing, email, contact forms, social media, downloads, and even direct mail and regular medial channels. However, this mostly depends on the price and quality of the software, so choose your software wisely.
Enhanced ROI
ROI (return on investment) is a percentage obtained by splitting your net profit by the initial cost of your investment, then multiplying that amount by 100.
For instance, if your net profit was $1K and your initial investment was $200, your return on investment was 500%. The initial investment cost should include the software as well.
Scroll down to read our indepth Automated Ecommerce Platforms guide. What you should know, Automated Ecommerce Platforms features, price plans and support. Pros and Cons of Automated Ecommerce Platforms as a ecommerce, everything is explained below.
Shopify is a software company that specialises in ecommerce software for small to enterprise level businesses.
Shopify is listed as the best ecommerce software related to Automated Ecommerce Platforms. Shopify was founded in 2006 in Ottawa, Canada and currently has over 6,124 employees registered on Linkedin.