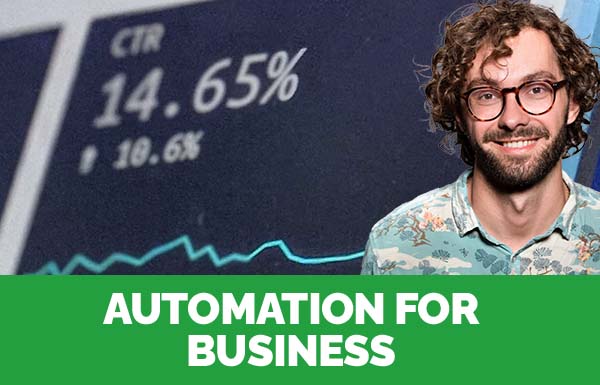 Automation For Business
While automation for business isn't anything new, the use of "smart†technology can certainly enhance business process efficiency in large enterprises and SMB.
For instance, instead of having people bound with various manual tasks, automation can handle that job and help workers focus on other more important business tasks.
Today, I will tackle automation for business and explain where it works and where it doesn't, so you can determine if it's the right move for your business or not.
What's Business Automation?
Business automation systematically substitutes a manual task with intelligent rules-driven automation, open collaboration, and just-in-time analytics.
It's often completed with business automation software and other similar tools. The technology enables organizations to shorten processes usually completed by workers and save time and money.
For instance, businesses can utilize it to automate jobs associated with hiring new people. Other uses for BPA include managing approvals for business contracts and account owed transactions.
Automation For Business: Where It Works And Where It Doesn't?
Thanks to business automation software, businesses can obtain a clearer perspective on the behavior of consumers such as anticipating which items might become in-demand.
That way, companies can ensure they're prepared with enough product on-hand. Additionally, they may also utilize the data gathered through various workflows to clarify customer interactions.
This can result in more efficient use of resources, higher sales, and improved customer experience. Now, let's see where automation works and where it doesn't deliver benefits.
Repetitive Jobs
Automation works for assembly jobs on the manufacturing floor, automated project management tasks, status software updates, auto security monitoring, lockdown of properties, automated process flows for order filling, purchasing, shipping, time tracking, inventory management, and billing.
They're examples of rote and repetitive tasks that can be predicted and managed via automation. Also, by decreasing manual work in these tasks, they can be executed uniformly and with a very low chance of human error. Human resources can focus on other things that require critical thinking.
Hard Decision-making That's Machine-addressable
The ideal example for this task would be the loan or credit desk in a back office or bank branch. Let's say that someone comes in and tries to get a loan or credit card.
An employee in lending who has the loan app process down, however, has only a restricted background in underwriting utilizes software automation in the loan approval process.
They run a financial analysis and credit check of the person and almost immediately, they can determine and state the amount of a loan they qualify for and under what interest rate.
In the meantime, in the card services space, a processing clerk is automatically informed at their desk by fraud detection software anytime something suspicious happens. They shut down the card immediately and contact the cardholder. So, automated decision-making helps everyone.
Neither the card service clerk nor the loan worker would be able to take immediate action in these types of scenarios without the help of automated decision-making.
Sensor-based tracking and Alerts
Businesses use IoT technology (Internet of Things) like networks and sensors to move their automation. Their goal is achieving end-to-end visibility of crucial business tasks that happen outside the company's walls. A perfect example includes the installation of sensors on cargo-bearing containers.
These sensors track container locations and send alerts when container seals break or when something malfunctions in containers carrying food and medicine. As you probably know, these containers require specific humidity and temperature conditions and sensors help control these conditions.
Self-service Employee Portals
Employees can easily make changes to their 401k investment options, other human resources, and take online training courses to improve skills.
The system records these changes and tracks employees' work progress without the need of a trainer or someone else from the HR department.
Potentially Dangerous Manual Tasks
Automation contained in unattended aerial vehicles, trucks, and robots can operate and report on risky tasks. The tasks might include entering a highly radioactive facility, walking miles of concrete aisles in a warehouse every day, or something else that's potentially dangerous to employees.
IT back-office Processes
In most companies, automated nighttime data center operations and batch processing aren't anything new. This decreases the need for nighttime IT operations employees with employees only being alerted through auto alert only if a processing situation emerges that needs human intervention.
Research
The advantages of automated database searches that use a large portion of information and traditional records can't be ignored. They can replace tasks that were previously done by people like legal case law, criminal records, life science research, climate and weather research, demographics, etc.
Document Management
Automation has been integrated into various processes including purchase orders, order processing, and budget approvals. Meaning, approvals, signatures, electronic requests, and archiving no longer need any paperwork or assistance. They're arranged into a smooth end-to-end paperless workflow.
When Automation Isn't A Smart Move?
Important decisions that humans need to make aren't suited for complete automation. Most companies understand that automation can easily get in the way of important business processes.
Therefore, think twice before automating certain processes. And if you're up for full automation, keep in mind that processes wrapping around the automation should include a final human decision.
Scroll down to read our indepth Ecommerce Automation guide. What you should know, Ecommerce Automation features, price plans and support. Pros and Cons of Ecommerce Automation as a ecommerce, everything is explained below.
Shopify is a software company that specialises in ecommerce software for small to enterprise level businesses.
Shopify is listed as the best ecommerce software related to Ecommerce Automation. Shopify was founded in 2006 in Ottawa, Canada and currently has over 6,124 employees registered on Linkedin.