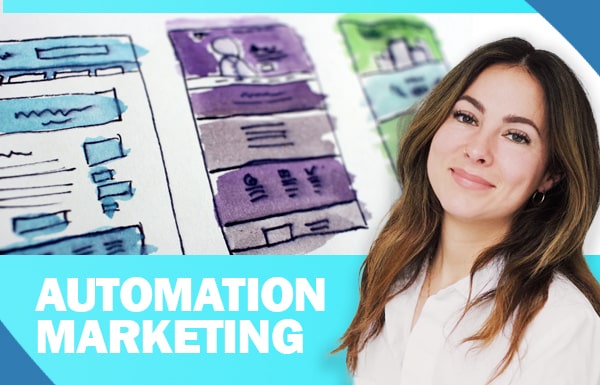 Automation Marketing
Definition Of Marketing Automation
Marketing automation is when companies apply software systems and web-based tools and services to implement, manage and automate the tasks and procedures of marketing. As a result of automation marketing, firms can replace a huge part of manual work with automated processes. For example, they define sets of rules, and emails are sent automatically according to those rules.
Automation tools, when used efficiently, can allow you to identify your target group of customers and deliver them the right content.
Benefits Of Automation Marketing
Efficiency
Automation marketing is widely used by marketing departments. Due to automation, marketers do not implement repetitive tasks, thus cutting the expenses significantly. Besides, as automation excludes manual processes, it can minimise human errors and maximise efficiency. All those factors contribute to increased profits of businesses.
Ensuring Growth For The Company
All the benefits mentioned above lead to the company's growth in terms of both size and complexity.
Enhancing Qualified Leads
Statistics prove that those companies that use automation tools may expect to have a 10% or more increase in revenue within 6-9 months. Besides, companies with a targeted email strategy make more sales at a cost, which is less than non-targeted prospects.
Saving Time
Despite the positive financial impact, according to marketing specialists, the most important benefit of automation marketing is saving time.
Basic Categories Of Automation Marketing
Marketing Intelligence
Marketing intelligence includes code tracking with the purpose to monitor the online behaviour of consumers. After that, marketing professionals analyse and discover patterns, which they can use for the behaviour-based segmentation of customers.
Development Of Business
Business development is concentrated on the marketing funnel. It aims to move potential consumers through the funnel, from its wide end (initial brand awareness) to the narrow end (deciding to buy). Automation marketing implements this task using segmentation and influence based on the interests of consumers, quality leads collection, behaviour and attitude. The fundamental means of automation targeting is email, social networks, SEO and content marketing.
Workflow Automation
Workflow automation means automating internal processes to have a well-working marketing department. It can refer to such processes as budgeting, digital asset management, etc.
Best Practices Of Automation Marketing
When you develop your automation marketing strategy, you should follow these best practices:
Defining goals: Think of real numbers when planning your investment in a tool, platform or software for marketing automation.
Collaboration: In most cases, your automation marketing strategy will be connected to other departments of your company. It is crucial to collaborate with them and take into account their opinions and perspectives.
Creating visualisations of processes. It is useful to have a workflow of marketing automation in diagrams, which will present the workflow in detail.
Implement database segmentation: Analyse the data of your customers. Think about things like who you want to engage, why and what kind of means you will use for that purpose.
Develop a content strategy. Create a content library. Develop relevant, useful, interesting and engaging content. Keep in mind that the content has to be appropriate for each stage of the customer funnel.
How Easy Is It To Use Automation Marketing?
One of marketing automation purposes is to make your work as simple as possible. This feature is achieved through the following features of automation marketing:
Marketing automation provides an opportunity to create campaigns with just one click.
It creates a single window to control all the parts and processes of the online marketing strategy in one place.
Provides simplified user interfaces and other related functionalities; moreover, all of them are designed to be similar to other applications used daily.
Here are some examples of the usages of the features mentioned above :
Automatically implement scheduling and sending emails and manage the base of the subscribers from the same interface.
To discover the message content, which has the biggest influence on your customers, you can run an A/B test automatically.
Automation Marketing Improves Relationships
Automation marketing also has indirect benefits. One of those benefits is building relationships with warm qualified leads. Another benefit is that automation marketing gives an opportunity to integrate your qualified leads into the CRM (customer relationship management) system and provide them with appropriate content.
There is a list of software systems that can be used for marketing automation. We advise you to start by exploring reviews of available options before choosing one that best meets your needs. Some of the top performers in this industry are HubSpot, Omnisend, Marketo and Pardot.
Scroll down to read our indepth Ecommerce Platforms guide. What you should know, Ecommerce Platforms features, price plans and support. Pros and Cons of Ecommerce Platforms as a ecommerce, everything is explained below.
Shopify is a software company that specialises in ecommerce software for small to enterprise level businesses.
Shopify is listed as the best ecommerce software related to Ecommerce Platforms. Shopify was founded in 2006 in Ottawa, Canada and currently has over 6,124 employees registered on Linkedin.