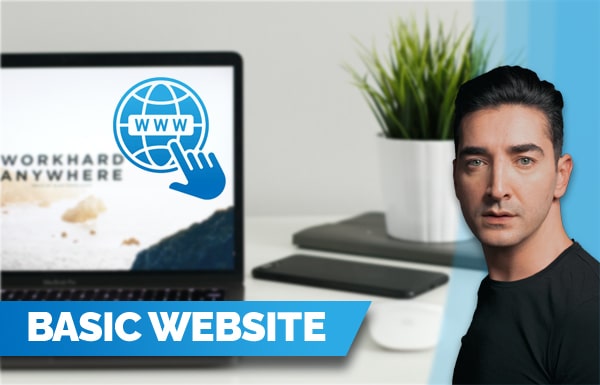 Basic Website
Nowadays, having a website is a must to establish a growing business. In this article, we will present the steps to build a basic website.
Define The Purpose Of Your Website
It is important to understand a website's purpose in order to choose the right tools to build it.
Before starting, you should have answers to the following questions:
What goals does your website have?
How do you currently market your business at the moment?
What functionalities are necessary for your website?
Choose A Company For The Website Hosting
Website building has three components: a host, a domain name and a site builder. A host is a server, which stores your content and delivers upon user request. A domain name serves as the website's online location. A site builder is a tool that is used to create web pages, upload videos, etc. As usual, hosting companies provide all these features in one package.
To choose the right web host, you need to consider the following.
Decide the type of hosting
It is cheaper to use a shared or cloud server. This option will be sufficient for most websites developed for small businesses. Companies with high traffic or large content have to consider dedicated or VPS hosting.
Pay Attention To Uptime
Uptime has a great significance for every business. If your site is unavailable, you will lose money.
Security
One of the tasks of hosting companies is to guarantee the security of your website. Pay attention to features such as an SSL certificate, malware protection and firewall.
Think long-term
A shared hosting plan will be sufficient if your website is used for informational purposes. However, consider your company's growth when considering a hosting provider, which will walk along with you as your business grows.
Examine the features
Hosting providers often provide additional products (site builders, SSL certificates, email hosting, etc.). When exploring additional features, pay attention to your needs and don't pay higher fees for features you will never need.
Analyse The Prices
Many hosting providers will offer discounts in the first year. If you receive such an offer, pay attention to the renewal rate, as it can be costly for the second year.
Choose A Site Builder
There was a time when building a site would require weeks. Today, you can build a website in a few minutes. Hosting providers often offer a free site builder with your hosting plan.
The most popular website builders are the following.
Wordpress
Wordpress has both paid (WordPress.com) and free (WordPress.org) options and includes several themes.
Squarespace
Squarespace is a website building tool, which is based on templates. The sites of Squarespace are very flexible, but its options are slightly more limited than in the case of WordPress.
Weebly
Weebly has a high ease of use, as Squarespace; it is also template-based and has drag and drop features. Along with being easy to use, it has limited customisation options.
Outline The Pages Of Your Website
This is a critical stage of building a website, as it significantly impacts user experience. The number of pages may be different, depending on the type of your business; however, there are pages, which every website must have.
Homepage
A homepage gives users a first impression of the website. It is important to present your company and its values here, place a CTA on other pages, and don't forget about the Contact Us and Products and Services page.
Products Or Services Page
You should separate the pages according to each line of your product or service.
About Us Page
Present the history, and your people, on this page.
Contact page
Describe how users may contact you (include phone numbers, working hours, address, along with the Google map).
Privacy statement
You should inform people on this page what information you will collect from them and how you use that information.
Optimise The Website
Optimisation of a website refers to the work aimed to make it visible for people. It can be implemented with SEO tools and techniques.
Build A Payment Processor If Necessary
A payment processor is needed if you plan to build an e-commerce site. The most popular payment methods are PayPal, Stripe and Square.
When you choose a payment processor, pay attention to the payment preferences of your customers and, of course, the pricing of each payment processor.
Basic Website Verdict
You do not need a very comprehensive and complex website if you are new. Start from the basic websites, then along with the development of your company you can improve your site and add new features.
Scroll down to read our indepth Ecommerce Platforms guide. What you should know, Ecommerce Platforms features, price plans and support. Pros and Cons of Ecommerce Platforms as a ecommerce, everything is explained below.
Shopify is a software company that specialises in ecommerce software for small to enterprise level businesses.
Shopify is listed as the best ecommerce software related to Ecommerce Platforms. Shopify was founded in 2006 in Ottawa, Canada and currently has over 6,124 employees registered on Linkedin.