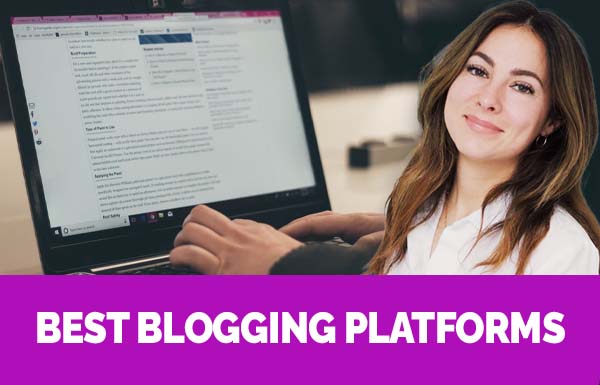 Best Blogging Platforms
List Of Best Blogging Platforms For New Bloggers
After making that final decision to start a blog, you are now looking for the best blogging platforms to choose from. And it is important to note that we have numerous free blogging platforms that can't get your results. So you have to choose from the options we have on this post if you really want to do business with your blog.
The blogging platforms we have in this post are the best blogging platform for you if you want to set up a professional blog. Enjoy it.
Our List Of Best Blogging Platforms For Would-Be Bloggers
WordPress.org
Wordpress
WordPress is the best blogging platform and the most popular website-building tool in the world. WordPress.org allows you to create a professional blog and have control over your blog/website. So, if you want to create a professional blog you can monetize, WordPress.org is the right platform to do that.
WordPress.org is a free tool for creating a site or a blog, but you have to use a web hosting platform for their service and Bluehost is one of the best platforms to use and it is recommended by WordPress as the best web hosting platform for their service.
With a WordPress blog, you'll have control over your site, grow your blog and add more features as your business grows online and more. The possibility is limitless when you are using WordPress which sets it apart from other blogging platforms. So if you are looking for the best blogging platforms online, WordPress is the platform for you.
You don't have to worry about the look and style of your site as the platform has lots of free themes you can start with. And some of these themes can be personalized to suit your taste. The platform has lots of plugins to help you scale up your business online, Plugins allow you to add extra features to your site.
An SEO strategy is the best method for reaching out to people who need your service organically. You can use an SEO strategy to attract visitors to your site and grow your site organically. However, WordPress is a nice platform that gives you that and more. The platform is search engine friendly and the company has a lot of premium plugins for more optimization online.
WordPress allows you to enable Google Analytics, with this Google Analytics; you can see your website statistics. Literally, this tool helps you to see your website statistics and you can use the data from it to device a means to improve your site.
WordPress is actually the best blogging platform, and you can't compare it with other blogging platforms. Most of the popular blogs use their service because of the limitless features. So, if you have been looking for the best blogging platforms online, WordPress answers your question. But note that you have to use a hosting service for that and Bluehost is the best web hosting platform that is recommended by WordPress.
Squarespace
SquareSpace
Squarespace is one of the best blogging platforms on our list and it has excellent features that make it one of the best blogging platforms around. It is well-known for its aesthetic themes, and it is all in one website building platform.
The aesthetic themes make it a great blogging platform for photographers, artists, and designers. You can customize your blog or site when you create it with Squarespace to have a top-notch look. Literally, you can get a sleek look with their service, so if you are looking for one of the best blogging platforms around, Squarespace is one of the best platforms to choose.
Their customers care service is one of the best, as you easily fix any problem by reaching out to them when the need arises.
You don't need any technical skill to create your site with Squarespace, they have a drag and drop feature to help you create your site with ease.
With this website-building platform, you can easily add eCommerce features and start selling your product online. This blogging platform has an excellent SEO resource that helps scale up your business. You'll get all your hosting needs with Squarespace and your site or blog will look great to a visitor which is a great plus for your business.
Wix
Wix
Wix is a nice platform for creating a blog. It is very easy to create a blog with Wix, they have drag and drop features to help you set up your blog. With this platform, you can easily set up your site and also customize it. The downside of this platform is that once you choose a template, you can't change it.
Scroll down to read our indepth Ecommerce Platforms guide. What you should know, Ecommerce Platforms features, price plans and support. Pros and Cons of Ecommerce Platforms as a ecommerce, everything is explained below.
Shopify is a software company that specialises in ecommerce software for small to enterprise level businesses.
Shopify is listed as the best ecommerce software related to Ecommerce Platforms. Shopify was founded in 2006 in Ottawa, Canada and currently has over 6,124 employees registered on Linkedin.