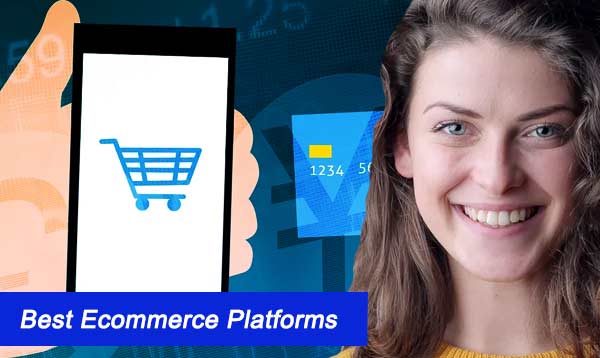 Best Ecommerce Platforms
There is an internet revolution and e-commerce is setting the pace. Online stores are coming up fast today than at any other time in history. Entrepreneurs have realized the potential harbored by the online space. But, even with online businesses, there are ways you can increase your chances of success by getting right some details that matter. One of the factors you must consider is the e-commerce platform you subscribe to. Some products and/or services do well on specific platforms. The level of competition you bring to the market can only be entertained by specific platforms. You have to be super experienced to survive on some platforms. On the other hand, starters thrive on some platforms. Below are some of the best e-commerce platforms you may consider.
1. Shopify
Shopify
This platform is popular for a reason. It is beginner-friendly and easy to use. Setting up a store can be a challenge sometimes. With Shopify, you will face close to zero challenges. This means as long as you have a product to sell, you are ready to start as setting up a platform here is effortless. But like any other manmade platform, there are challenges. You cannot remodel the checkouts. Besides, you may face challenges with search engine optimization. But, in terms of business and growth, you will have an easy time. Overall, it is a good platform to work with.
2. Wix
Wix
One thing about Wix is the ability to cut costs. There are free themes you can leverage on. As a beginner, you won't have to lose money trying out expensive themes without sales. The free themes offer you a chance to make sales at zero costs. Signing up and optimizing a Wix account is easy and the platform user friendly. With Wix, you can make use of technology to grow further. Once your business picks, or during marketing campaigns, you may have several contacts reaching out. Managing them might be a challenge. Wix offers an automated marketing tool to sort you out during such times. The challenges you expect to face with Wix is poor compatibility with other e-commerce platforms. Generally, Wix is a good platform to work on.
3. WOO Commerce
WooCommerce
It is considered one of the best as far as SEO is concerned. This makes it the best platform for SEO experts to set up shop. Woo Commerce is also popular and this creates a niche already as you have many partners to work with and clients too. This combination makes it one of the best online platforms to operate from. Even users have rated the platform positively, indicating the major impact Woo Commerce has had in the online space. It scores excellent overall.
4. Big Commerce
BigCommerce
One of the best qualities of this platform is the ability to scale up. The site is so flexible that your business growth will translate into more profits without having to interrupt normal operations when scaling up. Besides, you will have multiple channels to sell from. This means more profits and exposure. With time, you will build a solid clientele you can rely on. Search engine optimization experts can also thrive on this platform.
5. Magento
Magento
For those entrepreneurs that are future-oriented, this is the right platform for you. You also have a high chance of success if you are an SEO expert. The platform is SEO friendly. The only challenge with Magento is you need some development expertise to thrive here. Besides, you may need to spend on themes. Well, this means this platform suits better digital marketers and the experienced ones on matters online stores.
6. Prestashop Prestashop
Prestashop
Prestashop is probably not as popular as the other mentioned platforms. That is not the case when it comes to running your online store. The platform offers flexibility and is cost-effective. You will access most of its features for free. Besides, you have the advantage of using this feature if you are an SEO expert. Sometimes Prestashop slows down and this may affect your turn-around time. If caution is not exercised, you may lose some of your sensitive clients. The latency should not worry you at all. All the other platforms have latency moments sometimes and therefore your clients will understand. Prestashop is a fine platform to set an online store.
7. Volusion
Volusion
There are different criteria considered when determining which e-commerce platform is the most suitable. The best platforms create opportunities for both beginners and experts. It allows for easy growth and shields you from unnecessary costs. Volusion is that platform. You get a chance to start and grow your business with minimum resistance and/or challenges. Volusion gives the seller a chance to include subscription options. This can be a major source of income for the seller. Volusion is friendly to small and medium businesses. It is a great partner as you grow your business. With this platform, you can run both an online platform and a physical business commonly known as brick and mortar.
8. Square Space Square Space is easy to establish.
Square Space
The simplicity in the platform allows you to come up with a simple online store. Your clients will find it easy to shop from you. At the end of the day, all you'll be left to do is think about your growth strategy. Whether you are a start-up or an established business, this platform will work for you. Or, if you are a beginner on matters of e-commerce or an expert; this is a great place to develop your business.
Best Ecommerce Platforms Conclusion
E-commerce is now a big thing. Businesses and individuals alike are setting up shops online and doing business with profits in mind. One thing you should remember when establishing your business is the fact that the e-commerce platform you choose will significantly shape your success journey. The eight platforms listed here are some of the best all-around platforms today. Most of them are easy to work with and offer excellent scaling opportunities. The majority of the platforms also allow you to use your SEO skills to grow your market and profit margins.
Scroll down to read our indepth Ecommerce Platforms guide. What you should know, Ecommerce Platforms features, price plans and support. Pros and Cons of Ecommerce Platforms as a ecommerce, everything is explained below.
Shopify is a software company that specialises in ecommerce software for small to enterprise level businesses.
Shopify is listed as the best ecommerce software related to Ecommerce Platforms. Shopify was founded in 2006 in Ottawa, Canada and currently has over 6,124 employees registered on Linkedin.