Best Marketing Email Service Table of Contents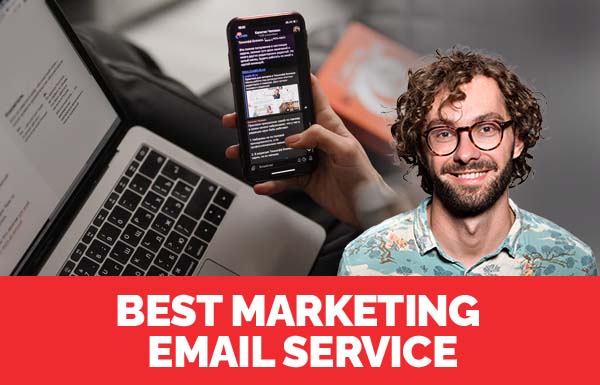 Best Marketing Email Service
Email marketing is a powerful tool with a return of investment of about $40 for every $1 spent. To enjoy the benefits of email marketing, it's important to select the best marketing email service.
Sending isn't the sole purpose of marketing email services. They're powerful tools that can help increase audience, combine advertising channels, and segment lists with the goal of improving businesses. Today, I will review the best marketing email services to help you pick the right one for your company.
I will also summarize their pros and cons so that you can make a well-informed decision. That being said, let's take a closer look at some of the best marketing email services and make a wise pick.
Best Marketing Email Service
You can choose from hundreds of marketing email services. However, you should consider only the best-rated ones for your business. Below, I will discuss some of the greatest ones and mention any downsides and drawbacks for you to consider, so let's get started right away.
I like Mailchimp because it's neither complicated nor confusing but still has the all key features that you need including scheduling campaigns, click-through rates, A/B test copy, unsubscribe rates, reports that include open rates, etc. The best part? It has free-forever plans.
Their plans include up to 2K contacts and up to 10K monthly email sends. Mailchimp's platform provides drag-and-drop features that enable people to customize their emails.
They also have 3 paid plans which differ in cost depending on how your subscriber count (nonprofits get a 15% discount). If you're looking for something simple yet effective, look no further than Mailchimp. It's one of the best marketing email services with minor downsides.
Pros:
User-friendly and clear reporting
Integrates with many software platforms
Free-forever plans (up to 2K contacts)
Cons:
Limited phone support
Expensive for larger contact lists (over 15K subscribers)
Not designed with advanced marketing teams in mind
ActiveCampaign remains the greatest marketing email software for automation due to the hundreds of inbuilt automation that help you customize campaigns for each contact.
You will also get guides on how to get started along with responsive and friendly customer support. It's designed to control sales processes and manage contacts with over 850 integrations.
But here's the real kicker. You will get a 14-day free trial so you can test the software and decide if it's a good fit for your business. After your free trial, you can subscribe to one of the 4 paid plans. You can pay for your plan monthly or yearly. If you pay yearly, you will get a discount of about 15-40%.
The discount depends on the plan. Additionally, the cost of each plan depends on how many subscribers you have (nonprofits get a 20% discount). The interface isn't complex or hard to master.
On the contrary, it's intuitive. It also has sales automation. Thus, your sales and marketing processes can work together to increase revenue. Now, let's check the pros and cons.
Pros:
Great automation options that simplify customer interactions
Every plan level includes data migration and implementation services
Over 850 integrations and fast and friendly customer support
Cons:
There's a learning curve
The lite plan is quite limited and has ActiveCampaign branding
The price of plans increases with the increase of contacts
If you're looking for something user-friendly and very simple, look no further than MailerLite. It's one of the most reliable software with a sharp and streamlined appearance.
People love MailerLite not only because of the drag-and-drop interface but also because of the 24/7 live chat at their disposal available to answer any troubleshoot and questions.
You can either pick a free-forever plan with 12K email sends and 1K subscribers or a paid plan with more bandwidth and advanced options like the ability to remove their branding.
The cost of your plan depends on your subscriber count. You can either pay monthly or yearly, however, with annual plans, you obtain a 30% discount (nonprofits get a 30% discount).
The best part about MailerLite is that they include all essential tools for email marketing without adding complex and advanced features that nobody understands. This is why MailerLite makes a perfect option for businesses searching for straightforward yet effective email marketing.
Pros:
You can easily design your emails
Free plans for up to 1K subscribers
24/7 live chat and email support
Cons:
Restricted integrations
No CRM functionalities (integration allowed)
Requires company data upon signing up
Searching for a reliable all-in-one marketing solution? If so, Hubspot makes a great option for you. It's a super-effective software with excellent tools and reporting for marketing campaigns across a wide range of channels including social, website, email, marketing, etc.
You can keep all your contact data with CRM and gather new visitors via lead forms, online ads, and live chat. Hubspot can handle everything including social media posts, emails, blog publishing, and so on. It's the ultimate all-in-one marketing solution for every business on the market.
They offer a 14-day free trial. Then, you will have to subscribe to one of their 3 paid plans. No one wants to talk about the downsides of Hubspot but I have to mention one of the biggest ones. Although you can keep unlimited contacts for free, once you surpass a number, you pay a fee.
You can save 10% on your first 2 plans if you pay yearly. I want to finish on a positive note and say that I really appreciate the amazing training platform that Hubspot provides to help people learn how to make the most out of their marketing strategy and grow their businesses.
Pros:
Robust training platform
Made with ambitious business owners in mind
All-in-one solution with social media, blogging, CRM, and email marketing capabilities
Follow leads during their buying experience
14-day free trial and discounts
Cons:
No low-cost plan or free-forever plan
Hard to integrate Pipedrive, Salesforce, or other separate CRM
Not for those looking for email marketing tools only
Last but certainly not least, I have a budget-friendly option for business owners on a budget. The paid plans by Moosend cost less than most paid plans by other marketing email services.
You can either pay by the number of emails sent or the number of subscribers, depending on what suits your budget more. The best part? They provide user-friendly tools that can help you craft appealing and creative emails. You will also receive phone support that can help you with basically anything.
The free-forever plan by Moosend includes 1K subscribers. However, you can also choose some of their paid plans and enjoy some advanced features. And if you pay for your paid plan annually, you will obtain a 25% discount (nonprofits get a 25% discount). Check out their paid plans for additional details.
Although Moosend is one of the most affordable marketing email services on the market, it's still strong and versatile enough to handle different marketing campaigns for smaller companies.
Pros:
Affordable prices
You can pay only when you send emails
User-friendly interface
Cons:
Restricted integrations
You can't send emails from a Hotmail or Gmail address
Lack of sophistication
Best Marketing Email Service Verdict
The best marketing email service can help you make, send, and track emails to your list of subscribers or use some of their advanced marketing tools to boost your profits.
Hopefully, today's article can help you find the right marketing email service for your business. Have you had any experience with some of the services mentioned in today's article? If so, drop a comment below and share your experiences! Let's continue the discussion below!
Scroll down to read our indepth Ecommerce Email Marketing guide. What you should know, Ecommerce Email Marketing features, price plans and support. Pros and Cons of Ecommerce Email Marketing as a ecommerce, everything is explained below.
Shopify is a software company that specialises in ecommerce software for small to enterprise level businesses.
Shopify is listed as the best ecommerce software related to Ecommerce Email Marketing. Shopify was founded in 2006 in Ottawa, Canada and currently has over 6,124 employees registered on Linkedin.