Best Membership WordPress Plugins Table of Contents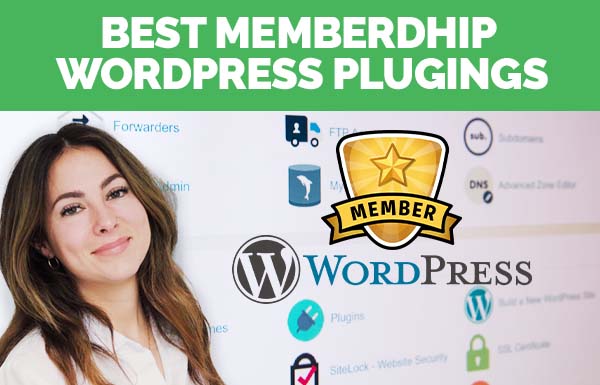 Best Membership WordPress Plugins
If you want to craft a membership site in WordPress, you will need to select one of the best membership WordPress plugins. Utilizing the right membership plugin is super important for your company because a better platform means more growth opportunities.
In today's article, I will compare some of the most reliable membership plugins to help you pick the right one and craft a paid membership website with ease.
Best Membership WordPress Plugins
With the right set of WordPress plugins, you can enhance your performance and achieve greater online success. Let's review some of the best membership WordPress plugins and choose the right one for your business that offers different features you can easily use.
MemberPress makes a great choice for beginners because it's easy to use. It's also loaded with features. I like this plugin because it's easy to set up. It can automatically set up a login, pricing, thank you pages, and account. The plugin also provides powerful access control.
Meaning, you can restrict access to any content including pages, posts, tags, categories, and files. It also enables you to display restricted content to members after a certain time which is a super useful option if you're selling learning materials, online courses, or anything else.
MemberPress integrates with MadMimi, GetResponse, MailChimp, and Aweber email services as well as BluBrry and Amazon Web Services for podcast hosting. You will also obtain inbuilt support for Stripe and PayPal payment gateways. The plugin comes with a few downsides.
For instance, it only supports 3 payment gateways which would be a deal-breaker for people who reside in areas not supported by these payment gateways. It also lacks integrations with some famous services. Overall, it's excellent, user-friendly, and provides many options.
LearnDash comes with a bunch of integrations and advanced membership modules. It's also super easy and super flexible to use, so it's excellent for beginners.
Setting up and adding content is a walk in the park. You also get advanced tools that will help you divide your membership content into different groups, levels, etc.
You can easily restrict any content to different membership groups, craft and sell online courses, use the drip content feature, and the build-in community features.
What I like most about this plugin is the set of payment gateways and integrations. You can also connect it to WooCommerce, MemberPress, Slack, bbPress, etc.
However, it lacks some membership options. Meaning, if you're trying to create a membership website without selling online courses, then some of the options won't do much for your company. If this isn't a deal-breaker, opt LearnDash and build your platform.
If you're looking for a comprehensive online courses builder, look no further than Teachable. It provides email marketing, membership website, discussion forum, LMS, and analytics.
It's the ultimate all-inclusive plugin that's easy to set up and doesn't require any advanced skills. Making membership content is a walk in the park and comes with built-in tools to quickly make and upload text, videos, PDF, etc. There's also a drop content feature and built-in engagement features.
The only downside of Teachable is that it's not available as a WordPress plugin. You need to integrate it into your WordPress website by adding sub-domain or links. It's also expensive!
The same team who came up with the AffiliateWp and Easy Digital Downloads plugins has made Restrict Content Pro, a super powerful plugin that's easy to use and feature-rich.
Restrict Content Pro nicely integrates with the WordPress user interface, so you can easily learn how to use it. Unlike other membership plugins, this one comes with inbuilt integrations that others charge you for including MailChimp, PayPal, Stripe, MailPoet, CSV export, email manager, etc.
Braintree, PayPal, and Stripe come as free additions. Other payment gateways include Stripe Checkout, PayPal Express, PayPal Website Payments Pro, and 2Checkout. You will also get great support by email. However, it lacks integrations with third-party services like email service providers.
If this isn't a deal-breaker for you, try Restrict Content Pro today! It's developer-friendly and comes with a large set of features that can help you build a great membership website.
Last but not least, I have a free WordPress membership plugin with a pro version available as well. It's a popular plugin with limited features and support. However, it's a perfect starting point for newbies with limited skills because it's easy to use and includes a content drop feature.
The free version of S2Member supports PayPal while the pro one supports Authorize.net and Stripe as well. S2Member works with BuddyPress, bbPress, and MailChimp. There's also a large knowledge base. Furthermore, if you opt for the pro version, you will obtain email support as well.
The only downside is the lack of features. If you try the free version, you will be limited to 4 membership levels. It supports PayPal only and doesn't include the drip content feature. However, if you're a newbie with limited skills and budget, opt for this popular membership plugin.
Scroll down to read our indepth Ecommerce Membership Platforms guide. What you should know, Ecommerce Membership Platforms features, price plans and support. Pros and Cons of Ecommerce Membership Platforms as a ecommerce, everything is explained below.
Shopify is a software company that specialises in ecommerce software for small to enterprise level businesses.
Shopify is listed as the best ecommerce software related to Ecommerce Membership Platforms. Shopify was founded in 2006 in Ottawa, Canada and currently has over 6,124 employees registered on Linkedin.