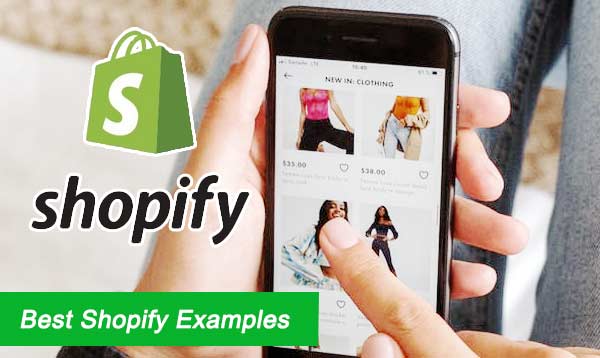 Best Shopify Examples
eCommerce is expected to constitute 17% of all U.S. retail revenues. With the rise of e-commerce, the rivalry would also find it difficult to distinguish your website from any other one. It's not just enough to have an individual product: you need a one-of-a-kind website to draw your perfect audience and particularly to make that audience enthusiastic brand ambassadors.
A sleek and entertaining website from Shopify will draw a larger audience and also be a marketing pitch for you. But what makes one Shopify website better than the other, here is what you need to know. List of the best Shopify examples to get you inspired.
If you are new to e-commerce and are about to design your first website or an e-commerce veteran with a re-design that will outshine your rivals in 2018, there are several innovative concepts on this page.
1. Best Shopify Stores for Clothing
a. Negative Underwear
Negative Underwear
The purpose of negative underwear is to make women feel secure in themselves. They don't want women to feel sexy using push-up pads or bow. And the plan succeeded for them because, only a few years after it was opened, the profits of this shop rose 150 percent. Negative Underwear has received praise for making a place in the market and bridging the divide between comfort and beauty through major names like Forbes, Vogue, and The Wall Street Journal.
2. Best Shopify Stores for Accessories
a. Toyshades
Toyshades
This fashionable Shopify does not dare to add a little color to its colors. You can navigate to their website really quickly and welcoming. ToyShades helps customers to select from numerous options, including summer, winter colors, regular eyewear, and more. And if you're curious, they're sharing their trendy collections daily on their Instagram profile.
b. Wolf Circus
Wolf Circus
Wolf Circus, is a Shopify store with a line of handcrafted fine jewelry items in Vancouver, BC, manufactured or cast by hand using a technique of lost-wax casting using all sterling silver recycled or bronze recycled in a 14k gold plated high grade. This Shopify brands itself as an 'accessible luxury.' They have received recognition for their accessories, the consistency and detail they have been known to make good quality.
3. Best Shopify Stores for Cosmetics
a. KKW Beauty
KKW Beauty
Kim Kardashian West's (KKW)hugely successful beauty brand, has produced storms that have won respect and renown. The goods are not only very good in quality but are sold out in minutes as they receive occasional orders. It is easily one of the leading cosmetics shops in Shopify stores.
b. Kylie Cosmetics
Kylie Cosmetics
Kylie Cosmetics, the wildly successful makeup brand, operates its great online store with Shopify. Kylie Cosmetics hosts daily flash sales, some of the highest on the internet. This is another example of a Shopify store where the items are sold in a couple of minutes.
4. Best Shopify Stores for Health and Beauty
a. SkinnyMe Tea
SkinnyMe Tea
All-nature detox teas were sold by Australian businesses. Their business was created in 2012 to help people meet their health and well-being goals. In only 9 months, they gained $600K in monthly sales since the opening of this store.
5. Best Shopify Stores for Electronic Accessories
<3p>a. Quad Lock
Quad Lock
Quad-Lock was developed in Australia in 2011 as a Shopify store. Their flagship device helps you to clip your mobile to your motorcycle, vehicle, or arm safely and easily from the various mounting choices. The Quad Lock mount has since been launched and is suited to a number of uses, including a wall mounting, a belt clip to a tripod adapter.
6. Shopify Stores for Home & Furniture
a. Mignon
Mignon
Mignon is a small online Shopify store that began as a kitchen retailer and grew to offer other forms of housewares and accessories for parties. You can browse through their websites, add things to the cart, and take a lookout from their store through the easy navigation of their website.
7. Best Shopify Stores for Art
a. Nick Mayer Art
https://www.nickmayerart.com/
Nick Mayer Art has one of Shopify's most unique art shops. This indicates excitement. Nick Mayer, a retired marine biologist, is now pursuing his real hobby as an artist. And what better way than with a fascinating Shopify website to highlight his great work.
b. Raven Roxanne
Raven Roxanne
This is the perfect spot if you are searching for ideas for a website for artwork Shopify. Raven Roxanne's website has been built in a creative manner. On her web page, she uses soft colors and makes it feel homely. And you can find a thrilling video of her art production on the homepage.
How to set up a Successful Shopify Store?
If you look at all the above examples of Shopify, there is one common item in them all. All of them prioritized their website and ensured that their goal was enticing to the public. They're not selling a product, but a story. That makes them special.
Scroll down to read our indepth Ecommerce Platforms guide. What you should know, Ecommerce Platforms features, price plans and support. Pros and Cons of Ecommerce Platforms as a ecommerce, everything is explained below.
Shopify is a software company that specialises in ecommerce software for small to enterprise level businesses.
Shopify is listed as the best ecommerce software related to Ecommerce Platforms. Shopify was founded in 2006 in Ottawa, Canada and currently has over 6,124 employees registered on Linkedin.