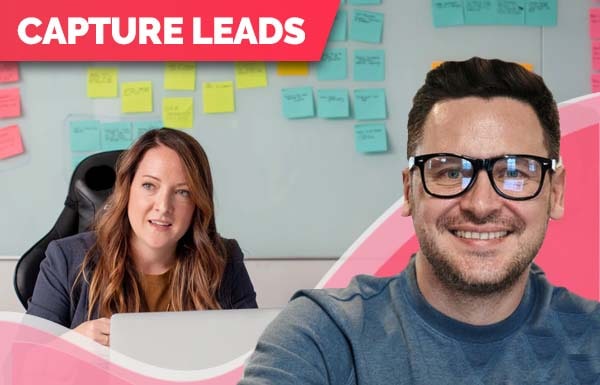 Capture Leads
In this article, we will discuss the best ways to capture leads. Marketing experts proposed the approaches and tips during a survey.
The Most Popular Lead Capturing Sources
The following is a list of lead capture sources, mentioned by the surveyed marketers, starting from the most popular:
Contact Forms (41% of marketers use this source as the most successful way)
Scheduling A Demo Or Consultation (24%)
Human chat (21%)
Whitepaper or Ebook (21%)
Email newsletter (17%)
The presented statistics gives us the following insights:
Taking into account the fact that most marketers use contact forms as the primary source of lead capture, we can assume that if leads show interest in your products, they easily provide their information.
The next important source are demos, consultations and human chat. It means that building human connection is an essential part in marketing, despite of the digitalisation of our lives.
An important way of capturing leads is to offer gifts in exchange for information. This can include whitepapers, ebooks and newsletters.
Not all of your leads will convert into real customers. Again, the most popular method for leads conversion among marketers is contact forms. Similar to the lead generation process, in this case, the leads that are willing to buy your product are ready to give you their information.
Statistics show that 23% of leads captured through contact forms have been converted into sales.
The conversion rate for the leads generated from whitepapers and ebooks is 9.5%.
The same indicator for leads captured from demos is only 4.5%.
Effective Tips For Converting Leads Into Sales
Show your leads that you value them.
Despite your chosen method for capturing leads, it is essential to show that they are valued as individuals. It means establishing a positive interaction and warm relationship with your potential clients.
Ensure That Leads Are Qualified
Qualifying your leads helps concentrate your resources and marketing efforts, which have more chances to convert. Usually, marketing professionals implement automated and personalised communication with qualified leads.
Landing Pages As A Great Way To Capture Leads
Landing pages are effective ways of capturing leads. They are connected to a specific marketing message and include content for capturing leads who visit the landing page.
In comparison to web pages without clear CTA, landing pages are more efficient.
You can also use A/B testing to analyse the most effective content and maximise your cost per conversion.
Conduct Phone Conversations
Usually, ads do not contain complete information about your product. Therefore, phone conversations effectively express your positive attitude to your audience and present your product in more detail.
Phone conversations are more effective when you have a good customer support team.
Harness Direct Email
You can stand out among your competitors using creative and personalised direct emails to capture and qualify your leads.
Use Emotions
You should not underestimate the importance of customers' emotions in the process of making a purchase. Emotional testimonials are more likely to persuade leads, as well as convert them into leads. Stories from your previous customers will touch your potential customers' emotions and influence their decisions to buy your products and services.
Build Relationships
Establishing positive relationships with your clients will allow them to give you relevant feedback. Building warm relationships can also improve your knowledge about your leads and provide them with personalised support. Consequently, you will gain the credibility and trust of your customers, which is the most important issue in the process of conversion.
Use Trusted Referrals
Referral marketing also plays an important role in the process of leads collection and conversion. It is because referred leads believe in the experience and opinions of their friends and relatives.
Usually, referral leads have a high conversion rate among other lead types. It is because their trust is based on the recommendations of the people they trust much.
Offer Free Items To Capture Leads
All of us like free stuff. Offering free items is a marketing tactic that helps convince people to position you as a beloved brand.
Offering free assets may allow you to require a value instead. People will more likely provide you with their personal information in exchange for free ebooks or discount coupons.
Talk To Your Leads Before Giving Them A Free Trial
You should not just provide a free trial immediately after acquiring their data. You should talk to them before giving them access to the offered product and service.
Depending on the product you offer, you may contact a lead and organise a meeting to present all the features of your product and how it may help solve relevant problems.
Scroll down to read our indepth Ecommerce Platforms guide. What you should know, Ecommerce Platforms features, price plans and support. Pros and Cons of Ecommerce Platforms as a ecommerce, everything is explained below.
Shopify is a software company that specialises in ecommerce software for small to enterprise level businesses.
Shopify is listed as the best ecommerce software related to Ecommerce Platforms. Shopify was founded in 2006 in Ottawa, Canada and currently has over 6,124 employees registered on Linkedin.