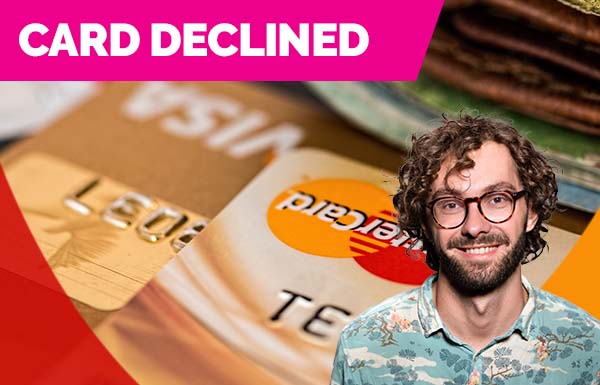 Card Declined
Reasons Your Card Was Declined And How To Prevent It
Having your credit card declined is not a good experience and can make you feel a little bit uncomfortable. And if you don't have another payment alternative, it can be a huge task for you. The fastest way of resolving this issue is by contacting your card issuer after your card got declined.
But note that your credit card can get declined for myriads of reasons, we will be discussing the reasons why your card was declined and how to prevent it:
You Met Your Credit Limit
Reaching your credit card's limit is the major reason for having your card declined.
The credit limit is the amount your card issuer allows you to spend and you can see more details on the 'cardmember agreement.' Depending on the user type, an individual can have a low limit of $500 or less, and some may have up to $20,000.
So, if the amount you want to pay for a product/service is more than your card's limit your credit card can be declined. So, a good rule of thumb here is to know your card's limit and keep checking your balance for your card so you don't reach the limit without your knowledge. However, if you notice that you're getting to the card's limit, contact the card issuer to extend the limit for you so you can spend more.
Large Purchases That Card Issuers View As Fraud
Your card can be declined if you spend a huge amount of money while making a purchase. This is because credit card theft is one of the most common types of identity theft. So once you spend beyond your previous spending limit, your card issuer may suspect it and flag it as potential fraud.
When your card is declined for this reason call the card issuer; 'their contact details are on the back of the card' to lift the freeze the issuer put in place.
On the other hand, if you are planning to travel, contact your card issuer to let them know, so they can allow you to spend more.
Wrong Payment Details
To carry out any transaction online or through a mobile app, you have to key in the right information. When you make any mistake with the details, you will have the card declined issues. Ensure your card is not outdated because you won't be able to make any transaction with an expired card.
Card issuers can freeze your account if they notice this case. But you can contact them to fix the issue.
To avoid it, ensure you are entering the right information and always review your details to make sure you keyed in the right details.
Expired Credit Card
Most times card issuers will send you a new card before your current card expires. If you continue using the old card or forgot to add the new address, you may encounter a card declined problem.
To avoid this, look for your new card in the mail a few months before the current one expires. Or you can contact the card issuer to send a new card for you. Also, update your contact information once you move house.
You Are Behind On Payments
Your card issuer can limit your card usage without your knowledge, so the best thing to do in this case is to reach out to your card issuer for them to solve the problem
There Might Be A Hold In Your Account
Some rental companies and hotels can put a hold on your card, and they won't lift it until you've returned their item or check out from their hotel if that's a hotel.
Ensure there is enough money on your credit card to meet up with numerous holds at the same time.
Use The Following Measures To Avoid Your Credit Card From Being Declined
Use the following simple steps to avoid your card from being declined
Register for account alert: Most credit card issuer provides mobile app account management, and you can capitalize on help keep your account on the safe side. Just set up a fraud alert and purchase alert on the platform to help prevent identity theft.
Use autopay: if there is an option for autopay, use it to schedule your minimum spending limit each month
Pay attention to your card issuer: Always read a message from your card company to know the latest trend and how it can help you to prevent card declined problems.
Scroll down to read our indepth Ecommerce Platforms guide. What you should know, Ecommerce Platforms features, price plans and support. Pros and Cons of Ecommerce Platforms as a ecommerce, everything is explained below.
Shopify is a software company that specialises in ecommerce software for small to enterprise level businesses.
Shopify is listed as the best ecommerce software related to Ecommerce Platforms. Shopify was founded in 2006 in Ottawa, Canada and currently has over 6,124 employees registered on Linkedin.