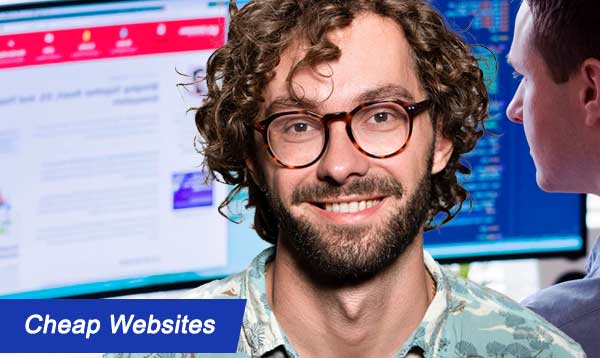 Cheap Websites
Websites are often more complex than they appear on the surface. You believe you want something straightforward, but is it. It's not only about the number of pages on a website or the layouts simplicity. Rather, it's the systems in place that allow those pages to be created. On the surface, a website that appears simple can be surprisingly complex.
If you are looking to get your website up quickly and are on a budget the quickest and cheapest way is to use a free of paid website builder. This article will explore and compare the three most popular and cheap website builders.
WordPress.com
WordPress.com is the cheapest option. It is famous for its cheap plans and the wide variety of tools. WordPress is best to use for blogging. If your business is far from the blogging industry, we recommend you use more dedicated plans.
Affordable Plan Of Wordpress.Org
Wordpress.com offers a personal plan ($4 per month), which includes:
One year free domain
6GB storage
Customer support via email
Customisation of basic design, etc.
WordPress does not provide you with creative freedom, so you should use another website creator if you need total freedom to create and build fantastic pages.
How Easy Is It To Use WordPress.com
Compared to its free option (WordPress.org), it is easier to use, but still, it is not a very convenient option for beginners. Although Wordpress.com has tips and checklists on using the website, it is still confusing for readers. Besides, it requires some coding skills from the website builder.
The biggest feature of WordPress.com is its convenience for blogging. Here you can find excellent blogging tools. However, if you need some important features to build an e-commerce page (payment buttons, Google analytics integration, etc.), you will have to subscribe for more expensive plans.
Price
WordPress offers one free and four paid plans. The starting plan of WordPress.com costs $4 per month if you choose to pay annually. Of course, the starting plan will have some restrictions.
Ogilvy
Gator
Gator is run by the famous hosting company HostGator. Gator does not offer a free plan or trial, instead it includes some free features (a free domain, SSL and hosting) in the cheapest plan.
Affordable Plan Of Gator
Gator offers an express start plan ($9.22 per month), which includes:
One year free domain.
Unlimited storage and bandwidth.
Customer support via email, phone and 24/7 chat.
No adverts on your website, etc.
Gator Design
Gator suggests a template, based on your answers to its questions, instead of letting you choose a template.
How Easy Is It To Use Gator
It is very easy to use and is based on questions and answers. During the setup process, it will ask you questions and, based on your answers, will create your website. In this way, your website can be built in a few hours.
Gator Features
Even the cheapest plan of Gator gives you several basic tools, but you will not have much power.
Gator Price
Instead of offering a free plan or a trial version, Gator gives you a 45-day money-back guarantee. Gator often has sales, providing discounts on its basic plans for beginners. The good news is that the renewal price of Gator is its regular price.
The starting plan of Gator costs $9.22 per month.
Ogilvy
GoDaddy
GoDaddy uses artificial design intelligence, and due to this feature, it offers the fastest way of building a website for small businesses. All the plans of GoDaddy include insights that provide its users with tips to help them strengthen their online presence.
Affordable Plan Of GoDaddy
GoDaddy offers a basic plan ($9.99 per month), which includes:
No free domain.
Free trial for one month.
24/7 customer support via phone.
No adverts on your website, etc.
GoDaddy Design
As it was in the case of Gator, you cannot choose templates. Gator will create it for you, so you do not have the power to implement designs on your website. There is limited customisation; therefore, you are not able to implement comprehensive branding, but it will allow you to show your stamp on your website.
How Easy Is It To Use GoDaddy
GoDaddy is straightforward for beginners to use. It is due to artificial design intelligence, which allows building a website based on your answers to its questions.
GoDaddy Features
The primary goal of GoDaddy is to assist small businesses and entrepreneurs. The insights of GoDaddy are beneficial. Another benefit of GoDaddy is that it ranks your website compared to similar companies and suggests a custom action plan to improve it.
The features of GoDaddy may seem very limited if you run a large business.
Price
GoDaddy does not have a free plan; instead, it offers a one-month free trial version. The cheapest plan is the basic, which costs $9.99 per month. The basic plan offers you good tools, but keep in mind that this plan creates a very basic website.
There are many limitations such as lack of SEO tools, restrictions on social network integration etc.
Ogilvy
Shopify
Shopify is also a good choice if you want to add e-commerce functionality to your online website. Shopify will save you a lot of time and money.
Shopify Design
Shopify offer a wide choice of prebuilt templates depending on your niche. There is also a very active Shopify community and custom theme builders at a very reasonable price.
Shopify Costs
Shopify offers a range of very affordable plans and even has a 30-day trial, which will allow you to see if Shopify is right for you before committing to their paid plans.
Cheap Websites Verdict
There are many cheap website builders on the internet. To make the right choice, be careful and read all the features to avoid disappointments.
Scroll down to read our indepth Ecommerce Platforms guide. What you should know, Ecommerce Platforms features, price plans and support. Pros and Cons of Ecommerce Platforms as a ecommerce, everything is explained below.
Shopify is a software company that specialises in ecommerce software for small to enterprise level businesses.
Shopify is listed as the best ecommerce software related to Ecommerce Platforms. Shopify was founded in 2006 in Ottawa, Canada and currently has over 6,124 employees registered on Linkedin.