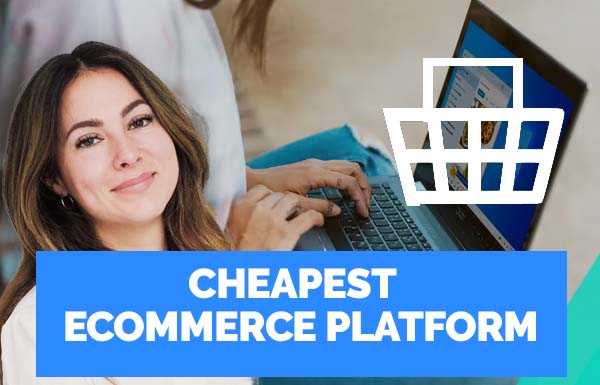 Cheapest Ecommerce Platform
Thanks to modern internet technologies and maturing ecommerce platforms the costs to create a working functioning payment ready online ecommerce platform is now cheaper than ever. We list some of the cheapest most popular ecommerce platforms out at the moment.
Top 6 Cheapest Ecommerce Platform For Creating Your Online Store
The best step to take for creating an online store is to choose the cheapest ecommerce platform available. With a little amount of money, you can set up your site, attract customers, and have enough resources for you to run other parts of your business.
In this post, we will be focusing on the cheapest ecommerce platform that lets you have value for your money and resources.
This article is designed to help you make a quick decision when choosing the cheapest ecommerce platform for your business. With these platforms, you can easily set up your site without coding.
These options are exceptional for building your site in just a few minutes depending on what you need and how you want to customize your ecommerce shop. The options we have in this post are good for both small-scale and large-scale industries.
Cheapest ecommerce Platform For Building Your Online Store
Shopify
Shopify is a cheap ecommerce platform that provides exceptional service at a great price. This is the best option for customers that want an outstanding website but are spending on a tight budget. They have a variety of templates to choose from, so you can choose the one that meets your business need while creating an online shop. Go for the best template to display important information about your company and showcase your product in an enticing way to customers.
With Shopify, you are covered with things like site security and SEO as the platform provides features for that and other high-quality features that will help you to get started selling online.
Wix
Explore the world of creativity with Wix! This platform has a classy and modern look that suits all ecommerce sites. It provides numerous tools for creating a classic and customer-focused online shop. With over 500 high-quality templates to choose from, you can't go wrong with this option and you might find a template you can use without modifying it.
Other features of Wix include; drag and drop tools, SEO tools, scroll effect, etc.
BigCommerce
Thinking of the cheapest ecommerce platform that meets you need? Think about BigCommerce. BigCommerce is a cheap ecommerce platform that is used for designing great online stores. The skill you need for creating an e-shop with this platform is mouse skills, simply how to drag and drop files to meet your need. Plus you can choose a template from hundreds of templates on the platform.
By using BigCommerce, you can integrate numerous payment gateways on your ecommerce site.
Weebly
Weebly is a cheap ecommerce platform for creating a site that provides a spectacular service to its users. It has all the resources to get your business on the internet within few minutes. With Weebly, you'll have a beautiful website that attracts and converts website visitors to customers.
This platform has all the things you need to start running your ecommerce site from the get-go. Use their mobile app so you don't miss out on any business opportunity. Plus a great feature for checking your inventory, tracking orders, and other related issues.
Squarespace
Squarespace is a world-class ecommerce builder with sleek templates. Sites designed with Squarespace are gorgeous in all aspects; from the theme to website performance. The platform offers a great solution for your ecommerce shop at an affordable price. Anybody can create a website with Squarespace just by following simple instructions.
This is a great option for you if you want to control all your ecommerce business from one platform as it is equipped with features that enable you to do that. Plus, their website is mobile-friendly.
Zyro
Although Zyro is a cheap ecommerce platform, it helps you to create a superb online store that wows your customers. It also provides services for all types of industry, so you can't go wrong with Zyro.
There is no extra fee except for the monthly fee you pay on Zyro. Selling products on Amazon, Facebook, and Instagram is very easy with Zyro. To check if this suits your business, you can sign up on their website and if the platform does not meet your need, you can opt-out and request for your money as they have a 30-day money-back guarantee.
Scroll down to read our indepth Ecommerce Platforms guide. What you should know, Ecommerce Platforms features, price plans and support. Pros and Cons of Ecommerce Platforms as a ecommerce, everything is explained below.
Shopify is a software company that specialises in ecommerce software for small to enterprise level businesses.
Shopify is listed as the best ecommerce software related to Ecommerce Platforms. Shopify was founded in 2006 in Ottawa, Canada and currently has over 6,124 employees registered on Linkedin.