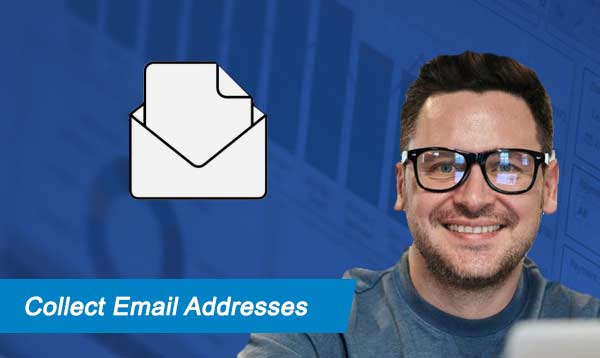 Collect Email Addresses
When building an email list, it is essential to collect the correct email addresses. There are many ways to collect email addresses, which can help you make a valuable email list and here are some of them.
Offer Users Something Valuable Not Spam
Think about each email you receive, remember how you decide to open it or delete it immediately. People do not open any email they think will not benefit them or their business. Therefore, you should think about your offerings when you ask for an email from a customer. You should offer something valuable for them in your email.
Offer Free And Useful Resources
If you decide to offer resources to your visitors, try to send them useful ones. For example, that can be interviews with industry leaders, tips, etc. All of these are called 'knowledge products'. In addition to that, it would be very efficient to provide something valuable to your target consumer for free.
Meanwhile, it is significant that the resource you offer is relevant to your specific customer. Otherwise, you will waste your time and efforts to collect email information from people who will never become your customers. The resource should be relatively short and express the immediate needs of a customer.
Use Facebook
Facebook ads are the most affordable way for email marketing. The base of Facebook users is always high and includes an ideal range of base ages for all types of businesses. Whether you are an individual or a business, Facebook ads are efficient to collect leads.
Offer Free Tutorials
You can create online free content and draw your users attention. If visitors consider your free helpful content, they can sign up to receive more information via emails. Thus, you can collect necessary email addresses to market your paid products.
Show Your Newsletter Signup Throughout The Site
It is important always to keep showing visitors how to signup for the newsletter. Keep this factor in mind, and place the signup button in a visible place.
Be personal
You should segment your email lists based on the interests and preferences of the users. It is also a useful tip to understand the demographics of your database to do effective marketing through segmentation.
Another helpful idea is using lightbox popups. They make it easy for your site visitors to subscribe to emails if they want. For example, you can offer exclusive discounts in lightbox popups.
Be Proactive
Keep the following in mind. If a person is on your website, there is a reason for it. And this is an opportunity for you, which you should not lose. If you have good products and useful and attractive content, you can make your website visitors provide you with their email addresses. For example, you can require an email to continue reading an informative article. You can also find them on social networks such as LinkedIn.
Offline Networking
You can also try offline networking and live events to collect email addresses. Although marketing is increasingly online, offline methods can be powerful, too. The most challenging part is to motivate people to leave their houses to participate in such events.
There are several platforms for creating live events.
Create Content On YouTube or Pinterest
If the key parts of your content are in video or audio format, it may be useful to host it on other platforms such as YouTube. In order not to suffer from changing the rules of those platforms, you can send people some of your content to your email list.
In these days, social media is a great means for marketing. But you have to understand how to use it not to waste your expensive resources and time and the resources of your potential customers.
Social media can send traffic to your website, and you can collect email addresses using social networks. However, it works when you do it right. And even when it works, the probability of receiving emails are usually less possible than other channels such as organic search.
It is great to use social networks for the following purposes:
To connect with those people you do not have the chance to connect to through other platforms and means.
To ask questions to a different audience.
To participate in interesting conversations leading to connections.
In conclusion, remember the most important rule of using social media: do not share too many links to your content.
Scroll down to read our indepth Ecommerce Platforms guide. What you should know, Ecommerce Platforms features, price plans and support. Pros and Cons of Ecommerce Platforms as a ecommerce, everything is explained below.
Shopify is a software company that specialises in ecommerce software for small to enterprise level businesses.
Shopify is listed as the best ecommerce software related to Ecommerce Platforms. Shopify was founded in 2006 in Ottawa, Canada and currently has over 6,124 employees registered on Linkedin.