Companies Like Amazon Table of Contents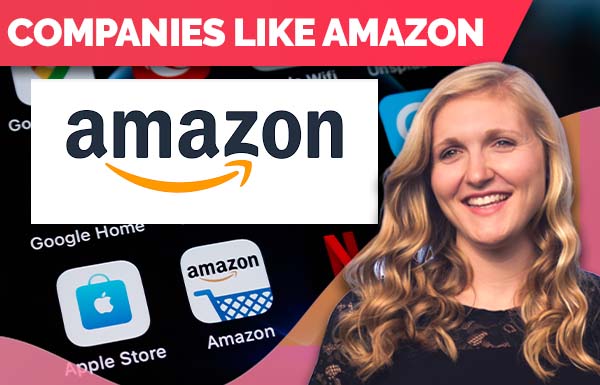 Companies Like Amazon
Launched by Jeff Bezos back in 1994, Amazon took over the world and became the biggest e-commerce service. With a whopping annual revenue of $232 billion, Amazon dominates the e-market. It even surpassed America's biggest retailer, Walmart.
That being said, every e-commerce store owner is competing with Amazon at this point. The size of your business doesn't matter, because if you're putting out different physical products online, you're up against this giant, especially in the United States, the UK and Australia. However, as powerful as Amazon is, it still has a fair share of competitors. In this article, I will talk about companies like Amazon and explain how these e-commerce stores run the race with Amazon.
Companies Like Amazon
The largest and well-known e-commerce service in North America and basically worldwide, Amazon has a loyal customer base due to good functionality, customer support, and a wide array of items.
However, the prices of items at Amazon can be high, especially when you add the shipping charges, thus many people opt for other companies like Amazon and take advantage of their unique features. Although Amazon isn't showing any signs of slowing down, neither do the following 10 companies. So, if you have a similar company, these Amazon alternatives can teach you how to enter the race.
eBay
eBay
eBay is Amazon's biggest competitor for discount shopping. It's a bidding website that enables people to bid for products and provides occasional weekly, seasonal, and brand-specific discounts. They also have a "Buy It Now†option for instant buys.
eBay doesn't put out its own items but works as a trustworthy connection between different businesses or third-party sellers and customers. As I already stated, what's unique about eBay is that you can also bid for items. If you win, you can buy it for the second-highest bid. eBay also has "Best Offers†where you can find great bargains.
AliExpress
AliExpress
Since AliaExpress cuts out the middleman, it has a wide selection of products at incredibly low prices. It's one of the most popular e-commerce websites worldwide with many products for under $5. Operated by Alibaba Group, AliaExpress provides factory-direct pricing on their products.
They also have a lot of protections and guarantees available to keep their customers safe from potential scams. Some of those protections include getting a full refund if your product never reaches your doorstep. And if your product isn't exactly as described, you can also get a full refund without sending it back.
Overstock
Overstock
If you're a handcrafting artisan who's looking for unique products, check out Overstock. It has a Club-O-Gold rewards program, so you can get 5% of each order and free shipping. You can also visit their "Deals†page and see what's discounted instantly.
Overstock is similar to Amazon that started as a retailer for surplus products from failed e-commerce services. Nowadays, this website sells new products as well and provides excellent customer service. Their unique Worldstock program sells hand-made things from artisans over the world.
Rakuten
Rakuten
Rakuten is the fastest-growing company with a lot of options at the moment due to their "Super Points†program. This program rewards customers for each purchase made (1% back). They also have different shopping departments.
But here's the real kicker. Rakuten also owns Ebates, so you can get deals for online purchases. Just like eBay, Rakuten doesn't have its own products but serves as a direct connection between different businesses and potential customers.
Walmart
Walmart
If you're looking for a familiar store with standard low prices, look no further than Walmart. It provides two-day free shipping on most items and purchases over $35. You can pick sold-out products at the website and have them sent to your local shop. You can either ship the products to your home, or pick them up at a nearby store.
Target
Target
Unfortunately, Target is a bit more expensive than Walmart. However, it sells higher quality items. And just like Walmart, you will get two-day shipping on buys of $35 or over. If you want to get seasonal deals, hop over to Target and start shopping. In the end, you can either have your items brought to you or you can pick them up at a nearby location.
BestBuy
BestBuy
If you're in the market for electronics like computers, laptops, TVs, and computer accessories, BestBuy is the place for you. It provides the best deals for quality electronics. However, they only have periodical 3-day sales. But here's the kicker. Their "Geek Squad†can help users fix their electronics and deliver relatively fair warranties. You can also get free shipping. Or reserve items while they're still in stock and pick them up at local BestBuy stores.
Etsy
Etsy
You've probably heard of Etsy, the place where you can buy and sell handmade products. When buying handmade products on Etsy, your money goes to artisans instead of billion-dollar companies. Also, Etsy has great customer service! You can obtain handmade accessories including jewelry, pieces of furniture, clothing, and even vintage 20-year-old products that you can't find anywhere else.
Newegg
Newegg
Newegg rules the tech world online. It specializes in tech and electronics only. What I enjoy most about this website is its daily deal. They also provide 3-day or less shipping on all of their orders. Therefore, if you're looking for digital cameras, TVs, laptops, desktop computers, and other electronics, consider Newegg. It's known for their great customer service, fast delivery, and guarantees.
Alibaba
Alibaba
Last but not least, I have another giant that competes with Amazon. It's a China-based international that specializes in wholesale selling online. Also, unlike Amazon, Alibaba is divided into 3 businesses including Alibaba, Taobao, and Tmall. They also have a Chinese version of Black Friday called "Singles Dayâ€.
Companies Like Amazon Verdict
You can't deny that Amazon changed the way the whole world shops online. They've certainly raised the expectations for buyers and set the bar for other e-commerce companies worldwide. However, although it's a global e-commerce leader, Amazon still has worthy competition that definitely deserves attention. Was this helpful? Let's continue the discussion in the comments!
Scroll down to read our indepth Ecommerce Platforms guide. What you should know, Ecommerce Platforms features, price plans and support. Pros and Cons of Ecommerce Platforms as a ecommerce, everything is explained below.
Shopify is a software company that specialises in ecommerce software for small to enterprise level businesses.
Shopify is listed as the best ecommerce software related to Ecommerce Platforms. Shopify was founded in 2006 in Ottawa, Canada and currently has over 6,124 employees registered on Linkedin.