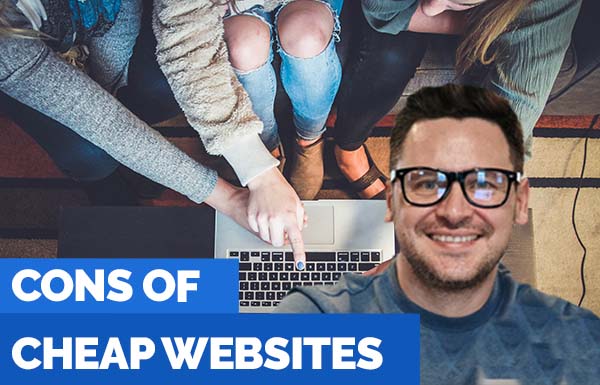 Cons Of Cheap Websites
Nowadays, every individual and business has a website or professional blog. It's easy to find a tech nerd who will make a website for cheap. However, low prices provide poor results. And unfortunately, the cons of cheaper websites outweigh the pros.
If you want a "hobby" website or a personal blog, a free online website builder such as WordPress can get the job done. However, if you're looking for a professional-looking website that will work on different devices, provide speed, and ensure a flawless customer experience, look further than cheaper options. Keep in mind that a website can make or break your business in these modern times. Thus, consider the following pros and cons of cheap websites and make a well-informed decision.
Pros and Cons of Cheap Websites
When opening a new website or consider a redesign, money is one of the key concerns for businesses. Most companies usually have a limited budget and want to launch a new website for cheap. However, choosing the cheapest freelancer or online marketing company isn't the smartest option most of the time.
Why? It might cause you more headaches and even more money in the long run. That being said, let's dive deep into the main advantages and disadvantages of a cheaper website design before you hire anyone. Make sure you know what you're getting into before it's too late!
Cheap Website Pros:
Cheap Website Low Initial Costs
The key advantage of cheap websites is obviously the lower initial costs. You will likely spend less money than you initially planned. Usually, companies spend between $10,000-$50,000 on websites. However, today's market is full of beginner programmers and agencies that offer low prices, so it's easy to fall into temptation. Just make sure you're hiring someone hardworking and trustworthy.
Cheap Website Fast Turnaround
Usually, a cheaper web designer or online marketing agency that offers lower prices also provides a fast delivery time. Why? Well, because they don't have a lot of hours or a long timeline in mind. They likely assume that your website won't take a long time to make. Meaning, you will probably have a website in 2 months or less. Those who charge more, often invest more time (4-5 months).
Budget is the topmost priority for businesses when building a website, probably, they want to minimize cost and invest in other parts of the business. But it's important to note that a cheap website will have a negative effect on your business.
When you check proposals from website designers, it will be appealing to choose the cheapest option. However, before you do that, be sure to know the cons of cheap websites as this will help you to make your final decision. A cheap website might look like the best option now but will cost you a lot in the future.
A cheap website and template can be easy to set up, but this might hurt your business as well. A cheap website will not take your business far, and it will leave you stranded in the middle of nowhere.
Cons Of Cheap Website
In this post, we will be sharing the cons of cheap websites with you.
Low Ranking On Search Engines
The major factor with digital marketing is the ability of a site to rank high on search engines like Google, Bing, Yahoo, Duckduckgo, etc. This will help to show the site with potential customers that want your product and/or service. If your site is not ranking high on search engines, your potential customers will not be able to discover your site and carry out any transaction on your site.
A cheap website lacks the basics of SEO, designers in this category pay less attention to the fundamental requirements of search engine friendly website design. They create websites that do not follow the right standard for designing a website. If you go for a cheap option you most likely will get your site to this state in the future and that means low ranking which will not help your business to grow.
Slow, Bloated And Unsecured
A single template website is designed to fit multiple businesses; hence, they are filled with features that might not be needed for your business.
There is a lot of disadvantages of using this template. For instance, template websites have numerous fonts and styling options and you will not use all these fonts, but a poorly designed site will load all these fonts without your knowledge. As a result, your site will not be mobile-friendly, and 'being mobile-friendly is one of the factors that helps a site to rank high on search engines.' Apart from that, your site will not be able to load very fast.
The most used template has been used more than two hundred thousand times. It gives your site a generic look and also puts your site at risk because, with these generic templates, hackers can easily manipulate your site. The good news here is that developers are always writing security patches that solve the problem and you must install it on your server in order to protect your site from being hacked (Note: you have to update it every week to be on the safe side)
Poor Design
The main option used by cheap designers for designing a website is by using a template. This option will make your site look generic and won't be able to speak to customers about your brand since the format used in designing it is a generic one. Hence, your company will not be personalized to suit your business needs and that of your audiences'.
With poor design, your site will not function properly and will not be able to rank high on search engines and attract customers to your business.
It's not going to be easy to make changes and update your site; even if you try, it might affect the efforts you have made for the growth of your business.
Low Cost And Cheap Hosting
When you host your site on a cheap website hosting platform, you will be missing out on some important features. This is one of the cons of cheap websites. And to set your site apart from it you have to make sure you are hosting your site on a hosting platform that constantly provides backups and they have a responsive customer care team to respond to your question whenever you encounter a problem.
Cheap Website Poor Quality
Although this isn't the case with enthusiastic beginners who want to experiment with different features and create a website that will look stunning in their portfolio, usually those who charge less provide less quality. And you will likely get a cheap-looking website than those who pay a higher price.
Cheap Website Less Creativity
Again, this depends on the individual or company. If your web designer doesn't care about your website and how it will look in their portfolio (if they have any), they will use a pre-made template. These templates aren't hard to put to function. They also come at a lower cost. However, you're risking having the same popular design as other people or brands who also took the cheaper road.
Cheap Website Lack Of Planning
Not a lot of research or planning goes into a cheaper website. Therefore, if you opt for a cheaper option, make sure to specify your needs and requirements upfront. Additionally, cheap marketing agencies and web designers don't have a good marketing strategy in mind that will help your business grow.
Cheap Website Limited Support
Hiring a more expensive online marketing agency will provide a lot more resources and knowledge than a cheaper one. They will help you with other aspects such as copywriting and marketing strategy.
You will also have a team of people who will help you with future website issues and receive updates on your design. Most cheaper options don't provide extra services and support, so keep that in mind.
Cheap Website Costly Long-term
A cheaper website might appear perfect today. However, will it still perform the same way in 6 months? If yes, then it's a good option. However, if the web developer or agency doesn't deliver updates that will climb your website on top in Google searches, you might have to redo your website in the future.
Meaning, you will have to pay more money for the same website. That being said, investing in a stronger website at the start of your journey is a far better option, however, it's your money, after all, so only you can decide how to spend it. Consider both the pros and cons of cheap websites and make a choice.
It Is More Expensive On The Long Run
One of the cons of cheap websites is that it might look like the best option in the beginning, but it is more expensive to maintain in the future and will not deliver the right result for your business.
Cons Of Cheap Websites Verdict
Most of today's website builders provide excellent user interfaces and provide a wide array of template-driven designs that seem appealing to both individuals and businesses. However, if you don't pay a higher price for a professional or buy a high-rated template, you will get fewer features. Therefore, consider all aspects and invest your money smartly.
Scroll down to read our indepth Ecommerce Platforms guide. What you should know, Ecommerce Platforms features, price plans and support. Pros and Cons of Ecommerce Platforms as a ecommerce, everything is explained below.
Shopify is a software company that specialises in ecommerce software for small to enterprise level businesses.
Shopify is listed as the best ecommerce software related to Ecommerce Platforms. Shopify was founded in 2006 in Ottawa, Canada and currently has over 6,124 employees registered on Linkedin.