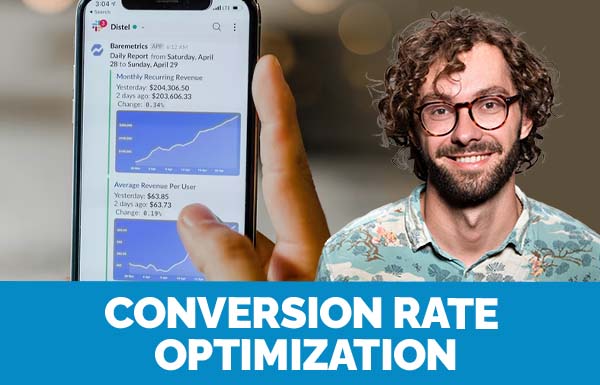 Conversion Rate Optimization
Conversion rate optimization or CRO represents the practice of boosting the percentage of people who perform a preferable action on your website.
Preferable actions can include buying something, filling out a form, signing up for a service, adding stuff to the cart, clicking on a link, or subscribing to a newsletter.
In today's article, I will talk about CRO and teach you how to increase your website conversion rate. Let's build a successful and effective CRO campaign.
Conversion Rate Optimization
Forget about everything you've learned about conversion rate optimization such as quick hacks. You can only increase website conversion rate if you understand your audience, customers, readers, and provide relevant information. In other words, give the people what they need.
A good CRO campaign utilizes in-depth data for analyzing results, runs different tests, alters the content to make it more relatable, and draws conclusions. Let's learn how to boost your website conversion rate by optimizing the following elements that play a key role in everything.
Landing page
The design of your landing page determines the success and usability of your website. Therefore, build a modern and aesthetically pleasing landing page that will get more traction.
Follow Amazon's footsteps. The company has strategically created product pages with even the smallest details available to customers. For example, when visiting a product page at Amazon, customers can add the product to their cart instantly by just clicking on the "Add to Cart†option.
The "Add to Cart†button is situated right next to the product details column and has a strong color that stands out from the rest of the elements on the page. The orange button complements the background making it easy for the users to identify and take the necessary steps instantly.
Furthermore, Amazon puts the white background to work by highlighting the main features of products and providing large photos on the left side to grab the attention of the users.
Website copy
Crafting engaging, relevant, and relatable content that talks about the product's specifications, benefits, and downsides can keep visitors on your website and take further actions.
When writing your website copy focus on your headlines and body. The headline defines the impression your business will leave on people. If they don't like it, they won't proceed any further and read the rest of your page. The body of your website copy is just as important as the headline.
A well-written copy answers the basic questions in concise sentences and portrays your company in the most efficient manner. Break down your body content into relevant paragraphs.
Make sure it's easy to read. Utilize numbered lists or bullet points wherever necessary. Also, ensure the font type, color, and size, match the overall design guidelines of your brand.
CTA
CTA or call to action is a call or request for people to take some type of action such as buying something, subscribing to something, booking something, learning something, and so on. With a powerful and crisp CTA, you can obtain more leads. Therefore, craft something simple but still effective.
Navigation and site structure
The site structure is a graph of how every page on your website interacts with each other. Furthermore, you should build a site that's easy to navigate.
Every website is different with different navigations but you usually start navigating from the homepage, then explore different categories and subcategories until you've found what you were looking for. And if this whole process is smooth, then your users won't have issues going through your site.
Otherwise, they will abandon your site eventually. Therefore, make sure that your visitors can easily and quickly move between sections of your page and take action in the fewest clicks possible.
In simpler words, provide a smooth, easy-to-navigate website that will increase your conversions as well as improve your company's online reputation.
Forms
If your sales funnel includes forms, then you should optimize your forms to improve the conversion rate. However, not every form works for every company.
For instance, having a concise form works for some brands while others do better with a comprehensive form. Therefore, decide what works for your brand. Keeping a balance between lead quality and volume of leads ensures a good ROI (return of investment).
Page speed
The page load time or page speed has a big impact on the overall work of your website. In fact, it affects your customers directly as well as the conversion rate of your site and rankings in the search engine. So, make sure your page loads quickly. Otherwise, a long time delay can reduce your conversions.
Conversion Rate Optimization Verdict
To optimize for conversion rates, you must know what and where to optimize, and who to optimize for. This data is the cornerstone of every effective CRO strategy.
Therefore, do your research, collect data, and optimize accordingly instead of just going with your gut. If you have questions or suggestions, drop a comment below!
Scroll down to read our indepth Ecommerce Platforms guide. What you should know, Ecommerce Platforms features, price plans and support. Pros and Cons of Ecommerce Platforms as a ecommerce, everything is explained below.
Shopify is a software company that specialises in ecommerce software for small to enterprise level businesses.
Shopify is listed as the best ecommerce software related to Ecommerce Platforms. Shopify was founded in 2006 in Ottawa, Canada and currently has over 6,124 employees registered on Linkedin.