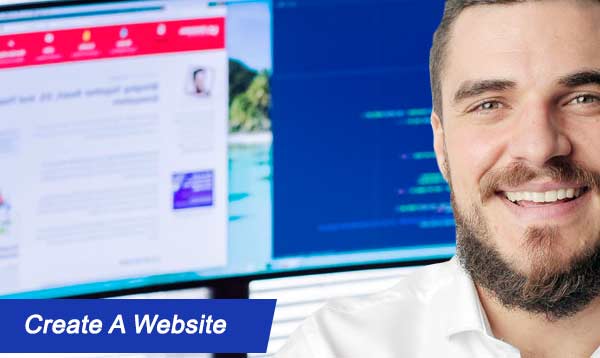 Create A Website
How To Build A Website
If you wonder how to build your own website and beyond, you are reading the perfect article. Learning how to build a website is not as hard as it may seem. With the proper resources, a great tutorial, and some patience, you too can learn how to build a website for your online business in no time at all. In the past, websites were either made manually using HTML or compiled using PHP or some other scripting language. These days, though, there are plenty of tools available that allow even novices to learn how to build a website quickly and easily.
The first thing you need to do is find one of the many website builders available. Some programs are free, while others are expensive. Just remember that to maximise your use of these programs, you'll want to pick one that offers tutorials and support for common web building tasks. If you have a basic understanding of how to customise a word processor or a spreadsheet, most app builders should be able to customise your apps with little-to-no trouble. If you have never used HTML before, or if you're not comfortable trying to learn a new program before spending a lot of money on a software suite, consider buying an affordable HTML editor that comes with a tutorial plan.
Step one of how to build a website is to select a template from a variety of ready-made templates that will give you the ability to start building your site's look and feel. Keep in mind that the template you pick should represent your company's overall image. There are many different themes to choose from, so if you change your mind after picking the template, it's easy to switch back to your theme. Numerous add-ons can give you extra functionality, such as error pages or newsletter sign-up boxes. Once you've finished customising your website, test everything out on a free version before upgrading to the paid version.
Identify Your Website's Purpose
The purpose of your website is of utmost importance. It needs to be relevant, informative, and fresh. Websites with all these traits are easily searched by internet users and bring in more business than those lacking the qualities mentioned above. So, how can you identify your website's purpose?
If your website doesn't have a clear purpose, it will fail to attract internet users, or it won't get the targeted traffic it needs. Identify your website's target market and think about what you need to offer them to draw them to your website. For example, if you are running a website for selling pet supplies, you need to focus on the needs of your target market, i.e. people looking for pet supplies. If your website is about dog training, then focus on training your dog rather than concentrating on the sales side of things.
When you have decided on the aim of your website, then start working on making your website SEO friendly. SEO (search engine optimisation) involves optimising your website to make it search engine friendly. Some of the most critical SEO factors include the title tag, description tag, meta description, and keywords. Work on all these factors and ensure that they all work in harmony to bring good results to your website.
Choose Your Domain Name
Before I show you the five fundamentals, you have to decide on your domain list. You first need to decide on the main purpose of your website. You need to be passionate about what you choose and be excited about it. This article will discuss the five fundamentals you have to use to choose your domain name and how to buy expired domains without wasting a lot of money. It will also discuss three important things you have to avoid when deciding your list of domain names. And finally, some information on how to use the powerful tool known as the WHOIS to see who owns the domain you want to own.
If you are like me, you might also dislike it when you go to someone's site to make a purchase and they only give you their domain name, and you can't pronounce it or say it in a usual way. That is why I use WHOIS to see who owns a domain name before making a purchase. The nice thing about WHOIS is it allows you to type in a domain name and retrieve all sorts of information about the owner of that domain name.
So, in summary, when choosing your domain, remember the fundamentals you have to decide on, your list, and to avoid bad habits. That is why in my next articles, I will give you a couple of different methods for choosing your domains and domain names. My last article in this series will be on choosing your host. Once you have read all of the information on choosing your domains and your host, I guarantee that you will not have any more problems choosing them.
Website Builder
If you are looking to create your website, then you have two options - you can either choose a website builder or WordPress. Both have their advantages and disadvantages. Website builders are software programs that will lay out a structure for your website based on the WordPress platform (free). On the other hand, website builders are programs that are designed specifically to allow you to customise your website the way you want it.
One of the main differences between a website builder and WordPress is that WordPress is all-inclusive and provides many different functions to help you create your website. One of the main drawbacks of WordPress is that it is pretty complicated, and you must be able to read and understand HTML and CSS to use the program effectively. It is not a problem with website builders as they are generally created as plug-ins that you can use right away without any training. In addition, most website builders have video tutorials available for new users that will teach you how to utilise the program.
When becoming more effective, it comes down to what you want your website builder to do for you. With WordPress, you can automatically update your WordPress blog, add new posts, and manage your theme all from the same place you manage your site. With website builders, you must know both HTML and CSS to use certain aspects of the software. While WordPress might be ideal for some people, website builders offer more flexibility.
Which Website Builder Is The Best
That depends entirely on what you hope to achieve with your website. If you're building a simple one-page website for personal browsing or social networking purposes, then a free website building software package will be fine. If you want to build a complex e-Commerce or business site, you'll need something more substantial.
Most free website builders come with a basic single page site, a few themes (like a blog), and some basic tools. Some advanced sites require a higher level of competence. Your website builder options will vary from free plans to commercial themes in the paid plans. The more popular themes have more features and are supported by more extensive technical support. In contrast, the less popular themes are supported by a simpler technical solution but the same amount of features.
There are several basic options you have when deciding which website builders offer the most options. There are free plans that allow unlimited themes, paid plans that provide more themes, and membership sites that give you access to a group of website builders and support. The free plan may well suit your needs so far as functionality and flexibility are concerned; if you don't know which website builders offer the best support, then a paid plan could be right for you. As far as theme and store selection goes, your final decision will depend mainly on your interests. For example, you may be better off looking at a membership site with a physical product database if you plan to sell physical products. If you plan to build an online store from scratch, on the other hand, you'll probably be interested in purchasing themes from a reputable provider so that the store looks right.
Choose A Web Hosting Company
When it comes to the world of web hosting, every company out there offers something better than the other. It makes choosing a web host slightly tricky for someone unfamiliar with this field. While some companies provide better technical support, some offer more significant discounts on monthly fees. In contrast, others contribute to set up multiple domain names and manage them all under one account. With so many options and companies competing against each other, one should choose based on features and price. Here are a few tips to help you select the best web host for your website.
One of the most important things to consider when choosing a web hosting plan is whether or not the provider offers free domain names. There are a lot of web hosting providers that don't provide free domain names. Most of these companies only provide one-click registration, which means you will need to create an account to log into your server. While you can save a lot of money by purchasing your domain name, it is not necessary. A lot of people who have multiple websites they manage and host themselves decide to buy their domains later because they would rather pay less for the service, have more domain names saved on their server and also have control over which ones they utilise.
Another option to consider when choosing a hosting plan is virtual private servers. If you already know that you need more than just a basic shared server for your website, you may want to look at a virtual private server (VPS). A VPS allows you to have your piece of hardware that will work as your server. It can be very beneficial if you need a lot of bandwidth or don't want to share your hardware with anyone else. The price you will pay for a virtual private server will be more than the price of your basic shared server, but it can still be a good deal if you know you will need more resources.
Scroll down to read our indepth Ecommerce Platforms guide. What you should know, Ecommerce Platforms features, price plans and support. Pros and Cons of Ecommerce Platforms as a ecommerce, everything is explained below.
Shopify is a software company that specialises in ecommerce software for small to enterprise level businesses.
Shopify is listed as the best ecommerce software related to Ecommerce Platforms. Shopify was founded in 2006 in Ottawa, Canada and currently has over 6,124 employees registered on Linkedin.