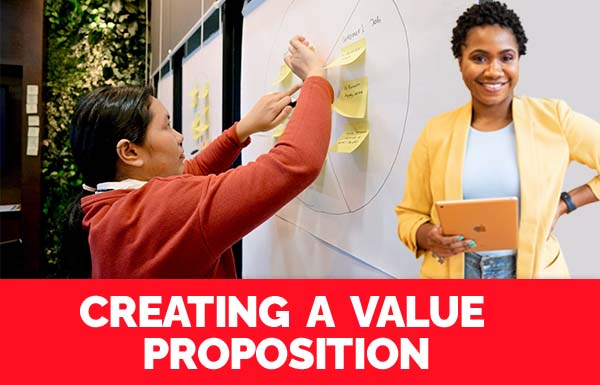 Creating A Value Proposition
Creating A Value Proposition: Great Tips To Help You
There are some important parts to consider while creating a value proposition. These parts help to present your business to the customers as the best and also make your business the go-to place for customers in your niche. An excellent value proposition will help you to grow your business online.
Now, the question is what is the right method of creating a value proposition that works? In this post, you'll find out exactly how to do that.
First, let's find out the meaning of value proposition
Meaning Of Value Proposition
A value proposition is a clear statement of the benefit a customer will get from buying from your site. A value proposition should clearly explain how your product will solve your customers' problems, give the right result, and what sets you apart from your competitors.
Value proposition gives buyers the reason to buy from you. It explains your business in a unique way that makes potential customers to buy your product and/or services. Without a value proposition, potential customers can decide to buy a product from your competitor.
So when creating a value proposition, use your copywriting skill and be unique so that your brand will stand out from others in your industry.
Important Component And Structures For Creating A Value Proposition
There is no particular format for creating a value proposition, but you have to use these three great styles while creating a value proposition.
Headline
Paragraph (Bullet point)
Visual element
Headline
The headline of a value proposition states clearly the value a buyer will get from purchasing a product from you. Make it clear and concise, plus your headline should be catchy, here is the right place to use your copywriting skills.
Paragraph
The paragraph explains everything about your business, what you offer, the particular audience you serve, and why people should buy from you. This is the right place to explain your headline in detail.
Bullet point: simplify your content at the paragraph stage by using bullet points. Bullet point helps readers to digest your content easily.
Visuals
Visual element helps to explain your product or service to readers easy and fast. In most cases, it explains your value proposition more than words.
These three components will help you to create a great value proposition for your business.
Value Proposition Canvas
This is a tool that helps you to study your customers and knowhow your product can solve their problems. Value proposition canvas can be used when you want to launch a new product or when you want to improve the existing one. A value proposition canvas aims to recognize how your business will create value for customers.
The two main parts of the value proposition canvas are:
Customer profile
Value map
Customer Profile
The customer profile is the value your customers will get from using your product, their pain points, and how important your product or service will be to them.
However, the customer profile is further divided into three parts: Customer job, expectation, and pain point.
The customer job: customer job is actually the problem customers want to solve with your product and service. To perform customer bobs, you have to satisfy their needs
Expectation: Expectation is all about what your customers will expect your product to do for them. Here, you'll do thorough research to find out what customers will expect from your product and service.
Pain points: Pain point is the negative experience buyers encounter while getting their work done. With this pain point, you'll be able to create useful products for your customers.
Value Map
Value map explains what you offer to customers, and it consists of three parts which include; pain creator, gain reliever, and products and services.
Pain Creator
In this section, you will define customers' pain and suggest how your product will help to solve their problems.
Gain Creator
Gain creator includes all the features your product has that take away the customer's pain. You have to be creative here; try to come up with offers that will solve all their problems and provide it at a great price.
Products And Services
This is the part where you list the products and services you will provide; here focus on creating a value proposition product that helps your customers.
Scroll down to read our indepth Value Proposition Ecommerce Platforms guide. What you should know, Value Proposition Ecommerce Platforms features, price plans and support. Pros and Cons of Value Proposition Ecommerce Platforms as a ecommerce, everything is explained below.
Shopify is a software company that specialises in ecommerce software for small to enterprise level businesses.
Shopify is listed as the best ecommerce software related to Value Proposition Ecommerce Platforms. Shopify was founded in 2006 in Ottawa, Canada and currently has over 6,124 employees registered on Linkedin.