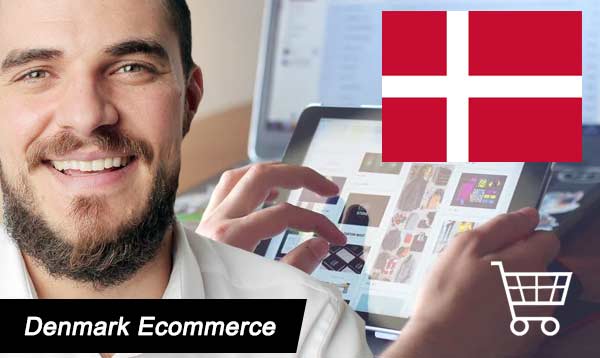 Denmark Ecommerce
One of The Scandinavian countries is Denmark. Joining the European Union in 1973, but is not a member of the European Monetary and Economic Union, and has a currency of its own, the Danish krone. Denmark relies heavily on international exchange, as well as on trade liberalization. The nation has a high living standard.
Denmarks Ecommerce Business
Denmark is number 29th biggest e-commerce market with revenues amounting to USD 5 billion in 2020, leading the UAE and Vietnam. In Denmark, the value of eCommerce in 2019 was EUR 19.5billion and in 2020 is forecast to reach EUR 21.45bn. The clothes, accessories, and jewelry, accompanied by music, books, games, and tournament & cultural experiences are the most frequently bought products in Denmark. In 2015, the house, greenhouse, and flowers category saw strong growth in popularity, while IT, telecommunications, photographs and music, books, games, and toys showed a downwards trend.
The Danish e-commerce market has increased by 18% to a global growth rate of 26% by 2020. E-commerce revenues are also increasing. New markets are evolving, with the opportunity for further growth in developed markets too. For the next few years, global demand will continue. Their growing midsize and lagging retail infrastructure would drive East and Southeast Asia.
Digital purchases of physical products to private users are part of the eCommerce industry (B2C). Purchases with the use of desktop and mobile purchases on smartphones and tablets are included in this concept. The following were excluded from the ecommerce definition: digitally delivered services (e.g. travel tickets), dedicated online stores to digital media download or streaming of digital media, B2B business online shops, and transactions between privates individuals (C2C) within the eCommerce market.
The Scale Of The Market And Pace Of Growth
The Market growth in Denmark, as the Statista Digital Market Outlook shows, is likely to continue in the coming years. The average compound growth rate (CAGR 20-24) is projected to be 5% in the next four years. This decrease indicates a moderately flooded market compared to an 18% annual expansion. The 67% in Denmark, or 67% of the population of Denmark, purchased at least one commodity online in 2020, which is another sign of consumer saturation.
Fashion is Denmark's biggest market and accounts for 32% of eCommerce sales in Denmark. Followed by 28% Electronics & Media, 18% Hobby & DIY, 14% Furniture & Appliances and 8% Food & Personal Care.
Top Stores Online
The Danish eCommerce market's largest competitor is Zalando.dk. In 2020, the business revenues amounted to US$284 million. The next one is elgiganten.dk, with revenues of US$274 million, and apple.com, with revenues of US$119 million. In all, 15% of online revenues in Denmark are in the top three stores.
The store rankings depend on each shop in Denmark which generates revenues. These stores can either concentrate nationally and only sell in their key country or run worldwide. Only revenues produced in Denmark were considered for this assessment. Skechers.dk is one of Denmark's fastest expanding stores. By 2020, the store produced revenue of approximately US$3.3 million. In the previous year, its sales growth was 32%.
Denmarks Ecommerce Customers
In Denmark, there are more than 5.77 million users, with 98% people using the Internet. Statistical data from 2019 indicate that 86% of all Internet users in Denmark had shopped online the previous year. The annual average expenditure for each shopper online is EUR 3.567 in Denmark. And the Worldwide Mobile Predictions survey by eMarketer found that Denmark has the highest penetration rate for smartphones worldwide, which is 77%.
Dankort is by far the most common mode of payment in Denmark, according to a 2020 survey. Dankort is Denmark's national debit card which serves as a foreign credit card. MobilePay, a mobile Danske Bank payment solution is also available in Finland and in Norway, is a common payment method in Denmark. The Ecommerce Foundation data indicates that debit or credit cards, followed by mobile apps, PayPal, netbanking, and invoice, were the most common payment form of the year.
Top Suppliers For Shipping Services
PostNord is Denmark's most famous provider of online shop delivery services. Among the stores, 75% cited PostNord as one of their suppliers, whose services they use to transport their products. In addition, GLS and Bring are also among the top three online shipping companies being used in Denmark with the rate of 47% and 12%.
The details on the shipping are focused on orders from the country where the store produces much of its online sales. It's in Denmark in this situation, but the only stores that can be considered are the ones that provides details about their suppliers.
Scroll down to read our indepth Ecommerce Platforms guide. What you should know, Ecommerce Platforms features, price plans and support. Pros and Cons of Ecommerce Platforms as a ecommerce, everything is explained below.
Shopify is a software company that specialises in ecommerce software for small to enterprise level businesses.
Shopify is listed as the best ecommerce software related to Ecommerce Platforms. Shopify was founded in 2006 in Ottawa, Canada and currently has over 6,124 employees registered on Linkedin.