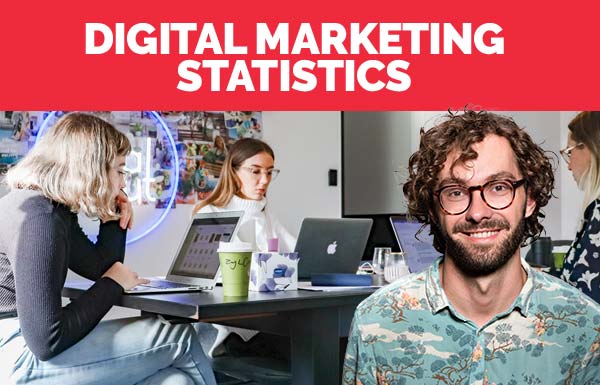 Digital Marketing Statistics
42 Digital Marketing Statistics
If you have been looking for digital marketing statistics to help you get an idea of how to create and run your business, you are in the right place.
In this post, we have 3 digital marketing statistics to help you make the best decision for your business.
Digital Marketing Statistics For SEO
This is one of the cheapest marketing methods with high ROI, so you have to pay attention to this marketing method. However, our digital marketing statistics for SEO will give you more insight into this marketing method.
In 2020, 94% of organic traffic comes from Google and 67% of mobile traffic comes from Google as well
To maintain and increase their search result, mid-size firms and enterprises focuses on content and technical SEO to grow their brand online
94% of website traffic comes from search engines
About 95% of all searches on Google are four words and above
Video content can double your chance of ranking high on search engines
50% of websites on the first page of Google has HTTPS
85% of online buyers will abandon their cart if they are buying from an unsecured site
Each second there are about 80K searches on Google
35% of websites online are built with WordPress
About 7% of people will check the third page of a search result
86% of people use Google map to get direction to a location
Organic traffic is six times better than a paid ad
Social media marketing is a popular marketing method and the digital marketing statistics for social media show why this marketing method is important for business.
Video helps 64% of social media buyers to make a better decision
43% of eCommerce stores online notice reasonable traffic from their social media pages
As of 2020, 29% of Instagram users are within the age range of 18 and 29
On average, for every six minutes a person spends online, he spends one minute on social media
86% of women will check social media before buying a product
People within the age range of 13-34 account for 60% of Snapchat users
71% of Twitter users are searching for news
The average connection a CEO has on LinkedIn is 900
91% of content on social media is viewed on a mobile device
Half of Twitter users have less than 9 followers
On average, people spend 7:30 minutes on LinkedIn each month. However, 39% of LinkedIn users are using their premium plan
Digital Marketing Statistics For Content Marketing
Content marketing is the best method you can use to grow your business online. Without content, your website will be empty and worthless and people won't have any reason to visit your site. So, the importance of content marketing cannot be overemphasized and that's why we have content market statistics to help you make the best decision for your business when it comes to content marketing.
Content generates 3X leads than a paid advert
Content update is very important, sites with web content updates are 400% more indexed than a website without a content update
On content effectiveness, a compelling story takes 57%, while 58% goes to audience relevance
On average, 60% of marketers create at least one content each day
To B2B marketers, blogging is the best type of content that resonates with their audience and this is (43%). While 45% of business-to-customer marketers prefer content
To 35% of marketing one of their challenges is creating engaging visual content always
B2B businesses use Linked and Twitter for their marketing at (94) and (87) respectively
64% of B2B marketers are having challenges creating engaging content for their audience
The main content marketing parts are case study, social media, and blogging at their percentage is (82%), (73%), and (67%) respectively
Digital Marketing Statistics For Podcast
Recently, podcasts have been gaining traction and you can take advantage of that to grow your brand online.
75% of Americans from 12 years and above are conversant with podcasting
74% of Americans from 12 years and above listen to a podcast every year
Digital Marketing Statistics For Video Marketing
Video marketing is a powerful marketing tool you can use to grow your business online. So, let's see the digital marketing statistics for video marketing.
93% of businesses get a new client as a result of posting a new video
96% of marketers have used video marketing approaches for placing an ad
The third most used marketing method on social media is a live video
YouTube is the most used video marketing platform
88% of marketers who have used the video marketing approach admit that video marketing generates a positive return on investment
Digital Marketing Statistics For Email Marketing
Email marketing is one of the best marketing methods around due to the high return on investment it gets for users, let's find out more about this marketing method.
To improve email performance, personalization is the key
2% of emails are opened between 9 a.m. to noon, in America
The ROI of the marketing method is the highest for small businesses
Scroll down to read our indepth Digital Marketing Ecommerce Platforms guide. What you should know, Digital Marketing Ecommerce Platforms features, price plans and support. Pros and Cons of Digital Marketing Ecommerce Platforms as a ecommerce, everything is explained below.
Shopify is a software company that specialises in ecommerce software for small to enterprise level businesses.
Shopify is listed as the best ecommerce software related to Digital Marketing Ecommerce Platforms. Shopify was founded in 2006 in Ottawa, Canada and currently has over 6,124 employees registered on Linkedin.