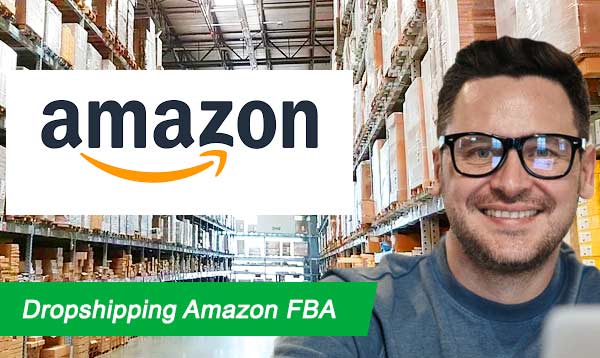 Drop shipping Amazon FBA
Drop shipping has seen huge growth over the last 10 years. One of the reasons attributing to the popularity of drop shipping is due to the fact that the seller does not need to have an inventory. All that is needed for a drop shipping business is simply a reliable seller that will drop ship the products directly to the customer. However, apart from drop shipping, Amazon FBA is another great alternative.
What is Amazon FBA?
FBA stands for Fulfillment By Amazon. Amazon is an eCommerce website where you can list and sell your goods, as well as ship them yourself or via Amazon's famous Fulfillment service.
The process is very simple. As a seller, you deliver your inventory to one of Amazon's warehouses, list your goods on the main Amazon platform, and then Amazon picks, bags, and delivers orders directly from their warehouse for any sale you make.
They'll also handle customer support and refunds. However, they adopt a hands-off strategy when it comes to ordering, storage and dispatch, which is similar to drop shipping.
Using Amazon FBA for Drop shipping
On Amazon, drop shipping can be achieved via the Fulfilled by Amazon (FBA) service. Amazon can choose, bag, and ship your orders for you if you use FBA. They will also provide the customer with tracking information and handle any relevant customer service issues, such as returns. This, though, comes at a price! The amount you pay Amazon is determined by the type of goods you sell as well as the time of year.
You could be charged long-term storage fees if the orders stay in Amazon's warehouse for longer than 6 months. Fortunately, you can use an Amazon fee tracker to help you measure your expenses and sales.
It might be important to note that your product listings will say 'Sold by [seller name] and Fulfilled by Amazon' if you're an FBA seller. One of the advantages of using the FBA fulfillment system is that you will be able to make use of Prime delivery to delivery your clients' parcels, which will improve the chances of winning the Buy Box.
However, Amazon does not support conventional drop shipping. Therefore, if the delivery time is described as 7-14 days, it's possible that the item was bought from a drop shipper in China or in another country.
Pros and Cons of Amazon FBA
The following are some of the advantages and disadvantages of Amazon FBA that can help you decide if it is the right venture for you:
Pros of Amazon FBA
Sufficient Opportunity to Focus and Scale Your Business
Amazon deals with the item bundling as it does the transportation cycle. It also provides brilliant customer service. This means that there is not a lot left for you to do. Henceforth, you have sufficient opportunity to zero in on scaling your business adequately.
Progressive Goodwill
Amazon's FBA also saves you the need to build up a brand name for yourself. By making use of Amazon's services, you will get all the brand acknowledgment you need. This will be very helpful if you want your online store to scale fundamentally.
Bigger Customer Base
Building up a client base is quite possibly the most challenging task that any business visionary needs to confront. In any case, with Amazon's FBA program, you will want to make the most of their gigantic client base and concentrate on productive outcomes.
Policy on Returns and Replacements
Perhaps the best element of the Amazon marketing model is its policy on returns and replacements. For matters related to packing, distribution, or returns, Amazon has got you covered. Since Amazon FBA's main goal is to have excellent customer support, it will also help you to retain your customers.
Increased Profits
Furthermore, you will get to sell goods at higher rates on Amazon. This is so as Amazon and its brand name generally have higher paying customers than say eBay for example.
Cons of Amazon FBA
No Inventory Reports
Regrettably, the unsold merchandise will build up. It can grow to the point that you won't be able to keep track of your stock properly.
Intense Competition
Without question, Amazon's FBA platform is a safe competitor pool. You won't be allowed to use FBA exclusively for gains. Several different firms are selling the same things as you. As a result, competing with seasoned entrepreneurs can be challenging.
There Are no Promises Of Success or Profit
You must be cautious when deciding on the product mix that you want to market. The success of any product may fluctuate based on seasons. Therefore, you constantly need to think of new products to launch.
Issues with Shipping
The risks of mislabelled goods or slow shipping times are reduced with Amazon's FBA platform. Amazon do have a list of products and items they are not willing to deal with. You must check your products are allowed on Amazons FBA program.
Blind Dependence
If Amazon changes its rules and drops your shop from their website, there is nothing you can do. Therefore, there is a certain risk to relying solely on Amazon.
While Amazon will have full access to the customer data, you will not have full access to the customer data. Therefore, if you are looking to market the same goods to the same consumers in the future, this might be difficult for you.
Amazon Barrier To Entry
You won't be able to launch an online company with FBA until you have a substantial sum of cash on hand. Also, to use Amazon's facilities, you must pay a set fee.
Drop shipping Amazon FBA Verdict
Dropshipping isn't for everybody. It requires a specific set of skills and disposition to be successful with dropshipping on Amazon.
Amazon FBA is hard work, it is not a get rich quick scheme. It is also important to note that a large portion of your profits will go to Amazon. However, the benefits of Amazon are that they have the traffic and customers which other market places do not have. Therefore, it is important to thoroughly research on drop shipping and Amazon before opening a store.
Scroll down to read our indepth Ecommerce Platforms guide. What you should know, Ecommerce Platforms features, price plans and support. Pros and Cons of Ecommerce Platforms as a ecommerce, everything is explained below.
Shopify is a software company that specialises in ecommerce software for small to enterprise level businesses.
Shopify is listed as the best ecommerce software related to Ecommerce Platforms. Shopify was founded in 2006 in Ottawa, Canada and currently has over 6,124 employees registered on Linkedin.