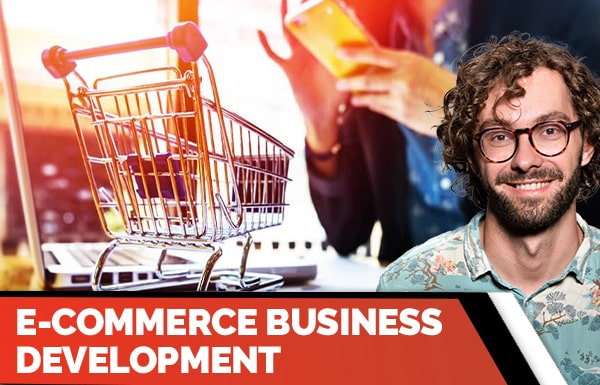 E-commerce Business Development
Business Development In E-commerce
The meaning, functions and definition of business development are different from company to company.
The primary purpose of business development is finding strategic opportunities, which will create long-term value for a company. Business development means implementing activities such as brand marketing, partnerships, etc. It is important to note that business development refers to all company sectors and heavily depends on products and services offered.
People use the terms business development and sales as synonyms; however, sales is just one of the several business development components.
Build Business Development On Relationships
As mentioned above, business development applies to all the areas of a company. However, each area of business development has one thing in common, the dependence on building relationships. The lifecycle of a product, starting from its production to delivery, moves along all the company departments. In this way, business development applies to all those processes and departments within a company.
An e-commerce firm must set clear objectives, which in turn are converted into goals for every department. For example, you have to define your target audience to select relevant products and services to offer them.
Business Development For E-commerce
When you set your objectives for the company and the specific goals for the departments to reach that objective, an e-commerce business starts building relationships with other organisations to complete all the necessary steps in a product lifecycle and boost sales. The following are common business relationships of business development:
Shipping
You have to be able to implement reliable and timely deliveries to keep your consumers happy and loyal to your brand. This ability depends heavily on the company, which provides shipping services. Your online store is responsible for problems connected to shipping. Remember that you are responsible for your shipping providers activity, regardless of the fault.
Supply
This point is similar to shipping, as product fulfilment depends on suppliers. The crucial thing is good relationships with your suppliers to efficiently maintain inventory, being able to keep your promise given to your customers and grow your business.
Marketing And Advertising
Today, digital marketing plays a vital role in the business development of companies. However, this requires intensive work. That's why many e-commerce businesses hire specialists outside the company to implement SEO, PPC, display advertising and other marketing activities.
Another important marketing strategy is email and content marketing, which requires quality management and targeted distribution to gain success.
Product
Offering complementary products to your customers is a way of building relationships and increasing retention. In this way, you will help fulfil the needs of your customer and gain loyalty.
If it is not possible to receive these complimentary products from your primary supplier, you can accomplish it by directly collaborating with manufacturers.
Customer Service & PR:
In online marketplaces, just one bad review can end your relationship with a client and even decrease your sales significantly. Large and established companies often work in partnership with PR agencies to generate positive opinions and control negative ones.
One of the most important ways to make customers feel happy is strong customer support service. You may need an additional partnership to implement this, such as a live chat software system, a third-party call centre, a help desk app and so on.
E-commerce Business Development Myths
Below we present two of the most popular myths existing in e-commerce business development.
Possibility To Create An Online Store Within One Day Myth
This myth appeared after the advertisement, which offered to build an online store in 24 hours. It is mainly applicable for SaaS solutions, which allow you to start a platform quicker than self-hosted solutions. However, even if we do not consider the technical problems that may arise, you will still need time to fill out your store content, categorise the information etc.
It will usually require a week or more. Therefore, when planning your work, set realistic deadlines.
Lots of people believe in this myth.
Building a website and setting up the necessary features does not provide you with popularity and recognition. People do not know about your store, and they cannot find it using search engines. All new e-commerce companies must be promoted to gain recognition among their potential customers.
Today, the most popular tools used to promote an e-commerce business are SEO, PPC and SMM marketing.
Keep in mind that all these processes require hard work and time, so arm yourself with patience and keep working.
Scroll down to read our indepth Ecommerce Platforms guide. What you should know, Ecommerce Platforms features, price plans and support. Pros and Cons of Ecommerce Platforms as a ecommerce, everything is explained below.
Shopify is a software company that specialises in ecommerce software for small to enterprise level businesses.
Shopify is listed as the best ecommerce software related to Ecommerce Platforms. Shopify was founded in 2006 in Ottawa, Canada and currently has over 6,124 employees registered on Linkedin.