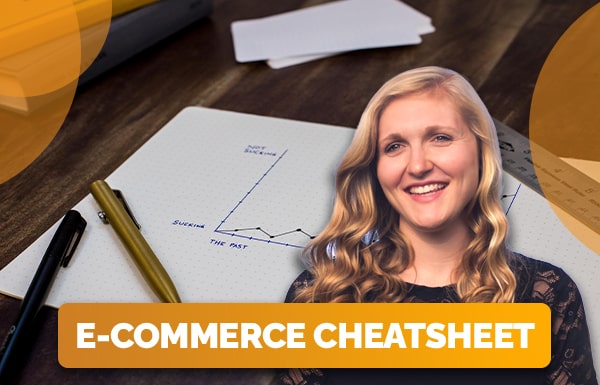 E-commerce Cheatsheet
All industries and businesses have their own language. The difference between e-commerce and other industries is that in this industry, you may read terms related to IT, marketing, finance, etc.
It is critical to understand industry-related terms to be able to conduct your business and communicate with people both inside and outside of your company.
In this article, we will present some of the most popular terms and their explanations to make your life easier when starting an e-commerce business.
301 Redirect
This is a message, which you can use to inform your users that the webpage they are looking for has moved to a different address. Those customers, who have bookmarked your old page, will be automatically directed to a new one.
A/B (Split) Testing
This testing includes a simple process allowing you to compare two web page options to select the most effective strategy. During A/B testing, you simultaneously show your web pages A and B to your potential customers to evaluate the approach, which increases conversion rates.
Address Verification Service (AVS)
Credit card processors use AVS services to ensure that your customers' billing addresses and the addresses on their credit card statements are the same.
Affiliate Marketing
This is a marketing strategy where your e-commerce business collaborates with online publishers. The goal of this strategy is to promote your products and services and direct potential customers to your websites.
Usually, you pay an affiliate a fee based on the number of webpage visitors or the number of sales generated from the promotion.
Average Order Value
Average order value is the average amount spent by your customer when visiting your online store.
Average Time On Site
This is the typical amount of time a user spends on your site during a defined time frame.
Bounce Rate
This is the share of visits to a website, where visitors leave after viewing just one page.
(Product) Bundling
Bundling refers to the grouping of products or services as one package. Bundled products are frequently offered at reduced prices (to increase conversion rate).
Call To Action (CTA)
CTA is a marketing tactic involving instruction to the potential customer. The aim is to convince people to take action, for example, visit now, subscribe now and so on.
Cart Abandonment Rate
Cart abandonment rate shows the share of customers who leave your online store before finalising their purchase and the total shopping carts created in your store.
Chargeback
Chargeback is the reversal of a transaction carried out by a credit card. It usually occurs due to a customer dispute, in which the bank of the merchant refunds the amount of the payment.
Conversion
A conversion takes place when you convert an online shop visitor to a paying client.
Cookies
Small text files are sent to a visitor's browser from a website the visitor opens your page. The goal is to store data about all the interactions of the visitor with the site. Each time the visitor opens a website, these files are sent to the server.
Companies use cookies mainly for targeting ads and content.
Cross Selling
Cross selling refers to cases when a seller offers complementary products to the primary offer.
Dropshipping
Dropshipping is the online selling process, in case of which an online store works with wholesale suppliers to organise the delivery of the products. This process is organised by transferring the shipping data of each order to the suppliers.
Email Marketing
This is a marketing strategy, which promotes your products and services to your target group of customers through email messages.
Compared to other marketing channels, email marketing generates one of the highest ROIs.
Event-Triggered Email
These kinds of emails are sent to customers in case of specific events, for example, special offers connected to a subscribers wedding anniversary.
Fulfillment
Fulfillment is the lifecycle of an order, including receipt of an order, processing, packaging the product and shipping.
Payment Gateway
Payment gateway is an e-commerce service provider that implements the communication with your merchant account provider to authorise and process the payments through credit cards.
Inventory
This refers to the products, which are available in a store of a retailer or e-commerce and are waiting to be sold.
Keyword Stuffing
Keyword stuffing is a search engine optimisation technique, which overloads a webpage with many keywords to enhance the search engine ranking.
Landing Page
A landing page is a page on a website where a user appears after clicking a link, for example, an email. Usually, these pages aim to convince visitors to complete a CTA, such as subscribe or become members of a special community.
Listing Fee
Listing fee is the fee that online auction sites charge for listing products and services.
Scroll down to read our indepth Ecommerce Platforms guide. What you should know, Ecommerce Platforms features, price plans and support. Pros and Cons of Ecommerce Platforms as a ecommerce, everything is explained below.
Shopify is a software company that specialises in ecommerce software for small to enterprise level businesses.
Shopify is listed as the best ecommerce software related to Ecommerce Platforms. Shopify was founded in 2006 in Ottawa, Canada and currently has over 6,124 employees registered on Linkedin.