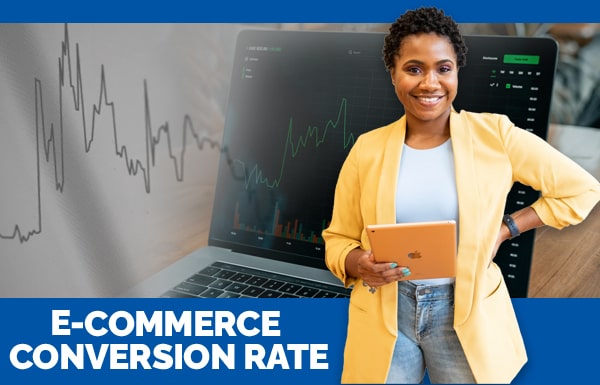 E-commerce Conversion Rate
In this digital world, e-commerce plays a crucial role. Digital reality makes businesses operating in commerce conduct more digital activities and drives more digital offerings.
The growth of e-commerce companies depends on their conversion rates. Here we will discuss the main factors, which affect conversion rates of e-commerce.
What Is An E-commerce Conversion Rate?
An e-commerce conversion rate is the share of implemented transactions in the total site visits. You can use the conversion rate to measure the health, competitiveness and performance of your online shop. A higher conversion rate shows a greater customer value proposition and a low customer acquisition cost.
Mean Conversion Rate For E-commerce Websites.
This indicator varies depending on the industry, country, marketing strategy, etc. In general, the average e-commerce conversion rate as of Q2, 2020 was 1%-4%.
In September 2022, the average conversion rate for the health market was 3.49%. In the same period, the conversion rate for home appliances industry was 2.74%.
When comparing the conversion rate of e-commerce, we can see that this indicator in the US is equal to 1.4% and 1.8% in UK.
If you conduct an e-commerce business, it is important to define KPIs (Key Performance Indicators) for e-commerce. Also, analyse market-specific details when you implement an analysis of the average e-commerce conversion rate in your industry.
E-commerce Conversion Rate By Country
When you set your KPIs in e-commerce, you need to consider the conversion rates of the leaders in commerce countries. The difference in conversion rates in different countries are driven by the following factors:
Developed markets: developed markets, which have established famous online brands, typically have higher conversion rates rather than those markets where e-commerce is still in a development stage.
Purchasing Power Parity (PPP): One of the main differentiating issues is PPP. Besides the inflation rate of a country, other factors affect the conversion rates, such as economic growth rates of a country, demographic changes, etc.
Credit card penetration (CCP): the higher the CCP in a country, the higher its conversion rates.
Logistics and distribution: One of the important drivers of an e-commerce business is the availability of advanced logistics and distribution networks. If a country does not possess the mentioned infrastructures, the conversion rates will be lower.
E-commerce Conversion Rate By Channel
It is important to segregate conversion rates based on a traffic source. It will help to set channel-specific goals, allowing to identify the most effective traffic sources.
Recent analyses show that referral traffic provides the best performance and generates very high conversions after referrals, emails, and social networks channels.
All firms implement a series of initiatives to promote their offerings, including guest posting on famous sites in the relevant industry, using social media channels, developing SEO strategies, etc. Such activities aim to convince the visitors to stay on your website and perform a transaction. If you implement deeper analysis, you may notice that the ultimate goal of each marketing channel is to enhance referrals.
E-commerce Conversion Rate Strategies
To improve your e-commerce conversion rate, companies adopt different strategies and tactics. Together they are called conversion rate optimisation (CRO).
CRO may help you increase the power of a certain marketing campaign, like improving the user experience or user interface of your website and your landing page.
CRO strategies allow you to plan your work accordingly and concentrate your resources where necessary. Without a CRO strategy, you may waste your money and receive nothing. The main CRO strategies are the following :
Improve Your Customer Journey
If you improve your consumer journey, you will be able to increase the average stay on your website. It will lead to an increased conversion rate. To improve your customer journey, the first thing you need to consider is to enhance the UX/UI of your online store.
Optimise Your Landing Page
Another important aspect is the optimisation of your landing page. You will see the results of this strategy, especially if you have a certain amount of website traffic. In this case, you will send those users to a landing page designed to sell your products and services and increase the chance of improving your conversion rates.
AP testing has proved that CRO works well with landing pages.
Tweak Your UX
As noted above, the UI/UX of your website plays a significant role in the process of improving your conversion rate. For that reason, you have to improve the overall user experience of your website and always try to offer your potential clients something different and original.
Segmenting Your Customers
Segmentation of customers allows you to understand their problems and needs and develop more effective actions to influence their purchasing decisions. You can use different categories to implement segmentation of your target audience.
Scroll down to read our indepth Ecommerce Platforms guide. What you should know, Ecommerce Platforms features, price plans and support. Pros and Cons of Ecommerce Platforms as a ecommerce, everything is explained below.
Shopify is a software company that specialises in ecommerce software for small to enterprise level businesses.
Shopify is listed as the best ecommerce software related to Ecommerce Platforms. Shopify was founded in 2006 in Ottawa, Canada and currently has over 6,124 employees registered on Linkedin.