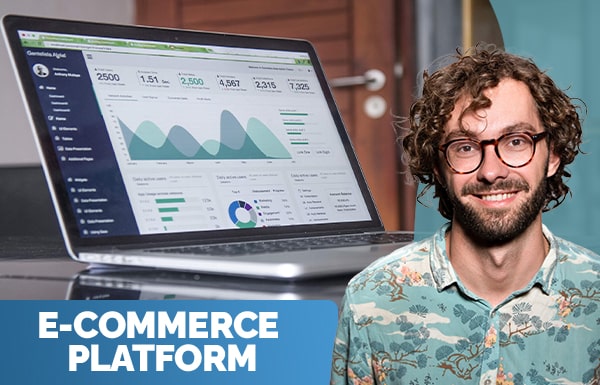 E-commerce Platform
Definition of E-commerce
Electronic commerce (e-commerce) includes the processes of selling and purchasing goods and services and implementing payment transactions using the internet. The greatest advantage of e-commerce is that it allows people to satisfy their needs for some products and services without considering borders and time.
Categories Of E-commerce
E-commerce has different categories, and your choice depends on the type of your business, the industry in which you conduct your business, as well as your preferences.
The main E-commerce categories are the following:
B2B (Business To Business)
B2C (Business To Customer)
Online auctions
Web marketing, etc.
The Main Features Of An E-commerce Platform
Different businesses use different approaches when establishing an e-commerce business. The key to success is that, despite of the model you choose for your e-commerce platform, you have to plan your business carefully and have effective front-office and back-office applications. The main features of an e-commerce platform are:
It should be conducted on a single platform.
It has to provide full customer view.
It must allow you to manage orders intelligently.
It should provide innovative customer expectations.
It must provide support for unlimited expansion.
How Does E-commerce Work?
The whole work process of e-commerce includes three parts.
Receive An Order
In this step, consumers choose a product or a service and place an order using the e-commerce platform, and the seller registers it. E-commerce can be conducted through a website and an online portal.
Processing Information Regarding The Order
In this step, the seller deals with organising all the details of the order and prepares the product for delivery (packaging, etc.).
Shipping
To provide quality delivery service to your customer, you must have all the necessary techniques and means for logistics in place.
Key Advantages And Disadvantages Of An E-commerce Platform
If you plan to start an e-commerce business, the first thing you should do is analyse the advantages and disadvantages of such a business. This article will discuss the main pros and cons of e-commerce platforms.
Advantages Of E-commerce Platforms
Easy To Setup
There are a high number of platforms you can set up and use for your e-commerce activities. Most of them are easy to set up and do not require specific knowledge and skills. These platforms will offer a wide range of necessary tools and mechanisms. E-commerce platforms are prevalent now; therefore, you will have many options to choose from. Almost all will provide you with a list of solutions to usual problems and other specific issues you may face while starting your online business.
Extention-Friendly
Usually, e-commerce platforms have extensions or add-ons. Extensions are mechanisms, which allow you to implement additional functionalities through plugins. This feature is necessary because your business may grow, and you will require some new features for your established e-commerce platform. These features may include very simple aspects such as a button on the sidebar or more sophisticated aspects such as implementing a connection between the platform and your payment provider.
Flexibility
One of the main advantages of e-commerce is that you can conduct your e-commerce activities effortlessly. It removes the ideas of borders and constraints.
Easy To Reach Your Customers
With e-commerce platforms, you can achieve your target audience quickly and in ways that are more efficient than in the traditional business model. For this purpose, you can implement market research using the internet and discover and reach your target customers.
Disadvantage Of E-commerce Platforms
Limitations
The most critical disadvantage of e-commerce platforms is that common platforms usually offer general functionalities, which are suitable for most types of businesses and satisfy the needs of most e-commerce owners. However, if you have very creative ideas and need functionalities to implement those ideas, common platforms may not be enough for you.
Building A Website For E-commerce Business
When conducting e-commerce activities, you will need to create a website. It should be a very efficient platform to promote your products and services to your customers, create your brand and make it popular with your target customers. Today one important thing in the e-commerce business is to implement Search Engine Optimisation (SEO). SEO aims to attract clients through search engines, for example, Google Search.
The next important thing you should consider when building a website is to have a list of products and services you offer your customers and want to promote.
The last thing is to have a well-designed and straightforward payment checkout page. If you fail in this step, you may lose your clients at the last moment.
Scroll down to read our indepth Ecommerce Platforms guide. What you should know, Ecommerce Platforms features, price plans and support. Pros and Cons of Ecommerce Platforms as a ecommerce, everything is explained below.
Shopify is a software company that specialises in ecommerce software for small to enterprise level businesses.
Shopify is listed as the best ecommerce software related to Ecommerce Platforms. Shopify was founded in 2006 in Ottawa, Canada and currently has over 6,124 employees registered on Linkedin.