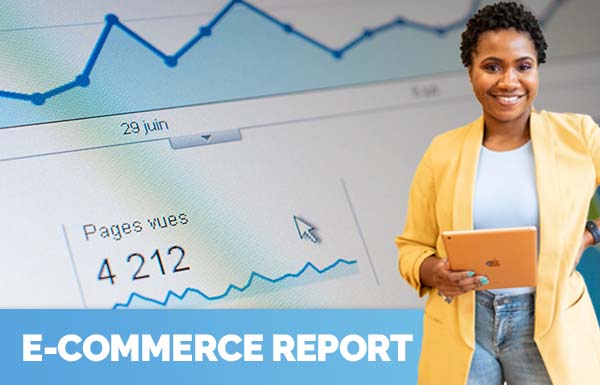 Ecommerce Report
Reports are very essential in any form of business. It helps to monitor and determine the growth a business has made in the area of sales, customers, conversion rates, among others. Reports in ecommerce are very crucial because of the nature of the business. Ecommerce is built on digital methods, hence, the flow of the company can't be measured in conventional ways. There have to be tools and strategies set aside for the purpose of analyzing. These strategies come in the form of reports and analytics.
Planning an Ecommerce Report
Putting in place solid plans before making reports is very important. There are some things you have to consider to figure out the exact report type you need.
Determine the focus of the report
The focus of the report has to be identified before proceeding. It is important to point out what the report is aimed at be it in the area of KPI (Key Performance Indicators), or e-commerce sales.
Identify the style of your report
To attain good results, you need to figure out how your insight and data should be reported. For example, it is better to input commentary in your reports instead of relying solely on automated reports.
Decide Your Storytelling Method
Reports and analytics are incredible elements for storytelling in e-commerce. While reports convey data, analytics translates data and provides understanding to the performance of the site.
Top Ecommerce Reports
For every person out there, there is a reporting tool that suits them. From the myriad report tools, you just need to find the one you can best work with. For this reason, I will be sharing top e-commerce reports that could work for you.
Overview Dashboard
This dashboard is very important for viewing store performances across sales channels and comparing data. It illustrates an overview of sales, conversion rate, and traffic. Overview dashboard is a basic Shopify report that is suitable for novices who are not yet conversant with the area of e-commerce. It is important to make the most of the dashboard by regularly monitoring it for sales performance.
Sales Reports
This can be accessed through a analytics dashboard for example like on Shopify plus. This amazing report provides information about sales with different criteria. For example, you can be shown sales based on a specific product, staff, or even the amount of time a discount code has been punched in to make sales. Sales reports give a broad overview of where your areas of strength and weakness lie, and where your point of focus should be. Not only does it give detailed information, but it also helps the business to grow to its full potential.
Finance Reports
This report provides information on sales, liabilities, gross profits, and payment. Finance reports make things very easy for users as taxes are organized for their convenience. The report is provided after a particular timeframe that you choose. It could be provided monthly, or quarterly.
Behavior Reports
A very popular strategy that marketers use for consumers is studying and accessing their behavior. The behavior of consumers in the market plays a huge factor in how sales will turn out. For this reason, there is a report called behavior reports. This report monitors the behaviors of consumers over time. It aims at building strategies and tactics for the improvement of the market. Here are some of the behavior reports available:
Online Store Conversion Over Time
It shows you the rate of people that purchase off your website over a certain period.
Online Store Speed
This is the time taken for pages of an online store to load. This factor largely affects the experience of users.
Top online store searches
This displays the search terms regularly used by customers. Taking note of them and applying it to your product title could help your products rank higher.
Sessions By Device
This shows the type of devices used to gain access to your website.
Ecommerce reports remain an effective tool in the performance of e-commerce websites. It is important to harness this feature and make use of the various ones that fit you. Keep in mind that along with reports, analytics is a key element and should be used together to attain desired results.
Scroll down to read our indepth Ecommerce Platforms guide. What you should know, Ecommerce Platforms features, price plans and support. Pros and Cons of Ecommerce Platforms as a ecommerce, everything is explained below.
Shopify is a software company that specialises in ecommerce software for small to enterprise level businesses.
Shopify is listed as the best ecommerce software related to Ecommerce Platforms. Shopify was founded in 2006 in Ottawa, Canada and currently has over 6,124 employees registered on Linkedin.