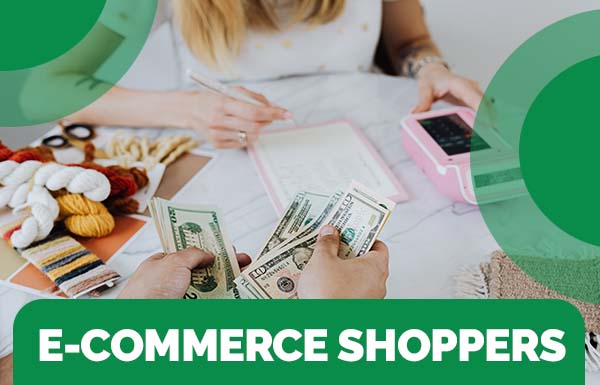 Ecommerce Shoppers
E-commerce shoppers are very unique and interesting people. They visit sites to suit their personal needs. Now imagine being able to understand everything about your customers. Knowing each of your customers enables you to create a business that satisfies their needs and creates a pleasant shopping experience for them.
Every aspect of a business plays an important role in the rate of productivity of that business. Not only do these aspects affect the business, but it also affects each customer differently. This makes it necessary to categorize your customers, making it easier to tackle their needs and create a site suitable for every e-commerce shopper to attain maximum satisfaction. Here are four major categories of e-commerce.
The Purpose Driven Shoppers
This category of shoppers knows what they want from a site. They do not have to search for information or do research on any particular product. They are fully educated on the product being acquired. It is usually a product that they have already purchased before. These shoppers aim to find that product and purchase it as quick as possible. They are hardly distracted by other products that are not part of the initial goal.
Now the key here to maintaining such shoppers is clarity. Ensure the search icon of your site is very functional. Make sure you display each product with easy identification and a very extensive and explanatory description. Images and descriptive names should be added to give total clarity on the product about to be purchased.
The Over The Counter Shoppers
Over the counter shoppers prefer in-person transactions over e-commerce. This is either because they decide not to shop online or do not have access to e-commerce. Some of these buyers lack the patience to wait for their products to arrive days after purchase. They see this process as time-consuming when they could just shop for the same products at a place that gives them immediate access. But a large percentage of these buyers refrain from online shopping due to fear of getting their financial information leaked or encountering cybercriminals.
The easiest way to get to them is by gaining their trust. This is done by making things such as return policies available to them. Also giving them a platform in which they can communicate with the seller is very important. This gives them a chance to ask questions about the product making them feel like they are engaging in a person-to person-transaction.
The Information-seeking Shoppers
These shoppers are usually very indecisive. They come on sites seeking information on products prices and descriptions. Most times, they get a very vague idea of the product and come to research and gather information on the products. Other times, they could have heard of the products or seen them in person and are on the lookout for good prices and better features.
With these types of shoppers, the aim is to turn these researchers into buyers. Give out essential details on the product with descriptions, images, and clear navigation. Not only that, let your website be a source of trustworthy information. If there isn't enough information given by your site, they are more likely to not shop from there.
The One-time Buyers
These buyers come in contact with your site through ads or are in search of discount sales. They get drawn to your website with the promise of receiving discount on their purchase without any intention of purchasing from your site after this initial transaction.
To maintain these buyers, try as much as possible to create coupons and discounts that could be attained after meeting a certain criterion. Display goods with discounts and savings while also displaying full prices of the products. This would help in allowing them to have access to other products while on the hunt for discounted products.
Considering all shopping types are important in running a business, the goal is to make sure customers are as happy and satisfied. The main challenge is identifying and understanding these shopping types. The above classification is listed to help you have a better understanding of your customers and implement ways to run a business and boost its success.
Scroll down to read our indepth Ecommerce Platforms guide. What you should know, Ecommerce Platforms features, price plans and support. Pros and Cons of Ecommerce Platforms as a ecommerce, everything is explained below.
Shopify is a software company that specialises in ecommerce software for small to enterprise level businesses.
Shopify is listed as the best ecommerce software related to Ecommerce Platforms. Shopify was founded in 2006 in Ottawa, Canada and currently has over 6,124 employees registered on Linkedin.