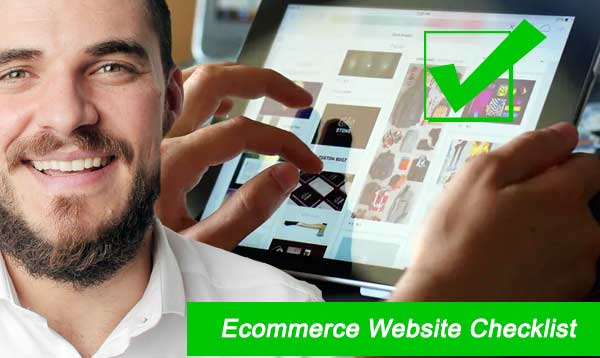 Ecommerce Website Checklist
You realize there are a lot of items to be checked when you start a website, checked and tested to ensure a pleasant experience for your customers. This is why a broad checklist is needed for the latest eCommerce websites.
Check the list and check when every item is completed so you are able to sell on your e-commerce website.
First Manage What The Clients See
everyone has a choice either leave or look through your website when they come on your website. If the homepage and browsing interface does not draw the attention of eCommerce shoppers they may leave, however, you may direct them through the web with some additional details and tweaks to the first few sections.
This is what you need to add and double-check:
Including of nice logo
Ensure that the website runs on both browser and devices
Ad graphics and links on the website
Links to the most popular brands
Calls for measures to transfer people to major sales pages
Having a clear search box on top of your website
Show any offers, discounts, or options for free shipping
Latest news area
Linking to common products and recent purchases
A place where famous brands can be search
If required, a shop finder
For your eCommerce platform, language options are important
Management And View Of The Overall Ecommerce Site
A list works best in order to double-check that the whole site works correctly and each website looks fine. Each web-based website needs regular moderation and maintenance. Take a look at things that you can hold in mind when handling your site and items to add to the page:
Includes authentication certificates and reminders that the purchases are secure on the platform
Test your website speed so that pages load fast
Remove broken links and complete empty pages of product
Make sure that you have categories and filter choices on every page.
On each page display an email registration form
Link to your career page
Link to legal data
Link to privacy policies
Contact page link
Links to FAQ
Links to social pages
Your Product Pages For Ecommerce
There are possibilities that people may end up on a certain product page if they are finding your e-commerce site through search engines. This ensures that specific facts and related resources, guidance, and media are required on each page in order for consumers to purchase the items.
Include calls to action
Consumer feedback and ratings for each eCommerce product
Sales points, such as free delivery or a savings clock when they bought a product
Provides zoom-in functions for product
Several pictures of products with different angles
Information on items
An area to change quantity purchase
Creative description and product-related overview
Including optimized product title
Blogs And Media Pages To Add Value To The Site
Additional content helps you to distinguish from another competitor by showing search engines that you are more than just a website that sells products. These are additional products to improve by adding them on different websites.
Educational pages
Tutorial
Reviews and Product Showcase
Company Events
A blog of news and events
Your blog comments
Options for the social posting of your blog posts
Data from insiders to communicate with the consumers
Listing of your products
An external website with information
Articles about the state of your business
Areas where they can present their own contents for drawings
This is the bread and butter of your e-commerce website so use your shopping cart and customer inspection area so that consumers can glow through the loop easily and moving of products.
Do not create an account until the user has placed an order
Allow all types of payment
Offering low shipping costs
Visualize the checkout with funny pictures
Add checkout buttons on the top and bottom of the pages
Ensure that the check-out protection and payment seals are prominent
Asking them to continue shopping after making a purchase
Allowing them to save their cart for later on a Wish list
Customers Follow-Up
When anyone purchases from you, there is the possibility to provide assistance and more e-mail offers once they have purchased. Here's what to add to your :
Receipt with their price
Image of the item
Provide product links, website, help, and associated product recommendations
Give a follow-up of 1 to 2 weeks to see the product
Request for a review
Provide a discount code after a few months if they haven't reordered
Asking them to engage in a loyalty program
Support Pages For Your Ecommerce Site
The support links were previously hidden, so it is good to know the support pages on your e-commerce site. A few support tips are also available below.
Social media Pages
Forms contact and listed emails
Listed phone numbers
An area for a live chat
FAQs
Details of shipping
Buttons to share
Offer consumer assistance 24/7.
Provide a long time for product return
Scroll down to read our indepth Ecommerce Platforms guide. What you should know, Ecommerce Platforms features, price plans and support. Pros and Cons of Ecommerce Platforms as a ecommerce, everything is explained below.
Shopify is a software company that specialises in ecommerce software for small to enterprise level businesses.
Shopify is listed as the best ecommerce software related to Ecommerce Platforms. Shopify was founded in 2006 in Ottawa, Canada and currently has over 6,124 employees registered on Linkedin.