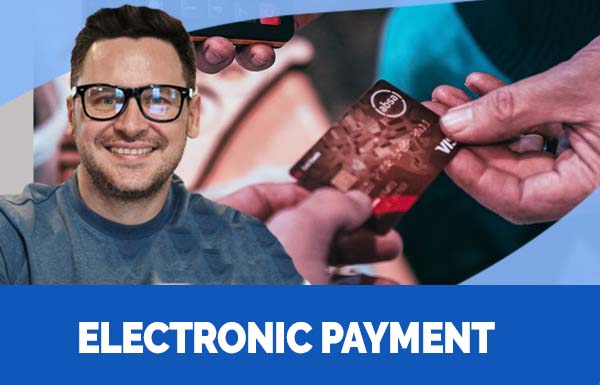 Electronic Payment
Electronic payments include any type of cashless payment that doesn't include a paper check. Methods of common electronic payments include debit cards, credit cards, and the ACH network.
The Automated Clearing House mechanism includes direct debit and electronic checks, also known as e-check, and direct deposit. In this article, I will talk about online payments, so let's begin.
Electronic Payment Types Of Transactions
When you purchase at e-commerce websites like Amazon, you utilize a common one-time customer-to-vendor payment. You check your shopping cart, then enter your credit card and checkout.
These websites process your payment information and often send an email notifying you of a successful payment. Some websites allow e-checks instead of credit cards. To pay for your product or services by e-checks, you enter your bank's routing number along with your bank account number. It's simple!
Then, the vendor approves your payment via your bank, which then either prints a check and mails it to the vendor or makes EFT (electronic fund transfer). Another example of a customer-to-vendor payment is when you pay your bills through a regularly scheduled direct card from your checking account.
Usually, car insurance companies, loan management companies, and phone companies offer this type of payment plan. Certain long-term contracts like those at gyms also require this type of payment.
To enjoy automatic bank-to-vendor payments, your bank should deliver a service called "online bill payâ€. You can either pay your bills manually or set monthly automatic payments on the same day.
Electronic Payment Advantages
Some of the benefits of electronic payments include lowered processing costs, more accurate payments, and increased security. Let's take a closer look at each advantage of electronic payments.
Quick and more accurate payments
You can complete electronic payments in just minutes or seconds. Paper checks, on the other hand, take not only more time but also extra effort. Therefore, electronic payments make life easier!
Decreased processing costs
As you can assume, electronic payments decrease processing costs. They save funds by eliminating costs like the expenses for stamps, checks, and postage. And who would deny fewer expenses?
Safer and convenient payment method
The pandemic has highlighted the importance of businesses having the flexibility to complete electronic payments because a large portion of their employees began working remotely. Electronic payments can save people time. Also, they don't have to take health risks by visiting offices to take checks.
Improved data access and reporting
When companies utilize paper to complete payments, they usually spend a lot of time and funds looking for invoices and purchase orders. And with papers being misplaced, it takes hours if not days to find and organize all the documents and find the necessary information to complete all the payments.
Electronic payment systems prevent these issues, thereby saving both time and funds. Financial experts can easily access the payment details and reports they need because they're digitally stored.
Reaching new audiences
When you launch a website for your business where people can easily access your products or services, you also broaden your audience. Electronic payments draw new buyers and opportunities.
You can easily grow your business online and take advantage of the revenue-generating options just like every other business nowadays. Even when your workday is over, people can still visit your website and browse your products or services, and eventually make fast and safe electronic payments.
There's nothing more convenient than electronic payments in today's modern times. You never have to write a check, pass a credit card, or handle any paperwork ever again. All you have to do is type in your information into your browser and proceed to checkout. Electronic payments simplify life!
Electronic Payment Disadvantages
Unfortunately, electronic payments come with certain drawbacks. For instance, service fees. Third-party payment processors and payment gateways charge service fees. They're inconvenient for offline sales as well. The worst part? Electronic payments aren't fraud-proof, so you're exposed to hackers!
Meaning, if someone learns your payment details, they can exploit your payment methods or steal your money along with your personal information. Lastly, electronic payments can fail due to technical issues. Meaning, if your internet goes down or you encounter server issues, your payment will fail.
Electronic Payment Verdict
Electronic payments enable people to complete non-cash payments for products and services via cards, the internet, and mobile apps. They're convenient, relatively safe, and save money and time.
However, businesses can also benefit from electronic payments. They can increase their sales and lower transaction costs. But here's the real kicker. They don't need to deal with annoying paperwork.
The only disadvantage of electronic payments is the vulnerability to fraud that can discourage people to make online purchases and increase expenses for businesses. Other than that, they're amazing!
Scroll down to read our indepth Electronic Payment Platforms guide. What you should know, Electronic Payment Platforms features, price plans and support. Pros and Cons of Electronic Payment Platforms as a payment gateway, everything is explained below.
Spreedly is a software company that specialises in payment-gateway software for small to enterprise level businesses.
Spreedly is listed as the best payment-gateway software related to Electronic Payment Platforms. Spreedly was founded in 2008 in Durham, NC and currently has over 79 employees registered on Linkedin.