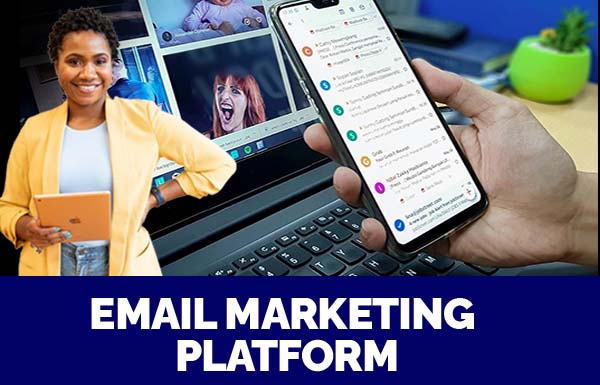 Email Marketing Platform
6 Best Email Marketing Platforms For Your Business
Email marketing generates a high ROI and should be a priority for businesses that want to redefine their marketing strategy. Although this is a brilliant marketing strategy, you won't get things right if you are not using the right email marketing platform for your business.
This post is all about the best email marketing platform for business owners. It helps you to make the best decision when choosing an email marketing platform for your business.
6 Best Email Marketing Platforms For Your Business
HubSpot
Hubspot
The number one email marketing platform on our list is HubSpot. It is one of the best tools for email marketing around. Their tool has a lot of exceptional features built to scale up your business to the next level. To know if this tool is right for your business, there is a free trial for you to get a glimpse of what they offer.
They have lots of templates you can choose from and build a customized newsletter that aligns with your business' style. You can also use their drag and drop features to make the process easier for you.
HubSpot allows you to customize your email for each subscriber. You can do that based on criteria like country, device type, and other personal information you have from subscribers. This is possible due to the integration with HubSpot CRM.
This email marketing platform has all the features needed for your business like marketing automation, A/B testing, high email deliverability, etc. Businesses of all types can use this platform for their email marketing tool.
Generally, they offer a complete marketing service that includes sales tools, email marketing, operation hub, CRM, etc.
With their free version, you can only send 2,000 emails, build landing pages, manage your ads, and more. However, to get more advanced features, you'll upgrade to the paid version which is $45 per month.
Constant Contact
This email marketing platform is one of the fastest-growing email marketing platforms around. It is a beginner-friendly email marketing tool and it is very easy to use. It is packed with a ton of features that allows you to manage your email list, the marketing calendar, contacts, etc.
Their service includes access to unlimited emails, list segmentation, social media sharing tools, and other exceptional features that will help you to scale up your business.
Their customer care support is unparalleled in the industry. You can reach out to them via emails, live chat, phone calls, etc. you can as well check some of their helpful resources on their website.
Constant content has online training and also in-person training where they educate people on the importance of email marketing and how they can use it to scale up their business. The knowledge they give out online helps small businesses to learn the importance of email marketing and to also utilize it.
This platform has a 60-day free trial and you can sign up without your credit card, with their free trial you will know if the service is worth it for your business. After that, you'll continue with their monthly price of $20.
Aweber
Aweber
Aweber is also a popular email marketing platform that offers lots of exceptional email marketing tools for businesses. it is easy to integrate this email marketing service to your site built with popular online website builders like WordPress.
The platform has lots of resourceful materials to help you get started with their service. Their monthly plan starts from $19 per month.
SendinBlue
SendinBlue
This software is for email marketing and SMS for businesses. Their service is mostly used in Europe. Their drag and drop feature is great for beginners without any knowledge of email marketing.
This email marketing platform has beginner-friendly marketing quality that enables users to send transactional emails, schedule follow-up emails, and other effective email marketing measures. Their AI algorithm helps you to know the right time to send bulk emails.
Their free package enables you to send 300 emails a day, and all the emails must have their branding which is not good for your business. However, you can use their free service to know if their service is good for you, after that you can opt-in for their paid service that starts at the rate of $25 per month.
Their paid service includes more modernized features that will help you to take your business to another level like CRM, landing page builder, live chat, etc.
Drip
Drip
This is a great email marketing platform for businesses. They have a ton of features that makes customization and marketing automation easy. You can easily integrate this email marketing service with most website builders.
Drip has great features that set it apart from other amazing email marketing platforms, like split testing qualities, marketing automation tools, etc. These tools help you to reach out to those that need your services. Also, drip allows you to send bulk emails and also connect to your subscribers on a personal level.
They have lots of resources to get you started on the right track like; webinars, free guides, etc. Their plan per month is $49, and they also have a free trial that lets users to know if it is the right tool for their business.
Mailchimp
Mailchimp
Mailchimp is also a well-known email marketing tool for your business. Most businesses around the world use their service. Their service is easy to set up, and you can do that with their easy drag and drop features. You can easily integrate their service with popular website builders.
You can get a completely free service with Mailchimp which makes it a popular email marketing platform for most businesses around the world. Their paid package starts from $10 per month.
Scroll down to read our indepth Email Marketing Ecommerce Platforms guide. What you should know, Email Marketing Ecommerce Platforms features, price plans and support. Pros and Cons of Email Marketing Ecommerce Platforms as a ecommerce, everything is explained below.
Shopify is a software company that specialises in ecommerce software for small to enterprise level businesses.
Shopify is listed as the best ecommerce software related to Email Marketing Ecommerce Platforms. Shopify was founded in 2006 in Ottawa, Canada and currently has over 6,124 employees registered on Linkedin.