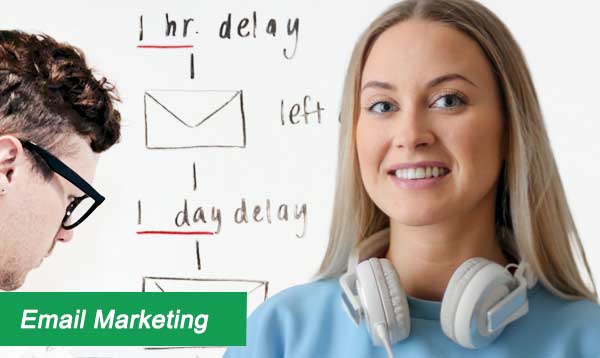 Email Marketing
What Is Email Marketing?
What is email marketing? Email marketing is the simple act of sending a promotional message, usually to a targeted group of individuals, via email. By its most basic definition, every message sent via email to a prospective or existing client can be viewed as email marketing. It includes using electronic mail to send promotional advertisements, request assistance, solicit donations or sales. It also typically includes transactional marketing (selling and buying goods and services over the Internet), as well as promotional messages and 'customer education' messages.
Most businesses use the advantages of email marketing to make it easy for their customers to sign up or purchase products/services. Emails are often used to promote sales events, launch new products/services, provide information about changes in company policy, or announce the availability of a special offer. One-to-one emails are another popular way of communicating with clients; by offering one-on-one coaching or advice via email, it makes the client feel that they are in touch with a 'real' person, someone they can talk to, even ask questions about.
Email marketing campaigns can also be used to market as many other things as the company or marketer might want to. Email marketing techniques can include search engine optimization (SEO), which aims to rank websites high in the search results for specific keywords and phrases, and which can be achieved by writing articles and creating web pages that are as informative as they are attractive to readers. Many businesses also incorporate video marketing into their campaigns, and some also make use of social media (such as Facebook and Twitter) and viral campaigns such as YouTube videos, where web content is edited and made available for the public.
Why Do You Need Email Marketing?
If you own an online business, you have probably heard the term 'Email Marketing' and may even be wondering what it means. There are many different types of businesses that utilize email to reach their customers and this is a great way for them to stay in touch and gain new customers. However, if you have not been careful about who you are emailing and sending it to you can open up your business up to many unwanted scam emails that may contain viruses or worse.
With that being said, there are a few things you should know when it comes to email marketing and how to do it right so that it will not be harmful to your company. First off, you need to make sure that you are choosing the right target market. If you target teenagers for example, you will not get the results you want and this will prove to be a complete failure of your email campaign. You need to carefully choose the people you send your email to and you need to do a bit of research before hand so that you can determine whether or not they actually need your product or service.
The next thing you want to make sure of is that your email is well written. It is easy for people to misunderstand the content of an email and they can misinterpret your message all together. It is important that your content is clear and concise. Make sure that you are giving people all the information they need without overwhelming them and always remember to write to their inboxes. This will ensure that you get all of the responses you desire and in turn this will make you money!
How To Choose The Best Email Marketing Service
There are many factors that come into play when it comes to choosing the right paid or free email marketing service. While there are many free services that are very effective, not all of them have been proven as effective as the paid plans. If you want to send thousands of emails, the best way is going to be with a paid service because you can get a lot more out of it.
One of the most effective ways on how to choose the best email marketing tool is going to be by using the mailchimp application. A lot of different companies use this application and are very successful with it. You will have access to over one thousand pre-made campaigns that have been proven to work. The email campaigns will also have the ability to track all the subscribers that opt in and have the option to make it so you will only ever send the approved subscribers the emails.
Another factor is the ability to use webinar automation. You will be able to set up landing pages and get response pages that are full of information about the product that you are promoting. You can also integrate your autoresponder into your webinar campaigns. This will allow you to send the visitors that opt in to any of the follow up emails. You will also be able to track the campaign that you have used and know where all the traffic is coming from.
Best Email Service Providers
Choosing the best email service providers based on different considerations when you're searching for the best email service provider for small business. An email client is usually a web-based desktop program, like Microsoft Outlook, which allows you to write, read, and send emails. These programs enable the user to organize their inbox by grouping all their emails into folders and then sorting them by both sender and subject. It is possible to set up separate folders for individual email messages or for all incoming and outgoing messages. You can also restrict the visibility of certain mail from being visible to the rest of the office population by setting the visibility of 'inbox' or 'drafts' folders.
Different storage services provide different options for sending emails. You should check out the prices of these different storage services before choosing the right one for your business's needs. A popular choice for many businesses is the ability to check an email account online via a website. This service is great if the recipient does not have an online mailbox or if you want to check on the status of your emails while away from the office.
One of the most important considerations in choosing an email provider for your small business is the availability of realtime delivery technology. Real-time delivery technology provides your customers with instant access to their emails, regardless of where they are. Real time delivery ensures that your customers receive your emails on time. Your service provider should offer this option along with numerous other features for customizing how your customers receive your emails. Choosing an email service that meets all these considerations will help make sure your inbox storage is the optimal size for your business' needs.
Choosing The Best Email Marketing Service
The first and most important thing to consider when choosing an email marketing service is your goals for such a campaign. Different companies have different models, which work for different business models. Before you spend any money with a CRM, it is important that you identify exactly what you want from your email marketing service and the CRM's ability to deliver those messages.
For small businesses that want to grow quickly and achieve rapid growth, choosing the best email marketing service with the most capabilities can be incredibly beneficial. However, before you invest in CRM software for your small business, you need to define your goals first. For instance, if you only want to send one message to each customer on your customer list, it may be more cost effective for you to use a free software package that does not provide the wide scope of features that a paid CRM will offer.
CRM solutions allow you to customize emails and even include a form on your website that allows customers to contact you directly. For smaller businesses that are looking to generate a larger customer base, choosing the best email marketing service is a must. Such software allows you to easily target your website visitors and ensure that they are satisfied with your product or service. CRM solutions are vital to the future success of every business, large or small, and should be considered when choosing the best email marketing platform for your organization.
Mailchimp
Mailchimp is an online email marketing service and marketing automation platform. It is also the trading name of its founder, Mark Armstrong and his partner, Ben Chestnut, with an acquisition by Intuit. Mailchimp has been used as a primary and auxiliary marketing tool for many companies, and is a highly versatile and efficient tool that enables marketers to manage their mailings both on demand and over time. Apart from its highly scalable architecture and advanced functionalities, it is also flexible and has a very intuitive interface that allows marketers to design attractive campaigns and set them up for free.
Mailchimp has a wide range of highly functional services that are designed to suit various online marketers' needs. Some of its key capabilities include automated email campaigns, pay per click campaigns, ad management, sales tracking, affiliate marketing, web statistics, web optimization, and web conversion optimization. One can easily integrate mailchimp and automate all your online marketing activities by creating a Mailchimp reseller account and buying a license for it. The first thing that you need to do is to register an application with Mailchimp and create an account, after which you can build and design your own campaigns and start automating them.
In order to launch a campaign successfully, Mailchimp provides pre-built templates for your emails, a graphics user interface, built in widgets, and a lot more. Apart from all these things, Mailchimp also gives you the ability to easily automate the actions that are related to mailing lists and lead generation, build an opt-in page, and perform all other tasks related to email marketing, through its extensive plugins. This way, you can easily incorporate all the functions that you require into your campaign and save yourself a lot of time and effort. Apart from being an open source solution, Mailchimp has also been used by a number of large companies and organizations that offer email marketing solutions. Apart from this, many developers have made Mailchimp their main platform for developing opt-in email campaigns and managing multiple campaigns at the same time.
GetResponse
GetResponse is a leading provider of email marketing solutions. GetResponse provides a range of premium email marketing programs. There is even a free trial offer for you to test out their product and build up an email listing of up to 250 contacts. GetResponse counts more than 180,000 paid customers in 190 countries worldwide and reports more than 1 million subscribers a month.
With GetResponse, you are provided with a wide variety of promotional tools and online templates that you can use to design your website. You have the option to choose from a list of templates or upload your own. If you want to go down the path of building your own landing page creator, then you will need to find the best drag-and-drop page creator that works with GetResponse. The drag-and-drop page creator that works with GetResponse works with all major browsers such as Firefox, Safari, Opera, Chrome, Explorer, and many others. If you want to test the waters with online marketing before switching to a full-fledged website, you should definitely check out the free version of GetResponse.
Another great way to use GetResponse as a platform for developing a website and sending emails is by using the advanced drag-and-drop interface for creating your own marketing pages. With the advanced drag-and-drop interface, you will have the ability to create your own marketing page without the use of programming skills. You will be provided with a complete set of templates including logo, headline, text, image, colors, background, tabs, and buttons. This gives you a lot of freedom and the ability to create a professional looking page with all of the features that are important when it comes to marketing.
Factors To Consider When Choosing An Email Marketing Service
When it comes to choosing an email marketing service, there are many factors to consider. If you have a business, you might be certain that the service is necessary and your company would thrive under the guiding hand of a specialist. There is no doubt that an email marketing service will help to grow your business to a new level and you will see your sales rise along with other positive points. However, before choosing one, you have to know what features you should look for when looking for an ideal email marketing service.
Factors to Consider when Choosing an Email Marketing Service: If you have not yet done so, then you should now know that there are many companies out there who will promise you that they can provide you with the ideal email marketing service. Some may be true to their words and some will not. Therefore, you have to do a bit of homework and try to make out which of these companies will really work for you. What factors should you consider when choosing a good Email Marketing Service? First and foremost, you have to look at the cost of the service. This factor is very important because the cost of the services may vary from one provider to another and therefore, you have to find a balance between cost and quality.
Scroll down to read our indepth Ecommerce Platforms guide. What you should know, Ecommerce Platforms features, price plans and support. Pros and Cons of Ecommerce Platforms as a ecommerce, everything is explained below.
Shopify is a software company that specialises in ecommerce software for small to enterprise level businesses.
Shopify is listed as the best ecommerce software related to Ecommerce Platforms. Shopify was founded in 2006 in Ottawa, Canada and currently has over 6,124 employees registered on Linkedin.