European Shop Table of Contents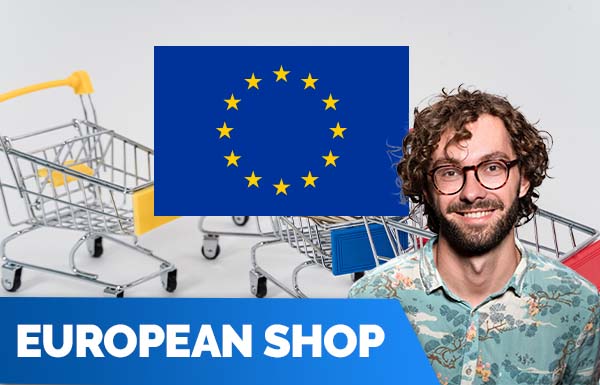 European Shop
Europe is inevitably one of the best locations for shopping in the world. From food halls and fashion stores to designers and museum pieces collectibles. Europe is every shopper's fantasy. Online shopping in Europe has grown over the past years. The European online market revenue amounted to a value of 281.5 billion U.S. dollars in 2016 and e-commerce played a major role in that spike. A lot of consumers are active on the online market. Therefore, it seems it is safe to say Europe E-commerce is prime.
Today, a lot of European online companies have become the largest websites for shopping all around the world. Due to the outbreak of the Coronavirus, online shopping has grown in this continent very quickly. Most of the E-commerce companies across the continent are from the Western countries. Western Europe plays a huge role in the E-commerce industry.
Some online retailers are recognized in several countries across Europe. The most popular of them are Amazon and eBay. A large amount of small and medium-sized retailers join these platforms to reach their set audience. Some other online store recognized across Europe which also rank at the top is Otta. Otto has its headquarters located in Germany. It ranks number 2 on the chart with an online turnover of 12.06 billion in Europe. John Lewis ranks as number 3, its headquarters in The United Kingdom, and an online turnover of 7.46 billion in Europe. Some other online retailers are Apple, Zalando, Tesco, E.Leclerc, Metro Group, Shop Direct, Marks & Spencer all with their headquarters located in different countries of Europe like Ireland, France, and Luxemburg as well as high rates of online turnover.
Wide Range Of Ecommerce Choice In Europe
If you can shop from different shops across Europe, you will find goods cheaper in countries like Poland, Germany, Italy, France, and The United Kingdom. The online markets there offer their products at cheaper prices as well as at a high quality.
Also, not to forget one of the best countries to shop in Europe, Germany's E-commerce is doing incredibly well in Europe. German's age range between 16 and 74 are the top group who do online shopping. There are only very few countries in Europe where online shopping is as widespread as it is in Germany. It is quite obvious how E-commerce is not yet very popular in Eastern and Southern Europe, with few exceptions like Estonia. This also displays an obvious North-South and East-West divide which can also be proven in other areas such as in the purchase ability.
Some individuals genuinely interested in running an online business in Europe need to consider distance selling across the continent, you have to be selling to a private citizen and not another business. The goods you are selling must be crossing the borders of the state. There are also strict regulations set in place to keep consumers from getting scammed. These regulations have to be met to legally sell in the European Union. Some of these regulations include; providing the necessary information about the product to the consumer, all extra charges must be discussed with the consumer as well as being agreed to by the consumer before completion of sale. There also has to be the existence of a return and refund policy with a 14-day minimum before the completion of a contract.
Ecommerce In Europe
Ecommerce shopping in Europe is on the rise as consumers enjoy the advantages of shopping online such as the ability to shop at anytime and anywhere, the accessibility to a wider range and variety of goods, and being able to make a comparison in different aspects such as price, quality, and quantity. Clothes and sports goods reportedly have the highest and most popular online purchases in Europe. Around 6 out of 10 online shoppers buy clothes and sports goods in a year. Looking into details, the majority of the e-shoppers don't encounter any problems when ordering or buying anything online. One of the only few problems that are encountered is the delay of delivery which was mentioned by only 11% of the e-shoppers who took a survey. Due to the various advantages which include convenience and availability (usually 24 hours a day), most people purchase online and prefer this to the normal walk-in stores.
Scroll down to read our indepth European Ecommerce Platforms guide. What you should know, European Ecommerce Platforms features, price plans and support. Pros and Cons of European Ecommerce Platforms as a ecommerce, everything is explained below.
Shopify is a software company that specialises in ecommerce software for small to enterprise level businesses.
Shopify is listed as the best ecommerce software related to European Ecommerce Platforms. Shopify was founded in 2006 in Ottawa, Canada and currently has over 6,124 employees registered on Linkedin.