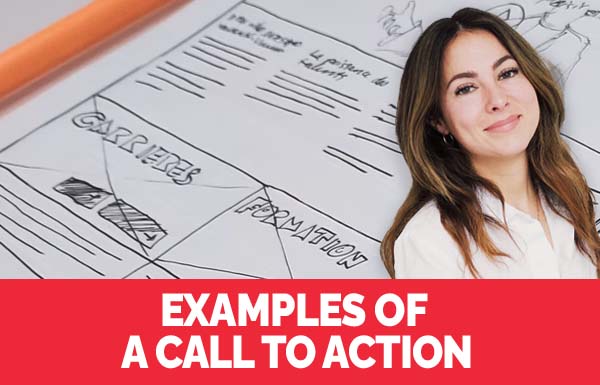 Examples Of A Call To Action
The call to action, also known as CTA represents a part of a website, advertisement, or some other piece of content that indirectly pushes and encourages customers to do something!
In marketing, calls to action help businesses turn readers or visitors into leads for the sales departments. They can drive different actions depending on the contents final marketing goal.
Calls to action really work because they reinforce peoples psychological sense of reward. Meaning, they correspond with a persons reward behavior, thus they take appropriate actions.
In todays article, I will share a few examples of a call to action and explain how they actually work. That being said, lets learn how to transform your visitors or readers into customers.
Examples Of A Call To Action
A call to action represents a piece of content like a button or text that indirectly pushes people to finish a certain task. Its a very powerful tool in digital marketing that can turn a reader, user, or just anyone in a lead that will eventually provide sales.
CTA plays a key role in a buyers journey. You can use different calls to action to boost different actions, depending on your immediate goals. This tool comes in different forms. However, common ways to use it are in a clickable button, opt-in form, or social media.
Different types of calls to action encourage people to take certain actions. Ill discuss that topic in a new article. Today, I will list some of the most common CTAs and teach you how to create a powerful CTA for your business that will help your business.
Sign up
This type of call to action invites people to sign up for a future event, free trial, software product, online courses, or something else, depending on your ad or website context.
Birchbox, for instance, uses this call to action. They have a button that says "Sign Me Upâ€, a customized
call to action that makes people believe they have the power in their hands.
Other companies use just "sign up†which works just fine. However, adding "me†is a little trick to boost the conversion rate on a very common and simple but still effective CTA.
Subscribe
The "Subscribe†call to action doesnt commit people to buy anything. Instead, it invites them to receive regular updates from the business or person. You can often see YouTubers using this call to action at the end of their videos.
Its also a common call to action to company blogs for which the company wants to grow a readership. Take OfficeVibe, for example. They use both "Subscribe†and "Get Started Freeâ€.
I will talk about "Get Started Free†in just a minute. The "Subscribe†CTA works because people like free content. And once they subscribe to your content, except for updates and the latest blog posts, you can also send them promotions, etc.
Try for free
Almost every business provides a free trial offer nowadays. The free trial offer is just another powerful CTA that enables people to try a product or service before determining if its worth the cost to them or if it meets their requirements. Netflix uses this CTA.
They call people to join their service free for a month. However, most people fear committing to sign up for anything because they believe it will be difficult to cancel their subscription in the future. Thats why Netflix puts "Cancel Anytime†right above "Join Free For A Monthâ€.
I strongly believe that their "Cancel Anytime†slogan has alone increased signups. Another thing you will notice with Netflixs CTA is that the color of both the primary and secondary call to action resembles the Netflix logo color. Its something to keep in mind.
Get started
The "Get Started†call to action can boost different actions for a business. You can provide a free trial or something entirely else that will attract users.
Square uses this CTA and enjoys amazing results. However, when creating a "Get Started†CTA, you need to pay attention to more than just the button itself.
For instance, surrounding texts, surrounding images, and background colors play a key part in designing a powerful CTA, so take notes from other websites.
The "Get Started†CTA works because youre encouraging people to take action and use your product or service right away which is why its a popular CTA.
Learn more
Sometimes, all your visitors or readers need to take action and spend some money is extra information about your products or services. Thats the purpose of this CTA.
Join us
If youre running a community and your product or service is built on collaboration between users, then the "Join Us†CTA makes a great choice for you.
Panthera uses this CTA (Join The Pride Today) because theyre looking for like-minded people who care about wild cats worldwide and want to join a caring community.
If youre running something similar, you can follow in their footsteps, customize your call to action, and attract like-minded people who share your vision.
Examples Of A Call To Action Verdict
As you can notice, most call-to-action phrases arent complex but simple and straight to the point. They create urgency that encourages people to take immediate action.
However, I encourage you to do further research and see how other successful businesses drive users to action besides the ones Ive already mentioned, so you get a better perspective.
Hopefully, these examples of a call to action can help you understand how calls to action really work, so you can make the best out of the ones that you use for your brand.
Scroll down to read our indepth Call to Action Platforms guide. What you should know, Call to Action Platforms features, price plans and support. Pros and Cons of Call to Action Platforms as a ecommerce, everything is explained below.
Shopify is a software company that specialises in ecommerce software for small to enterprise level businesses.
Shopify is listed as the best ecommerce software related to Call to Action Platforms. Shopify was founded in 2006 in Ottawa, Canada and currently has over 6,124 employees registered on Linkedin.