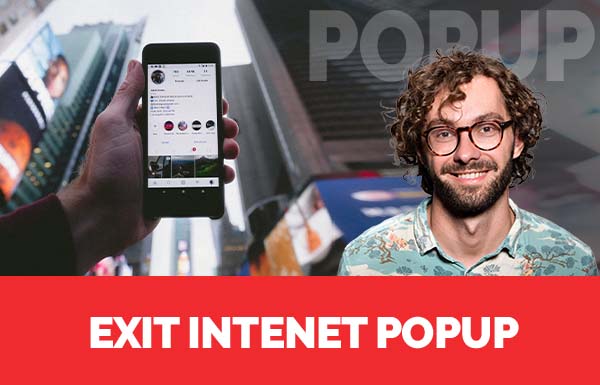 The exit-intent popup is a successful technique utilized in websites and online shops to keep visitors who want to leave the site. With this popular technique, mouse movements are tracked and when the cursor goes outside the upper page boundary, a popup window is displayed.
The ad is activated by utilizing a JavaScript snippet that tracks the speed and movements of your mouse. Usually, the popup has a discount code to encourage the visitor to finish the sale. Exit intent ads can also be utilized to collect emails, provide a discount or free trial, or gain subscribers.
The technology doesnt operate the same on touchscreen devices because theres no mouse movement to track. However, theres software that will display a popup once a visitor tries to shut down the mobile browser tab or click "backâ€. Lets learn more about exit-intent popups.
The following tips and tricks can help you enhance your popups and gain even more subscriptions, sales, etc. However, keep in mind that theres no universal solution that works for every business.
Each business and industry is specific and unique. Meaning, what works for one business might not work for another. Experiment with the following practices so you can determine which solution works best for your company. That being said, lets take a close look at some common but proven solutions.
A Clear Message with a Clear Benefit
The biggest mistake people make with their popups is trying to place too much information into them. If someone is already thinking about leaving your site, they probably dont have the time to read your long offer. Therefore, always provide a clear message with a clear benefit in just one sentence.
Your CTA must be short and provide clear advantages for your visitors. For instance, you can offer a free sample, trial period, free shipping, discount, exclusive content, etc. Providing a gift or discount is a great way to transform users into leads. It encourages them to finish a purchase they werent sure about.
Instead of using something generic such as Subscribe, you can use something more appealing such as GET $20 CUPON or TRY ONE MONTH FOR FREE. Get creative and come up with something that your customers wont be able to turn down. In other words, give them an offer they cant refuse.
Apply Additional Fields
With your popup, you can also ask your visitors for extra personal data. The studies say that you can add some extra fields without worrying about your visitors getting overwhelmed by your popups.
Today, most people dont have a problem sharing their personal details for the sake of a better shopping experience. Therefore, dont miss your chance to get their gender, birthday, location, or email.
Companies usually have concerns about offering discounts which is why they hesitate to provide special offers in their sign-up forms.
Popups can be even more effective than sign-up forms. Theyre even more effective when personalized based on customer behavior.
This powerful marketing tool can help improve your business significantly if you slice up your customers into smaller pieces with the intent to create even more catchy CTAs, offer a discount only for those with high interest, or target customers based on some other tendencies.
Targeting your popups isnt a hard task. Just determine the segmentation rules you want to utilize when making a new popup. Then, customize your new popups accordingly.
For instance, a customer whos about to leave after scrolling through your homepage might respond to a different popup compared to someone who had already leaned toward a specific product. If someone leaves your website from a category page or product, investigate why.
Perhaps theyre worried about your return, shipping, and/or exchange policies. Thus, its a good move to include these details in any exit popup you present to these people.
Other people might have changed their mind about a certain product which opens a chance for showing other similar products in your popup.
Gamification
I love games! Everyone loves games, including your customers. Therefore, instead of utilizing a common popup, include something interesting such as the Omnisend Wheel of Fortune. Different marketing tools provide similar things, so you should check with your service provider.
Provide Social Proof
People see thousands of ads daily. Therefore, its very normal for them to ignore promotions. Generally, they respond better to user-generated ads and some other forms of social proof.
Social proof could be anything that shows the audience interest in your product or service. Its also great for addressing any questions and concerns people might have about your business.
Create Urgency
Last but certainly not least, I want to share a tip that can help you improve your popup. Creating urgency is one of the most common ways to boost your sign-up rate. Meaning, your visitors will probably sign up if they feel that your 20% discount, offer, or something else has a short-lasting date.
Scroll down to read our indepth Exit Intent Ecommerce Platforms guide. What you should know, Exit Intent Ecommerce Platforms features, price plans and support. Pros and Cons of Exit Intent Ecommerce Platforms as a ecommerce, everything is explained below.
Shopify is a software company that specialises in ecommerce software for small to enterprise level businesses.
Shopify is listed as the best ecommerce software related to Exit Intent Ecommerce Platforms. Shopify was founded in 2006 in Ottawa, Canada and currently has over 6,124 employees registered on Linkedin.