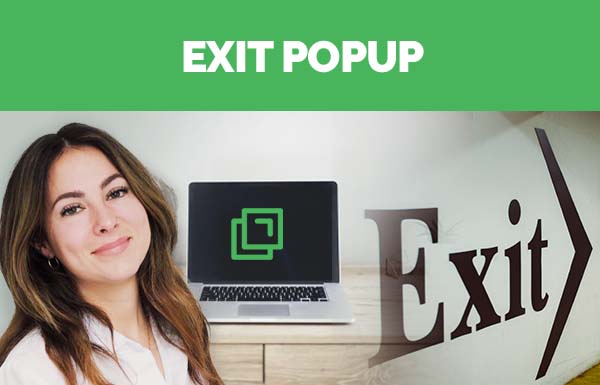 Exit Popups: Meaning And Everything You Need To Know
Marketers use different methods to increase website conversion rate, this helps them to convert more readers into buyers. One of these methods is by using exit popups. It is an effective marketing strategy for growing your business online. With exit popups, you can reduce cart abandonment, increase sales, increase email lists, and more. So in this post, we'll be explaining everything you need to know an=bout exit popups.
Let's get to know the meaning of exit popups.
An exit popup is a tool that tracks the movement of a mouse on a website, the tool detects when a reader wants to leave a site without purchasing an item or without subscribing to their free service. In a situation where there is no mouse (tablet or phone), this software detects when your website visitor wants to click the back button the popup will appear.
This tool is used for generating leads and it also helps to minimize cart abandonment as well. So, it is a great marketing tool that business owners can use to grow their business.
It reminds site visitors of an enticing offer the site has for them.
Exit popups take web visitors directly to the place where the marketer wants them to take action.
As a top marketing strategy, exit popups help you to scale up your business online, and with the right approach, you'll achieve your aim with exit popups.
When using exit popups, use the right tool to calculate the amount of time a visitor spends on your site, and once a visitor spends much time on your site, then you'll know that they are interested in your content. And that is the right time to use an exit popup, at this point; your message should be clear to the reader. Also, note that exit popups help to remind them of the quality service you have for them.
When someone spends a few seconds on your site and decides to leave, you shouldn't display an exit popup to them. The exit popups at this stage will rather piss the visitor off.
The fact that a visitor leaves your site within a few minutes shows that they are not interested in your product or service, so this is not a good time to show exit popups to them.
Also, avoid using exit popups when it takes the whole webpage. Visitors should be allowed to access information. So make that information accessible to them, even if you have to display popups, make the cancel option very easy for them to access.
Exit Popups: 4 Hacks To Help You Increase Sales And Engagement
Offer Your Visitors Content Upgrade
First of all, let's get to know the meaning of content upgrade; content upgrade simply means a more advanced version of an article. By offering readers this advanced version of an article, the readers will be more convinced if they are already enjoying your current post.
You can as well offer them a free download that serves as a mini version of your advanced content in form of a PDF or an E-book.
Remind Your Website Visitors
Exit popups can be used to remind visitors of the right action they wanted to take. For instance, when a website visitor is about to abandon a cart, you can use an exit popup to remind them of the product they have in the cart.
This popup method helps to remind them of what they have in the cart. With this method, you can get their information like email addresses, and use it to retarget them.
Offer A Coupon And Discount
You can offer a discount or a coupon in exchange for your prospective customers' email addresses. Who wouldn't want a discount? The truth is that most people would like to get a discount and once they have that, they'll be compelled to buy your product. You can give them an offer that lasts for about 24 hours; this method will compel them to take action immediately.
Free Shipping Code
Most customers abandon their carts because of the shipping fee. So, by offering free shipping, customers will be happy to make a purchase.
Scroll down to read our indepth Exit Popup Ecommerce Platforms guide. What you should know, Exit Popup Ecommerce Platforms features, price plans and support. Pros and Cons of Exit Popup Ecommerce Platforms as a ecommerce, everything is explained below.
Shopify is a software company that specialises in ecommerce software for small to enterprise level businesses.
Shopify is listed as the best ecommerce software related to Exit Popup Ecommerce Platforms. Shopify was founded in 2006 in Ottawa, Canada and currently has over 6,124 employees registered on Linkedin.