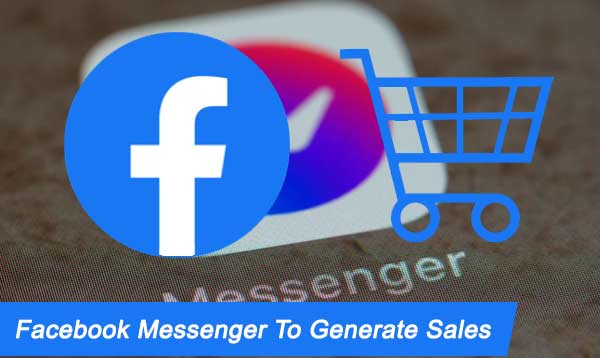 Facebook Messenger To Generate Sales
Using Facebook Messenger By Businesses
Today, Facebook Messenger is used by individuals to connect and businesses as a powerful marketing tool. Chatbots are built with Spectrum that can be used on Facebook Messenger to acquire customers, collect customer insights and increase personalisation. All of these features help you improve ROI for your business.
There is a growing trend that customers are likely to message businesses when they have enquiries rather than call or email them. Research shows that 64% of customers prefer messaging to other ways of communication with companies.
Interesting Facts About Facebook Messenger
Nowadays, Facebook Messenger is a must-have for businesses, and the following statistics prove it:
Messenger has almost 108 million users in the US and is the number one messaging app in the country.
Messenger is used by 40 million businesses.
20 billion messages are exchanged by businesses in Messenger every month.
Messenger is the second most downloaded app worldwide (the first is WhatsApp).
50% of people think that business messaging is a modern way to communicate.
Benefits of Facebook Messenger
Facebook Messenger for Business provides the following benefits:
Earn trust. People feel more confident when they have an opportunity to message a company anytime, if necessary.
Opportunity to generate quality leads. Facebook Messenger creates an opportunity for follow-up, which in its turn can generate leads.
Increase the rates of purchase. This benefit is proven that 65% of people are likely to buy from a firm they can contact on chat.
Offer high-quality customer support service. The survey developed by Facebook shows that 75% of respondents message businesses for support.
Ways Of Using Facebook Messenger To Generate Sales
Here are some of the ways to use Facebook Messenger to boost sales.
Boost Engagement At Scale
Facebook Messenger allows you to engage with customers and prospects at scale. Facebook Messenger provides you with an opportunity to guide customers, personalise experiences, give them recommendations, and drive business outcomes.
Meet Customers Where They Are Used To Be
A vast number of people use Facebook and Instagram. 1.4 billion people out of the Facebook users spend 58 minutes on the network daily and check Facebook 14 times a day. Moreover, 1 billion people use Instagram each month. 63% of the logs are in daily. If you use appropriate marketing bots, you can easily reach these people and engage with them.
Personalisation
This feature is provided by Messenger bots, which are built up with Spectrum. You can provide personalised customer experiences with the use of declared personal data about the customers.
Remember that personalised and relevant shopping experience may increase the probability of conversion.
Help Discover Content
According to HubSpot, the share of marketing specialists engaged in content marketing is 70%. Professionals know that content marketing can be effective only if customers and prospects seamlessly access the content. Facebook Messenger for Business can direct users to the most appropriate content based on their preferences.
Guided shopping bots are innovative solutions in the online shopping industry. They are revolutionising and improve shopping experiences by recognising customer needs and initiating personalised communication. Besides, shopping bots may recommend products, reply to queries and return prospects to the purchasing process.
Unlock Declared Data To Support Your Marketing
Messenger bots powered by Spectrum collect large amounts of data declared by the customers. You can further use the data to increase personalisation, enhance the effectiveness of the retargeting process and improve marketing.
Success Stories Of Facebook Messenger
Here are some examples of success stories of companies, which have used Facebook Messenger.
Happy Socks: Happy Socks is a Swedish company, which attained a 3x return on ad spend and 20% revenue uplift using the Facebook Messenger bot. They were looking for a way to help customers easily navigate their product catalogue, which was large and complicated. Happy Socks used a gift finder bot during the holidays recommending personalised gifts for their loved ones.
Telekom: Using Spectrum's conversational marketing platform, Telekom achieved a 9x contract conversion lift and 60% conversation completion rate. The platform was used to offer customers contracts based on their specific needs.
Facebook Messenger To Generate Sales Verdict
Facebook Messenger for Business is quickly becoming the main channel for marketing. It offers ample opportunity in the marketing industry worldwide, as it has billions of people on Messenger. Moreover, it is estimated that the number of Facebook Messenger users will increase soon.
If you do not use Facebook Messenger for marketing purposes yet, start using it now. Learn how to efficiently operate the tools and methods of Facebook Messenger marketing and start boosting your business.
Scroll down to read our indepth Ecommerce Platforms guide. What you should know, Ecommerce Platforms features, price plans and support. Pros and Cons of Ecommerce Platforms as a ecommerce, everything is explained below.
Shopify is a software company that specialises in ecommerce software for small to enterprise level businesses.
Shopify is listed as the best ecommerce software related to Ecommerce Platforms. Shopify was founded in 2006 in Ottawa, Canada and currently has over 6,124 employees registered on Linkedin.