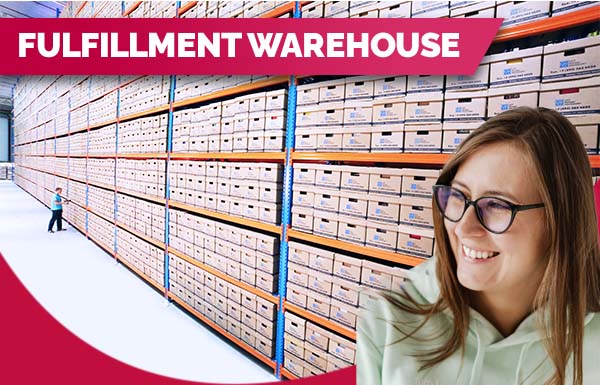 Fulfillment Warehouse
The Meaning Of Fulfillment Warehouse And Fulfillment Center
Warehouse and fulfillment centers are mostly used interchangeably. But each term means a different thing depending on the situation. However, the two are buildings for keeping inventory for businesses that sell physical products.
Although they are similar, the services they provide and the way they provide them differs. This blog post will help you to know the difference and the functions of the two for you to know the best one that suits your business.
Fulfillment Warehouse Meaning
Generally, a warehouse is a place where goods are kept for a period of time before being distributed or sold. It is a large building that stores inventory before they are sold. Sometimes, it contains containers, storage bins, pallets, etc with products. And each product is recognized with a specific stock keeping unit and equipment for moving the product around the warehouse.
Businesses that work with warehouse providers are mostly engaged in business-to-business orders on a large scale. Some businesses have their warehouse while some rent warehouses.
Renting a warehouse is cheaper for small businesses but you have to consider the location before making your final decision.
Meaning Of Fulfillment Center
A fulfillment center is a building where fulfillment providers fulfill buyer's orders for e-commerce retailers. Another name for fulfillment provider is third-party logistics (3PL). The main purpose of the fulfillment center is to handle the seller's inventory, store and ship the inventory directly to customers when they order the goods, this helps to simplify the storage and shipping processes for e-commerce business owners.
How A Fulfillment Center Operates
A fulfillment center is the heart of the logistic process that is required to get products to buyers.
The inventory is kept in a third-party logistic fulfillment center and is arranged to meet buyer's orders. So, once a customer buys a product, the item will be collected from the fulfillment center and be arranged for shipping.
Third-party logistics helps business owners in managing their inventory and shipping to customers on their behalf. This includes storage, packaging, receiving and shipping of goods, shipping cost, etc. which helps the business owner to focus more on other aspects of their business.
The Difference Between Fulfillment Center And Fulfillment Warehouse
Here are some differences between fulfillment warehouse and fulfillment center.
The main purpose of a warehouse is for storing inventory, while fulfillment enter integrates a more advanced method which includes handling inventory and arranging the product to get to the final consumer.
However, let's see the major difference between the two
Long-Term And Short-Term Storage
A fulfillment center is a warehouse for storing inventory, but the main purpose of a fulfillment center is to handle all the processes from storing to shipping goods to customers.
Ideally, inventory will not be in the fulfillment center for more than 30 days, but if that happens, it will be considered long-term storage and the owner will be charged a higher fee for that.
Merchants are required to keep an appropriate amount of goods in fulfillment centers so that fulfillment providers can meet up the customers' demands.
Operation Method
A warehouse is only used for keeping inventory. While a fulfillment center is always busy with activities. Third-party logistics provides services from storing to shipping of goods while a warehouse is only active when products are added or sent out.
Rate Of Pickups By Shipping Companies
Fulfillment providers usually have a relationship with numerous shipping companies. However, since it provides services to customers and businesses, they need to engage the service of multiple shipping companies to do the work for them. On the other hand, warehouses always have a constant pickup schedule for sending out goods and it costs less to send out goods at the same time.
Benefits Of Fulfillment Center
It Saves Resources For E-Commerce Business Owners - It saves money and time for e-commerce business owners, since they handle multiple orders it will be easier for a third-party logistic center to get a good price for shipping of goods. It also handles all other processes from storing inventory to shipping which allows business owners to face other aspects of running their business.
Inventory Storage And Management - Fulfillment center helps to make storage and management of goods easy for business owners and is more efficient if a company can't handle the flow orders.
It Allows Seller To Focus On Other Activities - Outsourcing some tasks to a fulfillment center helps business owners to focus more on other parts of running their business.
Scroll down to read our indepth Ecommerce Platforms guide. What you should know, Ecommerce Platforms features, price plans and support. Pros and Cons of Ecommerce Platforms as a ecommerce, everything is explained below.
Shopify is a software company that specialises in ecommerce software for small to enterprise level businesses.
Shopify is listed as the best ecommerce software related to Ecommerce Platforms. Shopify was founded in 2006 in Ottawa, Canada and currently has over 6,124 employees registered on Linkedin.