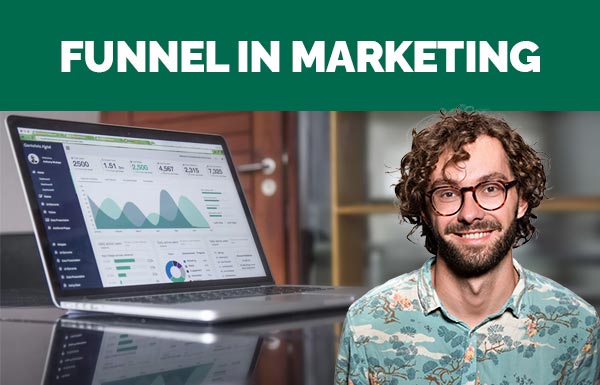 Funnel In Marketing
A marketing funnel represents your customers experience with your business.
Starting with the very first stages of when someone learns about your brand and ending with the buying stage, marketing funnels map paths to conversion and beyond. With good analysis, funnels can help you learn what your company can do to affect buyers in different ways at different stages.
Meaning, you can increase your sales, gain loyalty, and build stronger brand awareness by just analyzing your marketing funnels. In todays article, I will talk about funnel in marketing in detail.
I will also discuss the strategies and benefits of marketing funnels, so lets begin.
Whats A Simple Example Of A Marketing Funnel?
A simple example of a funnel in marketing could be someone who experiences the buying journey via a blog post, email list, and conversion. Or podcast ad, blog post, and conversion. Or Facebook ad, landing page, and conversion. Or social posts by influencers, landing page, and conversion.
Therefore, if someone is buying your service or product online, you have some type of marketing funnel whether youre aware of it or not. A crucial thing to keep in mind is that a marketing model thats simple and clear on paper, its not always that straightforward and effortless in actual life.
Funnel In Marketing
Elias St. Elmo Lewis came up with a model highlighting the main levels of a customers connection with a company. Developed at the end of the 20th century, the well-known "AIDA†model stands for awareness, interest, desire, and action.
Awareness (knowing problems and possible solutions)
Interest (showing interest in a collection of products or services)
Desire (starting to evaluate a specific company)
Action (deciding whether to buy or not)
The marketing funnel hasnt changed. It features the same basics since the 1900s. However, theres not a universal marketing model thats accepted by all companies worldwide.
Some companies prefer simplicity, so they utilize the "TOFU-MOFU-BOFU†method which stands for top of the funnel, middle of the funnel, and bottom of the funnel as the key elements.
Others add advocacy and loyalty stages to the funnel to boost their marketing strategy because statistics say that companies lose up to $1.6 trillion annually when people lose trust.
Each Stage Of The Marketing Funnel Requires A Strategy
Since marketing funnels work as a whole, every stage needs to work smoothly so your customer journey can be smooth and successful as well.
You can do certain things that will lower the friction in your marketing funnels. Lets take a closer look at some of those key things you can do!
Awareness
You can increase awareness with branded content strategies. Apparently, they appeal to users and make them open to future interactions.
Consideration
Social proof and brand advocates assist customers when theyre comparing your product or service with competitors products or services.
Conversion
Provide a straightforward buying process and stay transparent. That way, decrease the risk of customers abandoning their shopping cart.
Loyalty
A loyalty strategy with frequent discounts and constant interactions keeps customers, so develop a good loyalty program for your business.
Advocacy
Receptive customers in your loyalty program carry your future marketing funnels. Now, lets discuss the benefits of marketing funnels.
Key Benefits Of Marketing Funnels
Marketing funnels make the whole customer experience a lot easier and help companies improve their marketing strategies by keeping track of their customers journey.
Marketing funnels apply to almost every customer relationship. Whether youre searching for increased online sales, obtaining more traffic for your store, or gathering clicks, you need a good marketing funnel. Its a helpful tool that makes every stage of associating with customers clearer.
However, the biggest benefit is their measurability. Your marketing funnel detects where youre losing a customer, so you can adjust your marketing strategy and improve.
Funnel In Marketing Verdict
Traditional marketing funnels have their time and place. However, social media sales funnels can do so much for your business like engaging audiences, building trust along with loyal fan bases.
The biggest mistake that marketers make is investing in only a few of those stages instead of all of them. Keep in mind that your audience can sense overly sales-focused content without first developing trust or brand awareness. Furthermore, this type of poor marketing can chase away potential buyers.
If youre working with a limited budget when building a marketing funnel, then choose one or two ways to focus on for each stage. Taking the proper steps into your customer experience is something that will pay off in the long run but its also something that you need to analyze and improve constantly.
Instead of developing a customer list, focus on developing a loyal fan base. Whats your opinion? Do you have anything that you would like to share or ask? If so, feel free to drop a comment below!
Scroll down to read our indepth Ecommerce Funnel Marketing Platforms guide. What you should know, Ecommerce Funnel Marketing Platforms features, price plans and support. Pros and Cons of Ecommerce Funnel Marketing Platforms as a ecommerce, everything is explained below.
Shopify is a software company that specialises in ecommerce software for small to enterprise level businesses.
Shopify is listed as the best ecommerce software related to Ecommerce Funnel Marketing Platforms. Shopify was founded in 2006 in Ottawa, Canada and currently has over 6,124 employees registered on Linkedin.