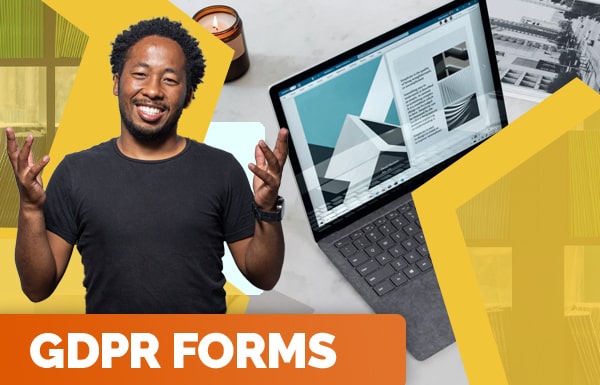 GDPR Forms
What Is The GDPR?
The GDPR (General Data Protection Regulation) refers to the regulation of data collection in the EU. It is effective as of May 25, 2018. The main requirement of GDPR is to require explicit consent from the user before collecting or storing their data. According to GDPR, a user is allowed to request access to his data or require to delete it.
Information For Beginners
If you are new to GDPR rules, it would be useful for you to be aware of the following:
You will not be compliant with GDPR rules, just enabling the relevant fields on signup forms. After enabling GDPR fields, you will have to build the forms, segment your audience, and send a consent campaign.
If you gather and store consent records from your contacts outside Mailchimp (if you use it), you can then import marketing permissions to your audience that are GDPR-enabled. Be sure to prove that your users have given their consent to your imported marketing permissions.
Certain popup forms do not compile with the fields of GDPR.
GDPR Compliance Best Practices
Most websites have some adjustments to help you be compliant with GDPR requirements.
WPForms have GDPR-enhancement features. When you install and activate WPForms, you should enable those features in the following way:
Go to WPForms, Settings and General.
Scroll to the section GDPR and mark the box GDPR enhancements.
After checking the box, the following two options will appear: Disable User Cookies and Disable User Details.
Disable User Cookies
WPForms by default assign all users a Universally Unique Identifier (UUID). This is a random number not including the user's information. It is stored in a cookie file, which is located in the browser of a user. WPForms has several features, which require UUID cookies, particularly:
Related entries, which are showed on individual entry pages. These cookies link to other entries made by the same user.
UUID cookies include geolocation add-on's.
They contain form abandonment add-on's.
When you check the option to disable user cookies, you will disable the above-mentioned features and WPForms will not use any cookies.
Disable User Details
When a form is submitted, WPForms automatically collects additional details, which include:
IP address: this is a unique identifier of a device, which is connected to the internet.
User agent: this is the browser and operating system used by the certain device.
This feature can be disabled either site-wide or form-by-form. In case of site-wide, none of your forms will collect extra details from users. In the second case, you can choose to disable this feature for each individual form. If you prefer this option, do not check the site-wide option.
Asking For Consent
According to the requirements of GDPR, you have to receive explicit consent from users to collect and store their data. Besides, you have to explain to them why you collect that information. The most convenient way of doing this is by adding an appropriate checkbox to the form.
This checkbox is different from other standard checkbox agreements due to the following features:
It is always required that the checkbox not have an option to remove the requirement.
No opportunity of checking by default: most standard checkboxes are checked by default. In contrast, GDPR does not allow checking this box by default. The idea is that the user must choose whether to check the box or not.
Availability of a single checkbox. You cannot add other checkbox options to this field.
Entry Data Requests
As mentioned above, GDPR allows users to request access to their data anytime they want. It means that your website has to provide the appropriate features and allow users to submit those requests easily. For example, you may decide to add the form for a data request from the Contact Us page of your website or the Privacy Policy page.
Customers may also require to delete their information from your database. To do this, you have to do the following: Go to WPForms Entries, select the necessary form, check the appropriate box you want to delete, select Delete from Bulk Actions dropdown list and click Apply.
After deleting an entry, it will be permanently erased from the database of your website.
You may also choose the Delete-All option to delete all the entries for a certain form.
Storing Entry Data
Be aware that entry data is stored on your website, where you have installed WPForms, and it provides you full privacy for all entries.
How To Be Sure That Your Site Is GDPR Compliant?
The compliance details differ from website to website, even from one form to another. That is why you are encouraged to look for legal advice from an expert familiar with GDPR and can explore your website and forms.
Scroll down to read our indepth Ecommerce Platforms guide. What you should know, Ecommerce Platforms features, price plans and support. Pros and Cons of Ecommerce Platforms as a ecommerce, everything is explained below.
Shopify is a software company that specialises in ecommerce software for small to enterprise level businesses.
Shopify is listed as the best ecommerce software related to Ecommerce Platforms. Shopify was founded in 2006 in Ottawa, Canada and currently has over 6,124 employees registered on Linkedin.