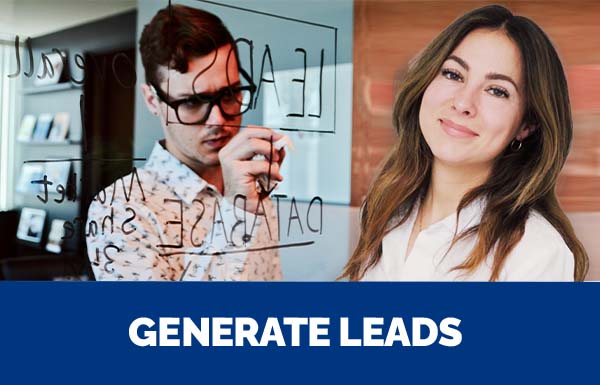 Generate Leads
Business growth isnt rocket science. However, its not a walk in the park either. Its a long-term process that depends on different factors including sales leads.
You can generate leads in various ways. A lead is a customer or business if you have a business that sells to other businesses (B2B) that shows interest in the items or services youre selling.
In todays article, I will teach you how to create a system that will help you pick out sales leads and turn them into customers, thereby improving your business.
What Is Generating A Lead?
Lead generation represents the operation of generating peoples interest for a certain service or product with the purpose of turning that interest into a sale.
Typically, this includes gathering a visitors contact details (called a "leadâ€) through a web form in online marketing. For instance, if a law firm wants to generate leads, they might collect data from a submission form potential clients interested in their services have filled.
Or a direct message on social media asking about their rates. Or a phone call or email from a person who wants to schedule a consultation. Therefore, finding new leads includes creating a marketing experience that helps people engage with your business with great ease.
Your lead generation methods should always provide contact, payment details, or in-person meetings. The following guide can help you generate leads.
Generate Leads: Step-By-Step Guide
A visitor usually clicks a catchy CTA (call to action) that leads them to a landing page where they fill out a form to obtain something in return, at which point they turn into a lead.
You can utilize different promotional ways to drive traffic to your landing page to begin generating leads and turn those leads into sales. Below, I will talk about lead gen marketing.
Theres a broad range of channels that can help you attract visitors and transform them into leads. Lets take a look at some of the common ways you can use to generate leads.
Content
Awesome and valuable content is a perfect way to lead users to your landing page. Usually, you provide content to help your visitors with free but useful information.
You can include a powerful, unique, and catchy CTA associated with the topic anywhere in your content (bottom of your post, inline, on the side panel, in the hero, etc).
The happier a visitor is with your content, the more likely they will become a frequent visitor and check out your landing page eventually by clicking your call to action.
Email
You can easily reach people who already have heard of your company and item or service by email. Its a very effective and common marketing method that many businesses use to generate leads. This method works because its easier to ask your subscribers to take action.
However, keep in mind that emails tend to be slightly cluttered, so always use calls to action that include a catchy design and compelling copy to grab peoples attention.
Ads and Retargeting
The only purpose of ads is to get audiences to take action. Otherwise, why invest the money? Further, if you want people to convert, make sure that your landing page and offer match exactly whats explained in the ads. Also, ensure the action you want people to take is clear.
Blog
The amazing thing about utilizing your blog posts to promote something is that you can create the whole piece to the final goal.
Therefore, if what youre selling has a guidance video on setting up Google Search Console, then you can craft a blog post about how to pick marketing metrics.
That way, you will make your call to action easy to click and highly relevant. Usually, blog posts can help generate leads quickly.
Social media platforms can help you generate leads thanks to different options such as swipe up on your Instagram stories, URLs on Twitter, and Facebook bio links. Furthermore, you can promote your services and products on your social media posts and include a CTA in your caption.
Product Trials
You can easily turn users into leads by providing free trials of your services or products. Once a customer is using your products or services, you can tempt them with extra offers.
That way, you will encourage them to purchase. Another effective promotional method is including your branding in free trials so you can allure other potential customers as well.
Referral Marketing
Also known as word-of-mouth, referral marketing is also great for lead generation, so dont be scared to put your brand out there. No matter what marketing strategy you use, you will want to lead everyone to your landing page. As long as youve built a page that converts, the rest will fall into place.
Scroll down to read our indepth Generate Leads Ecommerce Platforms guide. What you should know, Generate Leads Ecommerce Platforms features, price plans and support. Pros and Cons of Generate Leads Ecommerce Platforms as a ecommerce, everything is explained below.
Shopify is a software company that specialises in ecommerce software for small to enterprise level businesses.
Shopify is listed as the best ecommerce software related to Generate Leads Ecommerce Platforms. Shopify was founded in 2006 in Ottawa, Canada and currently has over 6,124 employees registered on Linkedin.