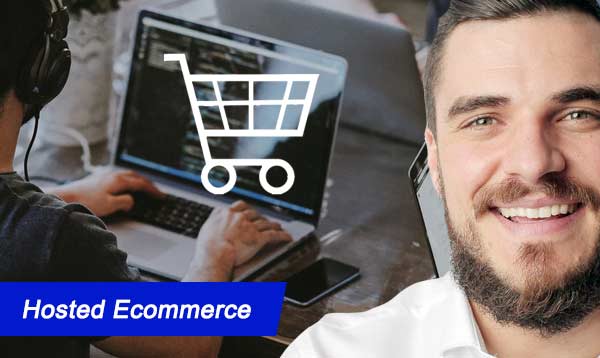 Hosted Ecommerce
What Is A Hosted Ecommerce Platform
A hosted eCommerce platform is frequently referred to as a Software as a Service or SaaS delivery model. These typically all-in-one services include extensive ecommerce features, shopping carts and web development. With hosted eCommerce platforms, you do not need to concern yourself with installing your own hardware. Instead, the hosting service providers manage the servers, which require little IT knowledge and help. Most of these hosted eCommerce solutions are available at affordable monthly rates and are tailored to meet most small to mid-size business needs.
When shopping for an online store, it's important to look at features such as ease of use, cost and features such as payment gateway options and transaction fees. In other words, when assessing pricing for a hosted eCommerce solution, it's important to understand how the transaction fees will be charged. Many hosted solutions include transaction fees that are based on the cost of processing each transaction. This can vary based on the site structure and the merchant accounts chosen. Pricing for these services start at around $30 per month and can increase as the online store grows. Many eCommerce service providers offer free credit card tools that can be used to process credit card payments.
If your site consists of one to several online stores, then pricing can go up after the first few months of service. Service plans can also fluctuate based on the number of stores being hosted. However, in most cases, there is usually a monthly fee for the service provided. Prices for hosted eCommerce solutions are often less expensive than those for on-premise solutions, but you should always shop around before choosing a hosted solution. You may find a better price if you consider the site has just become operational. Remember, though, that the best hosted eCommerce solutions have a wide variety of features as well as low transaction fees and a long list of security measures.
Fully Hosted Ecommerce Platform
While you can certainly build a website with WordPress, it is much more efficient and cost effective to use a fully hosted Ecommerce platform. Not only will you have all the control that is needed for your online store, but you will also have an on site merchandising team. This gives you not only the ability to control the content on your site, but also the ability to create, upload and distribute promotional materials to customers right from the front door of your site. The best platform is by far WordPress.
There are other platforms available on the Internet today, such as Joomla, Drupal and Magento. But what makes WordPress so superior is that it's a completely open source solution. Which means that there are no inclusions or limitations on the designers. Also, if you choose to go with a hosting company that offers multiple domains, then you are getting a true multi domain platform. One that enables you to transfer your customer information across multiple platforms without any problems and with no transaction fees.
A fully hosted ecommerce solution will come with all the tools that a beginning designer would need, such as custom graphics, a shopping cart and the ability to add a shopping cart with multiple payment gateways. In addition to that, the platform would also come with various plugins that can be used for things such as giving stats, mailing integration and quick eselling. This means that you would have everything you need to start building your store right out of the box, for literally no money out of pocket. This is by far the quickest way to get your store up and running and has virtually no startup costs other than your time.
Self Hosted Ecommerce Platform
Choosing a good Ecommerce platform for your online store can be a huge investment. So, it is important to consider factors such as scalability, reliability, security and compatibility before you make a decision on the right software for your business. There are many web hosting companies that offer free eCommerce software, but these may not provide all the features you require. Most eCommerce websites have a backend system that runs on the back end of the server where all your merchant services and data are stored, but if you do not have an IT professional on staff, this can be an expensive step to take.
The top self hosted eCommerce options are: Big Commerce, Shopify, PrestaShop, and Volusion. Each of these has their own strengths and disadvantages. For example, Big Commerce is the most complete online store builder and eCommerce platform, but it is also the most expensive option. Shopify, which offers a backend solution for any store type, is great for beginners, but it is also the most expensive.
In general, the best option is to go with a high quality hosted Ecommerce platform. Since the platform is hosted internally by the company, it is used every day by its customers. Customer data is well protected and errors are unlikely. It offers great support for any type of online store and is compatible with most programming languages and backends.
What Does It Mean When An Ecommerce Platform Is Self Hosted
If you are considering creating an online store then you are probably wondering what does it mean when you say that your website is 'self hosted.' To put it simply, a self hosted ecommerce platform is a site where your business is entirely responsible for the entire hosting process. That means that you'd have to set up a dedicated server (on the cloud in most cases) and all of your site's files and content would be kept on that server.
One of the major differences between fully hosted solutions and self hosting solutions is the cost involved. When you have a large business, you may find that you spend many thousands of dollars every month just to keep your site live and running. If you are just starting out or you don't have a large amount of money to invest then you may want to think about whether or not it's really worth it. While the cost is certainly higher than the free services, there are a number of different reasons why you may prefer a free or even paid service over a hosted solution.
Cost is definitely not the only consideration though. Many people choose ecommerce solutions because of the ease of use that they offer. With a self hosted solution, you won't have to worry about having to know any HTML code or anything like that. You can also create your store without having to know how to install any software or plug-ins on your web browser. In fact, with some of the more popular solutions such as Shopify you can build the store right from scratch using just the ClickBank shopping cart software which is included by every Shopify store.
What Does It Mean When An Ecommerce Platform Is Fully Hosted
When most people start looking into getting their own online business up and running, they often don't realize the importance of having the right ecommerce platform that can be used for any type of online business. The truth of the matter is that if you want to succeed with your online business, it is very important to have a fully functioning ecommerce platform. This means that no matter what your business looks like or what products or services you plan on selling, you will need to have a shopping cart system and website to be able to upload everything to and from. Of course you can't just upload the products without a website. Therefore, it is very important that the platform you choose has all the right tools in place to help you upload everything and make your purchases.
One thing that many people who are building their first website fail to realize is that they will need to hire some type of web hosting. It is always best to use a reliable and well-known web hosting service when getting started, but you may not want to use their basic free service. Although these types of platforms are very affordable, they don't give you many options. For example, if you don't have the storage space to upload all of your files, then you will not be able to upload anything and will be unable to complete any transactions. Therefore, it is very important that you find a reliable and fully hosted platform so that all of your needs are met and that you have the tools you need to be successful.
Another question that you should ask yourself when thinking about what does it mean when an ecommerce platform is fully hosted is how secure your personal information is. You certainly want to make sure that your personal information such as credit card numbers, address, and other personal information is fully protected from hackers who may try to take out your funds. Therefore, it is critical that if you do have a fully hosted platform that you find a hosting company that offers good security. You can do this by making sure that you only purchase your space from a reputable hosting provider and by using a software program to keep your financial information safe.
Shopify
Shopify Inc. is a Canadian multi-billion dollar e-commerce business headquartered in Ottawa, Ontario, Canada. The company produces and sells different shopping carts and online marketing tools used by both small and large businesses. The product line includes a wide variety of products such as: Gift Cards, Discount Cards, Coupons and Promotional items, Website Optimization Software, Websites, shopping cart templates and content management system. Shopify has an outstanding selection of professionally designed web portals to enhance the overall shopping experience and increase sales conversions.
If you are considering creating an online store, you should definitely consider using a shopify ecommerce website builder. This is because a shopify website builder allows you to easily create a dynamic website with all of the features that you need, and at the same time, it saves you a lot of time and money. Shopify offers many features that enable store owners to maximize profitability through their online stores. These include: shopify is an ecommerce platform that enables customers to easily shop on the internet.
When a customer enters your store, the information provided by the customer is stored into a database. The information is continually updated and is used to provide quick and effective customer support. The Shopify apps allow you to add many features such as: customer support, product catalogs, store management, payment options, shopping cart options and many other customizable features. There are also many free, easy to use Shopify apps for store management and inventory control.
Bigcommerce
Bigcommerce is an e-commerce software business and offers a free SaaS solution to its e-commerce users. The company was launched by Todd Ditchendorf and has recently overcharged for its services. Its amazing features include advanced search engine marketing, full-fledged website development, and web hosting.
Bigcommerce has a huge community of over one million users. With this huge user base, one can be assured of getting fast and valuable response to his marketing and advertising campaign's effort. When you customize bigcommerce, you get a unique online marketing system that allows you to make the most out of a growing market. With the help of this unique feature of bigcommerce, every person can have his/her own personalized shopping cart with all the features and options that they are looking for. This unique ability of bigcommerce allows you to advertise your product with a high return on investment and enable your customers to keep track of your products as well.
When you utilize Bigcommerce as your e-commerce alternative, you get a highly customized shopping cart system that helps you manage, promote and sell your products more efficiently. Bigcommerce also provides you a number of SEO tools and several other advanced features. You may also try out various features like RSS Feed Reader, the comment box editor, full-featured human resource management system, custom domain names, unlimited product catalogs, a secure shopping cart, free trial periods, and much more. You get all these and many other features with Bigcommerce and so if you wish to create an online store for yourself, you need not spend huge amounts; just login to bigcommerce and create your account now.
Volusion
Volusion is used by thousands of companies, not just those specializing in Internet commerce. With its comprehensive set of web-site integration services, it is ideal for small businesses and retailers, as well as larger corporations and organizations. It can be used in conjunction with other online ecommerce software, such as a shopping cart package from JVZoo or SharePoint. The solution developers offer several customization options that you can customize for your business needs. You can create and design a website that works with your corporate brand and goals. One thing that is great about integrating your business's online store with Volusion is that you get payback through online merchant accounts or payment gateway integrations.
Many Volusion distributors offer a variety of web site monetization add-ons, many of which can be very useful for any website. Some of these add-ons include: personalized product pages, ecommerce templates, logo designs, image editing tools, web hosting control panels, shopping cart templates, and more. The volusion voltage bundle by ecommerce platforms specialist Digital Apothecary also comes bundled with volusion cloud storage. This allows you to easily add products to your website without having to download and install the software. This bundle comes with many popular merchant services such as PayPal, Amazon, and others, which are used to process payments.
X-Cart Cloud
X-Cart is a web-based platform for e-business applications, available both through a server-side solution or via a cloud-based service. More than thirty thousand online retail sites use the X-Cart software. With X-Cart Cloud, you get to enjoy an easy and consistent application process, with no special training required, and no hassle. You can upload your content through an FTP and follow the same set of guidelines that apply whether you're using Windows, Linux, or Mac. With a user-friendly interface, a quick set up, and simple yet powerful functionality, X-Cart provides an online store solution that is easy to use, yet very powerful.
The most vital feature for any ecommerce platform is the ability to manage inventory and payment with ease, flexibility, and confidence that your website will be available at any time and from anywhere, thanks to the security of the cloud. With X-Cart Cloud you get a fully featured ecommerce solution that offers high scalability, the best protection against hackers and other threats, and extensive customer support round the clock. With the inclusion of Magento themes, you get a rich collection of templates to work with, comprehensive admin area, fully integrated search bar, and various useful add-ons and plug-ins. With over thirty thousand templates to choose from, you can make sure that your website is aesthetically pleasing, has a great shopping cart system, extensive customer support, and a fast loading server. To top it all off, you get to take advantage of a dynamic website builder.
When it comes to purchasing a shopping cart software, you must pay attention to features such as speed, versatility, reliability, warranty options, quality, price, customer support, technical indicators, and plug-ins. X-Cart Cloud brings all these four qualities together to ensure you get everything you need at an affordable price. You must pay attention to speed, because the faster your site can display information, the quicker you are able to process customer orders and respond quickly to their needs. Flexibility ensures that your customers can make changes and do so without having to wait for the site to refresh.
Big Cartel
Big Cartel is a leading ecommerce builder which allows you to create an internet store for absolutely free. Ideal for small businesses that are not looking to grow quickly, due to the fact that its basic sales functions are quite good for individual pieces like the artwork, but not so ideal for bulk uploads due to the simple pricing structure. If you need to start selling on eBay, Amazon or another online market, then this is definitely the product for you as it allows you to sell your products and earn an income from them without the additional fees usually associated with most online transactions. It has a very user friendly interface and allows you to get started relatively quickly.
The big thing about Big Cartel which sets it apart from other online auction sites is that you can have more than one product listed for sale at the same time. You also have unlimited potential customers because it allows you to create different pages for each of your five products. With regards to the pricing structure, it follows the Auction Fever format and is only available in French. This feature alone can earn you hundreds of dollars every month if you target the right customers. Although it does cost money to add more products to your store, considering the amount of profit you can actually make it is well worth it.
So as you can see, getting started on eBay or Amazon can be difficult, especially for the beginner. However, with these tools like Big Cartel you can easily follow the steps above and start making money from your product pages almost immediately. You may even decide to use it as your primary selling platform while you build up your second tier business or continue selling through other websites after getting started with Big Cartel.
3Dcart
3DCart is an e-commerce technology business that develops software for online businesses. The business was started in 1997 with its headquarters in Tamarac, FL with sales personnel based in India. 3DCart develops online electronic commerce software for internet stores and brick & mortar point-of-sale terminals. This company has created a niche market for itself with its product line, which is high-quality and user friendly. They are known for having many versatile modules available for any type of e-commerce system. These are fully customizable to fit the needs of any website and business.
For any type of e-commerce system, the most important component is the site builder or the theme. The best theme that you can use in 3DCart is probably the ZenCart theme. This theme is very user friendly and can be customized to fit your specific business needs and tastes without being complicated. Users are also pleasantly surprised by the ease of use and convenience of the ZenCart interface, since it is extremely straightforward.
Another great thing about 3dcart is the live chat support that they provide to their customers. Online businesses need to have a lot of support from their customer service department, especially when dealing with something as important as ecommerce. Live chat provides a way for you to get the answers to all your questions right away and discuss things better than you could on the phone. You can also go online and see the video tutorials that 3DCart provides for their customers. All of the video tutorials are well made and provide detailed information for every module that you might want to install on your site.
Pinnacle Cart
When it comes to managing all aspects of your online business, no software out there is as comprehensive as PinnacleCart. This is the easiest way to manage multiple shops and sales without having to know HTML or CSS. With PinnacleCart, you are able to quickly and easily setup a shop with many different payment options, custom logos, and much more. For a small monthly fee you get all of that handled for you as well.
In this article we are going to take a detailed look at some of the custom design options that are available with PinnacleCart. From a web store to an international customer's database, you will be able to build just about any type of site you wish. Even better, because of the quick set up and easy navigation, PinnacleCart can handle all aspects of your online store from the start. Pinnacle carts are known for their ability to be simple yet functional, and this is one huge advantage over some other types of ecommerce software platforms. You can build your store the way that you want it, and the way that it will function for years to come.
Another huge plus with PinnacleCart is its ability to handle a variety of languages. Whether you are planning on accepting payments in multiple currencies, or simply making changes over time, you will be able to do so in a language that is understood around the world. For web developers looking for a fully-featured yet easy-to-use ecommerce software platform, PinnacleCart is definitely worth checking out. If you are an online developer who is looking for the best combination of ease of use and versatility, then PinnacleCart is definitely a step in the right direction.
Yahoo! Commerce
Yahoo! Commerce is a very useful ecommerce solution that you can integrate into your online business. You can start to build your own store today and ship products to your customers from your home without ever leaving the comfort of your office or store. The best thing about this solution is that it works worldwide and has a very simple interface that anyone with no technical experience can easily use.
You will be able to design your own store in no time. In fact, if you do not have any HTML or Java skills, the designers at Yahoo! will make sure you have everything you need to create your store. Once your store is up and running, you will have the ability to sell anything and use a variety of different payment methods. The possibilities are endless and they will allow you to reach millions of customers around the world.
With so many great benefits, you simply cannot go wrong when it comes to this ecommerce solution. If you want to become an ecommerce expert, you have to learn everything you can about the Internet and how to set up stores that are successful. Fortunately, you can learn all about this right on the website of Yahoo! Commerce.
Wix Online Builder
The Wix Online Store Builder platform includes several popular Wix templates including those that feature integrated modules, allowing you to easily add on additional functionalities such as online shopping carts or payment gateways. Other features of this particular Wix Online Store Builder include those that allow you to build store applications that include both text and video. One of the 10 best online store builders available today also allows you to add-on a variety of different products, such as promotional items for example, and even allows you to customize existing product catalogs, creating an ideal framework for you to create and develop new products for your store.
In addition, Wix Online Store Builder allows you to manage your sales, inventory and ordering process through a single interface. With its easy-to-use interface and powerful Wix Online Store Builder features, Wix becomes an ideal tool for online retailers all over the world. The various Wix templates include those that feature integrated multichannel sales features, which allow you to reach customers in multiple ways through various channels. This is a crucial feature that gives you an edge over the competition. It is also one of the best overall and most flexible aspects of Wix, making it a practical solution for any multichannel sales based ecommerce site. Learn more about the Wix Online Store Builder by downloading our free video training course, which also explains in detail about the various multichannel sales features and other important aspects of Wix.
Storenvy
Storenvy is a new online shopping community that allows anyone with a website the opportunity to make money online. They have created a platform that allows anyone with a website to sell products. All you need to do is set up a store, add products to your catalog, list your products, and then you can start earning money. Storenvy does all the work for you including marketing your site, advertising your products, and even managing all the backend processes for you. They take care of everything so you can focus on running your business.
Storenvy has grown from their two store fronts that they are known for, which was Frugal Facebook and Frugal Shopify. From what I understand, Storenvy has really expanded since they started out in the Frugal Market Place because now they have many products for you to sell like Frugal Facebook, and Frugal Shopify. They also have a social marketplace where you can set up ads for your store, and then let people shop for products they like without ever having to create your own product. They have integrated several other marketing strategies such as email marketing, social media, and pay per click, but I don't know if they have found a good way to replace Google Places yet.
Storenvy makes it easy to start up a business because of the multiple storefront solutions that they offer including storenvy stores, Facebook stores, and Shopify stores. Another great thing about this company is that you can build a store using their software or use their pre-made store templates that you can find on their website. With storenvy's pre-made templates, you won't have to worry about building your own store from scratch. This will help keep the cost of hiring someone in order and allow you more time to focus on your business.
Scroll down to read our indepth Ecommerce Platforms guide. What you should know, Ecommerce Platforms features, price plans and support. Pros and Cons of Ecommerce Platforms as a ecommerce, everything is explained below.
Shopify is a software company that specialises in ecommerce software for small to enterprise level businesses.
Shopify is listed as the best ecommerce software related to Ecommerce Platforms. Shopify was founded in 2006 in Ottawa, Canada and currently has over 6,124 employees registered on Linkedin.