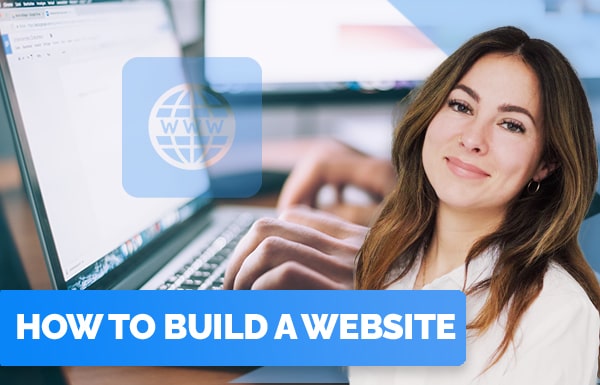 How To Build A Website
These days, building a website is easy, as there are lots of website builders you can use. Moreover, you do not have to have technical knowledge and skills.
In general, there are two options to build a website: use a website builder or make a website using WordPress. If you are a beginner, we would advise you to use website builders instead of WordPress (see Wix, Squarespace and Weebly). You can build a website following these steps:
Choose a website builder.
Sign up for a plan according to your needs and budget.
Choose a relevant and interesting domain name.
Select a design template.
Customise the selected template.
Upload your content into the website and and format it.
Choose and download applications.
Test your site.
Publish it on the internet.
Choose A Website Builder
Currently the number of people using website builders is enormous. For example, Wix has more than 100 million subscribers! The main reason is that unlike the early days of the internet, today building a website is very easy. Website builders make it easy for users to setup their websites without understanding HTML, CSS or other programming-related knowledge.
There are many website builders, choose a one that best meets your needs. You can find quizzes on the internet, which will help you find a website builder based on your answers.
If you want to do your own research on website builders, pay attention to the following features:
Ease of use
Pricing
Flexibility of design issues
Offered features
Customer support
Reviews of customers
Sign Up For A Plan According To Your Needs And Budget
Website builders usually offer different plans with different prices and features. Choosing the right plan will depend on your needs. The general costs of website builders are in the range of $8 to $70 per month (the latter is the price for all-inclusive services). Keep in mind that many website builders offer free trial versions, usually for one month. Free versions will have limitations, so pay attention to this issue as well.
Choose A Relevant And Interesting Domain Name
A domain name is the unique address of your website. You can register your domain name at special websites (such as domain.com), but in most cases the website builder will offer to do that for you. Below you can find some tips, which will help you choose a great domain name:
It should be relevant
It has to be short and memorable
It should not contain numbers
Select A Design Template
Templates provide you with a framework for your website like a canvas on which you will paint your content. Templates allow you to have a nice-looking website without hiring a designer.
Customise The Selected Template
You can customise your template using your content and images. Usually, templates give you insights on how to customise to get a unique website. You can implement your ideas using your creativity or mix them with the tips given by the website builder.
Upload Your Content Into The Website And Format It
Now it is time to fill in your website. You can upload your content, videos and images to the site. Be careful when dealing with images and use only high-quality ones; otherwise, it will get blurred when a user zooms it.
Some website builders offer you free images. Otherwise, you can download images from the internet (visit Unsplash and Pixabay).
Choose and download applications
There are many applications you can use on your website, despite your specific need. Visit the app market of your website builder and analyse the available options.
Test your site
Remember to preview and test your site for both desktop and mobile. Repeat every time you make a change to your website. Here are some features, which need to be tested before publishing your website:
The content must be spelling and grammar error-free.
All the buttons on the site should work.
Your website has to meet its purpose.
The formatting should be consistent.
The website should work correctly on desktop and mobile phone screens.
Do not forget to check the speed of the website.
Publish it on the internet
If you are done with all the previous steps, you can press the publish button. If you notice some mistakes after publishing your website, do not worry; it is easy to correct them after publishing. The only thing is to keep in mind that there are website builders that do not allow you to switch the templates after you publish your website.
Scroll down to read our indepth Ecommerce Platforms guide. What you should know, Ecommerce Platforms features, price plans and support. Pros and Cons of Ecommerce Platforms as a ecommerce, everything is explained below.
Shopify is a software company that specialises in ecommerce software for small to enterprise level businesses.
Shopify is listed as the best ecommerce software related to Ecommerce Platforms. Shopify was founded in 2006 in Ottawa, Canada and currently has over 6,124 employees registered on Linkedin.