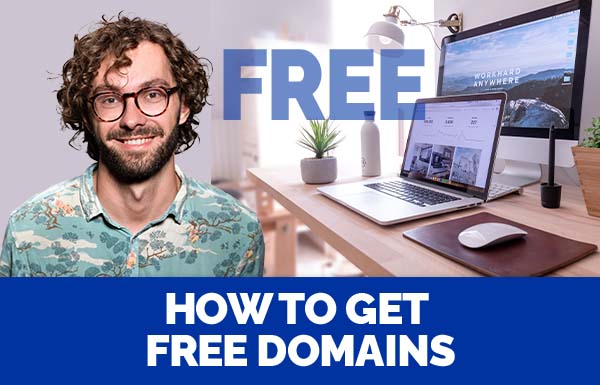 How To Get Free Domains
Guides On How To Get Free Domains
If you want to create a website, registering for a domain name is the first step for you. Some people find it difficult to navigate this process but it is a very easy process with the help of web hosting platforms like Bluehost, Godaddy, Hostgator, Hostinger, etc. Although most of these companies offer a domain name at affordable prices, some offer a free domain name.
However, this guide is all about how to get free domain and it will guide you every step of the way when setting up your site.
So, if you want to set up a site for any use and need a free domain, this guide will help you.
First Method By Using Bluehost
The best way of getting a free domain name is by using Bluehost web hosting platform, and in this post, we will be showing you how to do that. So if you've been looking for the perfect guide on how to get free domains, this post is for you. Enjoy it!
Guide On How To Get Free Domains Guide By Using Bluehost
As stated early, this is the best way of getting a free domain. By using Bluehost for your domain, you have to host your website with them, however, Bluehost is one of the best web hosting platforms around and it is recommended by WordPress as one of the best web hosting platforms, so you are getting a valuable online asset with Bluehost. Their load time is one of the best in the web hosting space, so you are taking the right decision by using Bluehost.
Once you sign up with this web hosting platform, you'll get a free domain. However, it is very easy to set up your account on Bluehost.
So, let's walk you through the process of setting up a free domain account with Bluehost.
Steps on how to get free domains on Bluehost
First Step
Go to their website bluehost.com
The first step is to go to Bluehost's website "bluehost.com." And on that page, choose the hosting option; this is the only way you'll get a free domain with Bluehost.
Note: Don't choose 'Domain' as this means that you don't want to merge your domain name with hosting and you'll end up paying for a domain name, just follow our simple guide.
When you've clicked on Hosting, you will see three different hosting packages the company has. These packages include, shared hosting, VPS hosting, and dedicated hosting.
Second Step
Choose the right package that suits your business.
For this guide, we will be using the shared hosting option. Bluehost offers a free domain name with any hosting option you choose, so there is no problem if you want to choose other web hosting options.
Under the shared hosting option, they have four plans and for this post, we will be using their basic plan which is the cheapest.
Step Three
The next option is to choose your domain after you must have picked the right plan.
Here, there are two options for you, you can choose to create a new domain or use a domain you own. Just click the "create a new domain" button.
Enter the domain name you want for your website and also select the domain extension to know if it is available. (Domain extension includes ".com," ".net," ".online," ".org," ".xyz," etc.)
".com" extension is highly recommended as it is one of the most used domain extensions and it gives your site a more professional touch.
If the domain name and domain extension you choose is available, you'll continue to the next stage which is the final stage.
After choosing the domain name, the next stage is to finalize your web hosting deal with Bluehost. Be careful at this stage with their extra plan. Choose what suits your business but most importantly you have to use their "domain privacy and protection" option as this will help to prevent your personal details from getting to the public.
After choosing the option you scroll down and click the submit button and that's all.
Other Methods Of Getting A Free Domain Name (Not Recommended)
Another means of getting a free domain name is by using a subdomain. This means that your personal domain name will be in an existing domain name.
With this option, your website will have yourdomainname.existingsite.com. BlogSpot and WordPress are the two best companies that offer this service. the process of setting up a free domain name is very simple on both platforms.
An example of a domain name you'll get from their service is nyname.blogspot.com, when you are using BlogSpot subdomain, or myname.wordpress.com when you are using WordPress subdomain.
This option is free but is not good for your business in the long run.
Scroll down to read our indepth Domain Ecommerce Platforms guide. What you should know, Domain Ecommerce Platforms features, price plans and support. Pros and Cons of Domain Ecommerce Platforms as a ecommerce, everything is explained below.
Shopify is a software company that specialises in ecommerce software for small to enterprise level businesses.
Shopify is listed as the best ecommerce software related to Domain Ecommerce Platforms. Shopify was founded in 2006 in Ottawa, Canada and currently has over 6,124 employees registered on Linkedin.